[font="century gothic"]
Lok-Indra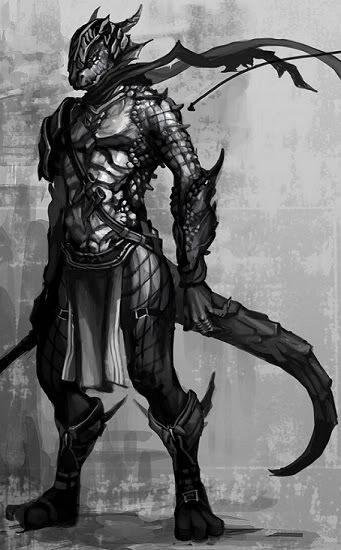 Basic Info
Name:
Lok-Indra (Lok, the Wingless Dragon)
Race:
Argonian
Age:
Unknown
Gender:
Male
Personality
Lok is the embodiment of a silent killer. His upbringing and prejudices he has faced has filled him with a tremendous amount of hatred for men and mer. He is often very stadistic and calculating. He is extremely cunning and intelligent, able to analyze and acquire knowledge at an exceptionally fast pace. He is often very untrusting of everyone he meets. He often strategizes ways to betray others before they have a chance to betray him. While he is often quiet and observing, his silence is primarily due to a former language barrier. His primary language is Jel and Hist, an incredibly complex language native to Argonians. He only fully learned the languages of men and mer after meeting the Mentor. Before Lok met the Mentor he was consumed with an insatiable bloodlust and hatred. Whether they be men, mer, beast, deadra, or something else entirely he thrived on the sensation for battle and warmth of blood covering his claws. Through unknown means the Mentor was able to ease his hatred, desire for battle, and calm the savage beast.
Equipment
Lok typically wears an unenchanted set of Nightingale Armor without the cape or hood. He normally wears a mages hood to cover his face and prevent others from looking into his eyes. He typically prefers form fitting armor and fingerless gauntlets or gloves. This is due to his primary method of fighting is hand to hand combat. His claws, feet, and tail have become remarkable instruments of death. He also carries empty vials for mixing alchemic potions, poisons, etc. After meeting the Mentor, he is given a staff made from the remains of a dead Hist.
Abilities
Lok has an unparallel fighting ability with hand to hand combat. He is also very skill in destruction magic and combines it with his martial fighting style to defeat his foes. After meeting the mentor he has forgone the use of his claws in exchange for a staff made from the remains of a Hist. He uses the staff as a melee weapon during combat along with his feet and tail. The staff seems to have a calming effect on Argonians and also helps Lok control his bloodlust.
History
Much of Lok's past is filled with hardship and turmoil. He was born in the Black Marshes(also known as Argonia) to two well renown shadowscales. His parents served the An-Xileel, an Argonian political faction, as assassins and by performing other task. Even though he was not born under the sign of the shadow and unable to become a shadowscale, Lok was trained in stealth, combat, and the guerrilla warfare tactics of the An-Xileel. While he was the perfect soldier and assassin his parents wanted to continue their lineage of shadowscales and disowned him at an young age. Facing rejection and at the hands of his parents Lok lashed out and attacked his parents. The surprise viciousness of their child's attack caught them off guard. Lok managed to maim his mother by stabbing her in the eye and he killed his father with a poisoned blade to the back. After this attack he became a marked man. The shadowscales, though few in number, had great influence throughout the lands. While fleeing for his life the young starving adolescent met an elderly argonian mage. The old woman had her own reasons for hating the argonian government and was planning to escape to Skyrim. Lok fled the black marshes with the mage and became her apprentice.
Their arrival in Skyrim was less joyous than expected. The old woman was a bit of a heretic and Lok was still very young and inexperienced about the world. Neither one of them only spoke Hist and Jel. They found out quickly that Skyrim was not a welcoming place to outsiders. The two took refuge in a small shack near Dawnstar. The local nords persecuted and harassed them at every turn. One day a group of guards saw the old mage praying to a tree. One of the guards was particularly fond of abusing what he called an infestation to Skyrim. The guard tried to harass and berate the old woman but she could not understand his speech and ignored him. This only infuriated the guard more and he began to become more hostile. The guard struck her with the blunt end of his sword knocking the old mage to the ground. Lok intervened and tried fend off the guard. It seemed as though he would have the upper hand until the other guards managed to knock him unconscious.
Lok awoke to see his mentors corpse hanging from the tree. A flood of emotions overwhelmed him. Rage, fear, and confusion filled his mind. His sanity seemed to fade away with all sense of humanity, compassion, or amity. That night he attacked a nearby guard's watchtower in search of the soldier he attacked. Filled with anger and resentment he began attacking anyone in sight. He murdered several civilians and three guards before he was forced to escape down a river into the Sea of Ghost. Being Argonian and having the ability to breathe underwater made escaping the guards an easy feat. As time passed he continued attacking the citizens of the nearby town indiscriminately. He seemed to turn from a child seeking revenge to a bloodthirsty beast. The guards were given orders to detain him on sight by any means necessary. Lok stayed out in the wild away from civilization. He only came near civilization to steal items and inflict as much pain on others as possible. As time passed his attacks grew less organized and more ravenous in nature. He seemed to become more of a vicious beast than intelligent being. He stopped attacking the nearby towns and stayed by the Sea of Ghost attacking beasts, travelers, merchants, soldiers, and anyone that crossed his path. He began to receive several reputations from the locals. He received several nicknames such as the wingless dragon and the demon in the sea. As his fame grew and his nicknames started to take on legends of their own trade throughout the Sea of Ghost began to suffer. As time passed the nobles stopped looking for a crazed argonian and began looking for real sea monsters. They hired several warriors, sellswords, and champions to rid the sea of the unknown monster. One of those warriors was the Mentor.
Under Construction...
OOC
These questions will let me know a little more about you as a player.
What experience do you have with the Elder Scrolls universe?:
I have played Morrowind, Oblivion, Skyrim, and constantly read ES Wiki and other lore all the time. I want to read the books but I haven't been hearing good reviews for them.
How often do you get online?:
I'm normally online every day except when I have class.
How often can we expect you to be able to post?:
I normally post once or twice a day depending on schedule, story progression, and character interaction.
Password:
Fus Ro Dah (and an arrow to the knee)
Work In Progress