Age:
31
Occupation:
Maid to an apothecary
Sexuality:
Bisexual
Nationality:
English
_______________________________________________________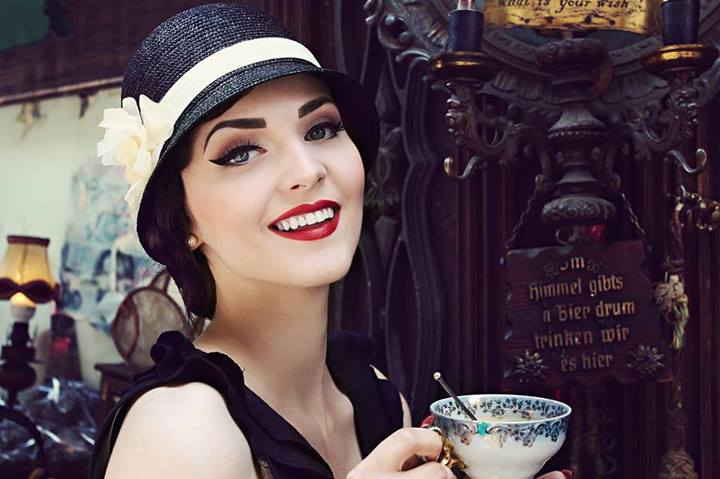 Appearance:
Dod is an average height 5' 6" and is rather skinny with long, smooth legs. She has dark brown hair that's long, but often time she pins it up in small curls, so that it's no longer than a little past her chin. She also has a fondness for hats or other head wear and rarely leaves the house without something upon her head. She also doesn't leave the house, or really her room, without make-up on; sweeping eyeliner with smokey eyes and dark red lipstick. She isn't one to wear lots of jewelry and really only wears small pearl earrings and the odd bracelet or necklace. Her everyday wear really is only her uniform, a dark blue dress with a light blue apron. However what she likes to wear is clothes that look rich; lost of furs, velvets, and silks typically in darker colors, though she prefers to wear pants, button-up shirts, and a lovely coat. When she goes out, she likes to wear dresses that that end at the knee and have lots of beads on them.
Dod walks like she's got somewhere to be; quick-stepped and ploughing, typically having people trying to get out of the way. When she sits, she leans back, legs crossed, and one hand in the air holding her cigarette. When she stands, un-moving, she'll slump to one hip a leg slightly bent outward, one arm wrapped around her waist and the other's elbow weighing on it. She is also one to tap her foot, especially when listening to music stationary, making her seem as though she can't be still. Her eyes are dark grey, always focused and slow blinking. Her usually red lips are either smiling or slightly puckered, depending on whether she trying manipulate someone or genuinely having fun.
________________________________________________________
Personality:
Dod is what one would call a 'modern' woman. She's a single, working woman with a sharp tongue and mind active from far too much partying and drinking. She's an observer, people-watcher, this is what entertains her day-to-day life. From this her mind has become rather sharp, able to see smaller details that others overlook and remember them for a good amount of time, of course depending upon how well she was paying attention at the time. Her sharp tongue is what gets her into trouble though, not her mind. She'll as easily reveal one's secrets (to that person or someone else) as she would take a smoke. She also has a knack for being sarcastic and blunt, with men especially, and commanding with women (though not harshly commanding).
Her interests include drinking, dancing, smoking, sex, reading, people-watching/ease-dropping, studying, mixing (medicines), and puzzles. She likes tea over coffee, dogs over cats, whiskey over wine, velvet over wool, nature over concrete. She doesn't like classical music, just jazz. She also doesn't trust cops or reporters, so if she feels they aren't doing a good enough job she will feel the need to take over, thankfully her employer, and good friend, is usually there to pull her away otherwise she may insert herself somewhere in which she ought not to be.
When looking to the future she hopes to one day own her own home, a large garden, and her own apothecary store. She sees her current job as a maid as a sort of apprenticeship. She, however, does not see herself being married or having a family in future, she is perfectly content with where she is in her relationship status; a single woman who enjoys sex and isn't afraid to go after it. What scares her, she won't admit, she likes to present herself as being a very fiery and adventurous woman and if that reputation were to be taken down a notch, she would have to take others down a peg as well, however she's scared of not being control and of trapped or tied up and not being able to get out.
_______________________________________________________
History:
Dod grew up in a rather rich family, where her nanny was more like a mother than her actual mother. Her nanny was also her best friend, she told Dod many stories about the adventurers who went to Mt. Everest, or sailed across stormy seas, or fought against the Huns in the East. After telling the stories the two would reenact them on the grounds surrounding the manor. When her parents punished her, which was often since she was growing up to be too nosy for a lady, they would lock her in a cupboard for indefinite amount of time (never long enough for any harm to her physically, but long enough for a fear to set in). Most grown-ups viewed her as being a bad little girl, she asked too many questions, she spread rumours around, she played outside in the mud instead of learning to crochet or sew. When she was old enough they sent her to an all girls school, there she learned that while most were opposed to it, she genuinely did like women and she often times flirted with them, though this was thought to be nothing more than just good friends. Though even there, surrounded by girls, she learned to be a serious lady.
Then World War One started, in 1914. It all, but destroyed Dod's hope. She survived and not by being a lady and by moving to Paris where lived out her days of the war. Dod had fallen in love many times by this time some men and a woman in England and with one woman and one man while in Paris. All ended with heartbreak one way or another, but that never diminished her ability to fall in love even by a little. When the war ended however she stopped taking everything so seriously. She joined most of the population in lifestyle of "living life to the fullest", meaning go to any and every party you can, never turn down a drink or a smoke, and keep on dancing. This also meant that once she got her job as a a maid and after the war ended she started travelling to anywhere she could, just for the hell of it to see what other places were like, even if they were only an hour's train ride away. She tries to travel somewhere new once a month and depending upon her funds will depend on how far she goes. That's how she came to be in Nottingham and how she was on that unfortunate train that night back to London; she had been visiting friends in Nottingham for the weekend, her funds for travelling a little shorter this time around.