Name: Magdalena Grace Ravie, Maggie or Mags for short.
Age: 14, born October 31
Sex: Female
Height: 5 foot
Weight: Somewhere between 90 and 100 pounds
Description: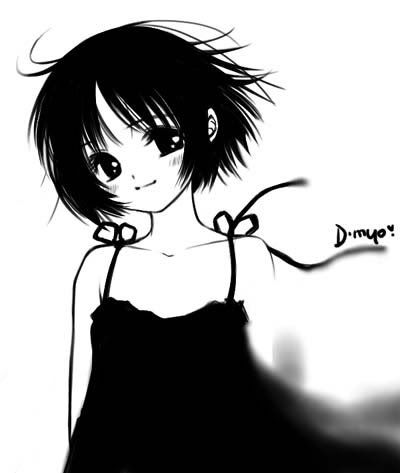 Maggie looks quite similar to her sister, in the sense that she has the same pale skin and raven hair, though her hair has been cut it so it falls just below her chin. Though her eyes seem to be quite dark, they often change to a warm, honey color when she's in deep thought or when she's happy, blanketed by long eyelashes that work well to compliment her childish features.
Role: Ravie Child
Likes: Mags enjoys music, whether she is creating it or listening to it, as well as painting and doing gymnastics.
Dislikes: Maggie does not like being alone, thunder, or getting hurt.
Habits: Maggie often gets lost in thought, and is a deep thinker. She can be found sitting in her room playing her cello and letting the music fill her, or placing another painting on her wall, filling it with drawings of nature scenes.
Greatest Fear: Maggie has many fears, though her greatest one is not being needed.
Attitude: Magdalena is your average fourteen year old. She is often unruly, though generally has a sweet disposition. She is tender, nurturing, but shy and easily confused. All she wants is to be liked.
History: In her younger years, Mags wasn't the shy girl she is today. Now that her parents are rarely seen, she has been slightly depressed and blames herself for their absence.
Other: A dog, whose size compares only to that of a small horse, follows Maggie everywhere she goes(including school where she waits patiently outside). It's name is Talon, and she holds a motherly, protective companionship over Maggie. Talon was a gift from their father when Maggie was born.