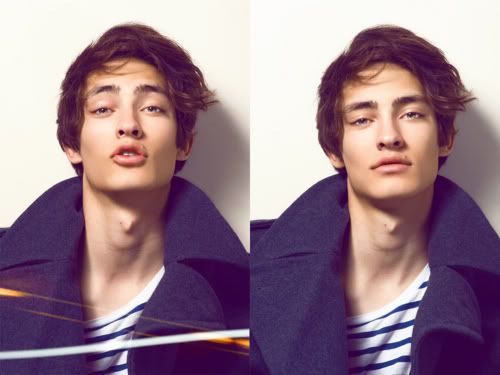 Full Name:-
Judas Bautista
Age:-
23
Clique:-
The Elitists
Ally Cliques:-
Sluts, Geeks, Cheerleaders
Enemy Cliques:-
Preachers
----
Height:-
Five-foot and eleven
-:Weight
One-hundred and forty-seven pounds
Eyes:-
Blue
-:Ethnicity
Filipino-American
Hair Color:-
Brown
-:Hair Style
Short, messy, wavy
-:More About Me:-
Physical Description:-
Judas is a trust-fund brat. Dressed in designer fashions, the latest iWhatever at his disposal, and driving his Mercedes. He's slender but fit, bearing the tone of a frequent runner and he makes an effort to fit some exercise in every day, mostly in the form of crunches ("I can do about a thousand now"). He's polished and posh and is preening almost constantly, because you never know who might be looking your way. There are rumors going about that he had plastic surgery to fix his nose at one point. He looks good, but only because he can afford it.
Personality:-
Judas is a hedonist, more-or-less. If it feels good, do it and fuck everybody else. Everybody has their price, and you CAN buy happiness. Judas has the chops of a socialite, and he does do his best to talk to everybody. But it's obvious that he carries a hint of contempt, or maybe a mocking pity for those with less money than him. He absolutely abhors anybody who assumes he is a bad person just because he is rich. He can be extremely self-centered but it might just be all and act to cover up certain insecurities...He's not incredibly bright, but he knows money and how to make it. Vain vain vain.
History:-
Judas wasn't quite born into wealth, but he may as well have been. He was conceived in the Phillipines during a good-will trip his mother undertook as part of her anthropology courses in college. He was born a month after her graduation and lived with his grandparents until he was in second grade. And then his mom met multi-millionaire Frank Gravitz, and it was a fairytale romance. Except Frank didn't much like Judas and as Judas got older, the feeling was mutual (the major differences were that Frank was very conservative while Judas was anything but. It really doesn't help that Judas is surprisea homosexual), to the point that Judas hunted down his birth father and legally changed his name to his birth father's surname to reflect this. Judas lives in relative wealth from a combination of the trust-fund his father back West put him on to keep him out of his face and owning a few smaller, but wickedly successful websites.
-::Items::-
(Minimum of 2. Personal belongings, jewlery, tattoos, etc.)
His iPhone:-




Cigarette case:-

Silver and engraved with the Prussian Eagle, built in lighter. Cigarettes are self-rolled




Handy dandy credit card:-

Never leave home without it




Piercings:-

Studs along his v-line
-::>Other<::-
Hot shit. Lotta problems.