---
---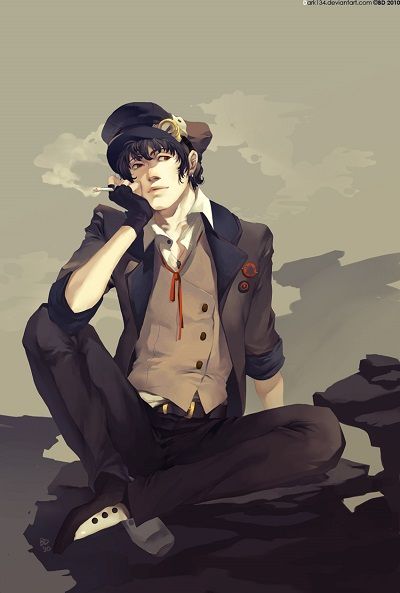 [/URL]
Name:
Nathaniel Troupe
Age:
21
Appearance:
Rugged looking, yet charmingly so, Nathaniel possesses a youthful exuberance that exceeds his personality. In general, Nathaniel is a man from the city. Business-like and well groomed, he maintains an wardrobe of largely academic attire because they suit his penchant for retro apparel.
Nathaniel's physical frame is above average. His entire body is composed of lean muscles that belly a strength greater than his appearances let on. Standing at a height of 6'2", Nathaniel isn't particularly imposing either. A dark mop of richly curled locks is often nestled beneath his signature gatsby. Juxtaposed with his pale complexion, they present a strikingly appeasing contrast.
Seer or Guardian:
Guardian
Skills(Strengths):
Nathaniel's power is admittedly something he seldom uses, possibly due to the scarring from his childhood. Even worse, the man has little control over his innate power, further exacerbating his reluctance to rely on it. Essentially, Nathaniel's power is the ability to mirror magic attacks. Its power varies accordingly to scale but Nathaniel can't turn off the ability like some on/off switch. It protects him constantly and more than that, it redirects the original magic attack back at its source. Of course, Nathaniel's resistance isn't infinite and it can't reflect everything. Mainly however, it can't redirect non-magical attacks. If anything, Nathaniel prefers to rely on his quick wits over magic and brawn to resolve life's issues.
Weaknesses:
Nathan can't use magic, at least, not in the conventional sense. Though he possesses a firm grasp of its theories, Nathanial is fundamentally incapable of using conventional spells. The cause of this is unknown, though its likely the trade off for possessing his powerful reflective capabilities. Its likely his ineptitude is also attributed to his aversion to magic.
Personality:
Nathaniel's personality is the perfect blend of witty narcissism and pragmatic reasoning. As expected of a con man, he's adapt at anticipating reactions and unafraid of manipulating them to further his own agendas. Though one typically associates this behavior with people who lack an appropriate amount of empathy, Nathaniel is far from heartless. Evidenced by his care for his brother, Nathaniel also exhibits a healthy blend of honor and compassion.
He's not easily angered, possessing a naturally high tolerance for discrimination, though he's naturally protective to those he loves. That said, Nathaniel also maintains a necessary level of skepticism having encountered a dazzling array of different roles and individuals. In general, he shys away from magic despite its prevalence in society, preferring to avoid the difficulties he associates with its use.
His humour often verges on the subject of questionable. One of Nathaniel's favourite hobbies was designing elaborate cons for his brother and watching the fireworks. The same doesn't apply to everyone, and ultimately his behaviour alters accordingly for each person, indicating that his true identity lies somewhere in between and is highly adaptable.
History:
Often life is simply about finding one's place in the world. Orphaned at the age of nine alongside his younger brother, Harry, this couldn't have been closer to the truth for young Nathaniel. Nathaniel and Harry were the closest of brothers. Having lost their parents to an accident involving magic, the two shuffled between several foster families within the short span of two years, unable to settle roots. Each new family brought about different faces but similar people. Rich kids and ignorant adults. Despite initial hospitalities, the duo always wound up on the road before long, disillusioned.
Eventually they stopped searching for a home. Taken under the wing of a famous con man, the Red Falcon, the brothers learned the ins and outs of being con men and supported each other. Inevitably, their relationship ended on violent terms when the Red Falcon tried to incorporate them into his crime syndicate. During the disagreement, Nathaniel cut off the man's hand as a parting gift during their escape.
Taking his knowledge with them, the pair set out alone and survived as entrepreneurs of subterfuge. As the years passed, Harry developed a need for something more fulfilling in life. Something beyond the lies and simple deceptions. Over the course of the next few years, the brothers rebounded in roles. Harry would often announce his retirement from swindling only to return months later.
During one such similar altercation, Harry once again announced his retirement. He disappeared for months again, but this time never returned. Nathaniel, who'd had been keeping tabs on his brother, is now just starting his investigation.