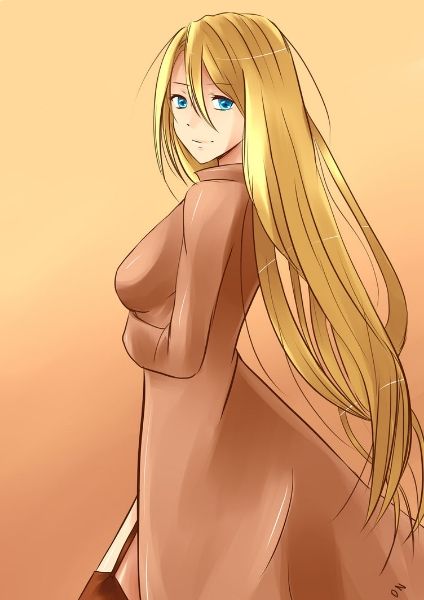 Full name:
Kami Albarn
Age:
Thirty
Gender:
Female
Classification:
Expert Scythe Meister/Teacher
---
---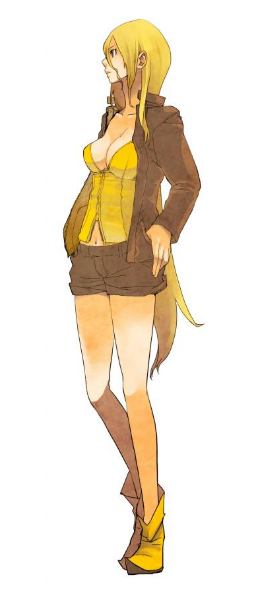 When you first see Kami it is obvious to everyone who Maka favors. Her thin graceful frame, and long blonde hair are a dead give away. It's a wonder why Spirit ever cheated on her. By all appearances she looks like an older version of Maka, the biggest difference however is their eye colors, Maka's eyes are more of a green like her fathers. Where as Kami's are a sky blue

.
Kami is Maka's mother and Spirit's ex-wife. She is very intelligent and clever able to think on her feet in a tough situation, Spirit has noted that Kami received top marks in the academy a trait she passed down to her daughter. She's strong, hot-tempered, and you wouldn't want to see her mad. But she is also warm, kind, and loyal. She would do anything for her daughter, and even though work has taken her far away from Maka, she still supports her through the post cards she has sent over the years trying to give her daughter hope and inspiration. Now that she has returned to Death City she is eager to have a relationship with her daughter again. Despite what Spirit thinks, Kami does not hate him for what he did... she just hates what he did. It is still hurts her that he cheated on her despite her own loyalty to him, but has chose to forgive him instead of holding a grudge against him. Deep down she still loves him dearly, but she doesn't know if she can reapair their relationship after he broke their marriage vows.
---
---
▼

Cheating men


▼

Witches


▼

Overly flirty girls


▼

Being away from Maka


▼

Any one threatening her family
▼

Warm weather


▼

Spending time with her daughter


▼

Taking pictures


▼

Reading


▼

Keeping busy
---
---
A young Kami came to the DWMA like many young people in Death City, eager to become a weapon or a meister grand enough to either create the next Death Sycthe, or become it. She was first paired with a weapon by the name of Reiko, it was alright at first but Kami always felt awkward using the pike that Reiko turned into. With her unique demon slayer wave length, it was hard for the pair to sync up. She feared she would be left behind despite her excellent grades. Things looked grim that is until, Stein and Spirit were separated as weapon and meister. She had met Spirit before but found him to be a bit annoying and kind of a 'play boy'. Girls seemed to fawn over his looks, and to Kami that was something that really wasn't important when it came to liking someone in that way. But finding herself in need of a weapon, and Spirit needing a meister that would try to dissect him she agreed.

There years together as weapon and scythe were fun and exciting, it seemed as though Kami and Spirit where one of the best students in the DWMA. Behind the scenes and in their personal time the two were inseparable and love started to kindle between the pair. Even though it was apparent that the pair had romantic feelings for one another, it always seemed that Spirit couldn't turn an eye completely away from other pretty girls at the academy. However, as their romance blossomed their ability to resonate increased making them an almost unstoppable pair. Finally as their years as students came to a close, Kami and Spirit collect their last soul. It was not long after this, Kami found out she was pregnant as well. It was entirely unexpected and they were both still so young, but Kami and Spirit were both determined to be good parents to their expectant child.

Year's went by and the pair worked together to care for their child, little Maka was the apple of her mother's eye and Kami looked forward to seeing her become old enough to go into the academy. But even through out their marriage it always seemed as though Spirit just couldn't tear himself away from other women. Kami didn't know whether it was just cause they were so young when they became parents, or maybe he just didn't feel as strongly for her as she did for him. But the day came when a girl from a local bar came to Kami and confessed that she had slept with Spirit. She remembered walking home that day, Spirit was still at work, she didn't cry, she really didn't show any emotion at all. When she got to their home, she sent Maka out to play, sat down, and awaited her husbands arrival. Spirit came home the way he usually did, dragging his feet and complaining about his job. But he knew something was wrong when he saw Kami staring blankly at a spot on the floor slumped down in a chair. There was no yelling, there were no tears she just explained what she had been told asn asked the simple question.

"Is it true...?"

Spirit got a solemn look on his face, looked down at the floor in front of him, and mumbled an apology. From then on she couldn't stand to be in the same house with him, or look him in the eyes for that matter. She went to Lord Death, explained the situation, and soon they were divorced. She hated that this had happened especially right before Maka was to enter the DWMA. When she was offered the post in Iran, she didn't hesitate to take the position. She knew that despite her and Spirit's differences he would always love and care for Maka. She would never have to worry about him hurting her, but she had to get away to get her head on straight, and to heal from the hurt and betrayal she felt from what Spirit had done. She hated leaving Maka behind, but she felt that it was better if her mother not be an emotional mess around her.

She kept correspondence with Maka through letters and post cards, doing her best to support her from so far away. Kami kept in touch with Lord Death as well, especially through the war with the Kishan. Many times she wanted to leave her post, and run to Maka's side, but then something would happen and she would be stuck in Iran. It was almost torture for her, but when the Kishan was destroyed and things were right in the world again Kami could only feel a great pride for how strong her daughter had become. It has been a little over a year now since the defeat of the Kishan Asura, and request has been made by Lord Death himself for Kami to return and teach at the DWMA. To train a new generation, feeling that she was ready to face her ex husband, and missing Maka desperately, she took the assignment and is now on her way home.
---
---
Even though Spirit hurt her deeply when he cheated on her, she still feels deeply for him. Even though he thinks that she wants to kill him.