Dante Pierce Roth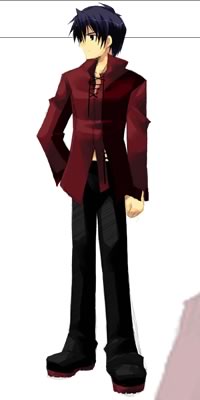 Role
Meister 1
"I am not only the wielder, but the master of my weapon."
Age
17
"Age is but a number. You're only as old as you think you are."
Height
5'4"
"I hate my height, but it's not all bad."
Weight
110lbs
"What? I'm skinny..."
Gender
Male
"A boy. A normal human boy."
History
"If I start boring you, let me know."
Dante is the second son of Meister, Jameson Roth, and Weapon, Mercedes Pierce, and he lived in Ceara, Brazil. Growing up under a Meister/Weapon family, Dante was raised to go to DWMA, as was his brother Vincent (Who became a Death Scythe a year ago at age 19. He was stationed at the Czech Republic to keep an eye on the golems there.). Growing up Dante was home schooled by his parents so he can be taught basic academics and Meister abilities. He was home schooled from kindergarten all the way through Middle School and most of High School, so he's been lonely most of his life. Family was an important thing for Dante growing up because they were all he had. As for his combat abilities, he was trained in martial arts by his parents, and often sparred with his older and younger brother. However, when his older brother left for the DWMA, he had to spar with his parents in order to improve his self, who didn't go so easy on him. His younger brother will be attending the DWMA in one year.
Dante comes from a long line of great meisters known as the Roths. Over the many years, they've developed many techniques that are used by top-ranked meisters today. However, they also have many family secrets, making them one of the toughest meisters in academy history. However, no matter how good you are, there is always someone who is better. The Roths train their kids until they attend the DWMA on their own, so from birth, their career path has already been chosen for them.
Family
"I suppose I should be proud for where I came from?"
Father: Jameson Roth - 40 - Meister
Mother: Mercedes Pierce - 39 - Weapon
Older Brother: Vincent Roth - 20 - Weapon
Younger Brother: Maxwell Roth - 14 - Meister
Grandfather: Darius Roth - 62 - Meister
Grandmother: Tomoya Kagoshima - 61 - Meister (Deceased)
Personality
"You'll find that out on your own."
A quiet and mysterious person, but he's fun and outgoing around his friends. More often than not, you will find him being serious and sincere. Although he's quiet, he's not afraid to speak his mind and give his point of view on any topic when he's asked. He's kinda lazy, but if there's something that needs to be done, he won't care to help out. He prefers a dark, quiet room over a loud, obnoxious, bright room.
Partner(s)
TBA
"I have but one partner, and I trust them with my life. You hurt them and that is a direct insult towards me, and you WILL die by my hands if not their's."
Soul Menace: Sends a blast of wavelengths to stun his opponent. A common move of higher Meisters, but nonetheless a hard skill to master.
Soul Burst: Sends a concussive barrage of wavelengths against an opponent, causing them to stagger. Hard to use and uses more energy, but has a better effect than Soul Menace.
Signature - Soul Slice: A family ability of the Roth's that Dante has been trying to master for years. Collides Dante's soul with the opponent's soul in a manner that is supposed to cut the opponent's soul. Dante has never gotten close to master it, even though he has been training with it for almost 4 years. His great-grandfather invented it, and passed it down along his family, and his father was the most recent one to master it. He showed Dante when he was 13, and since then he's been at it, practicing every day.
Double Palm Soul Attack: Can double the damage of his soul attacks by using both hands rather than just one.
Soul Dance Technique: A fighting style that Dante's grandfather developed which calls for a method of retaliating attacks, which makes it a defensive stance. On every retaliation, a small surge of a Soul Menace (Like a mini Soul Menace), will shoot through the body causing more harm than meets the eye. For example, if you were to throw a punch at Dante's face, he would duck, grab the arm, send the Soul Menace through his fingertips and into the arm, and toss the opponent. In short, use the enemies attacks against them.
TBA
Pros
-Master at close quarters combat
-Powerful
-Quick and light on feet
Cons
-Can't defend well at longer ranges
-Has a split-second charge time on Soul attacks
-If attack pattern is discovered, then can more easily be defeated