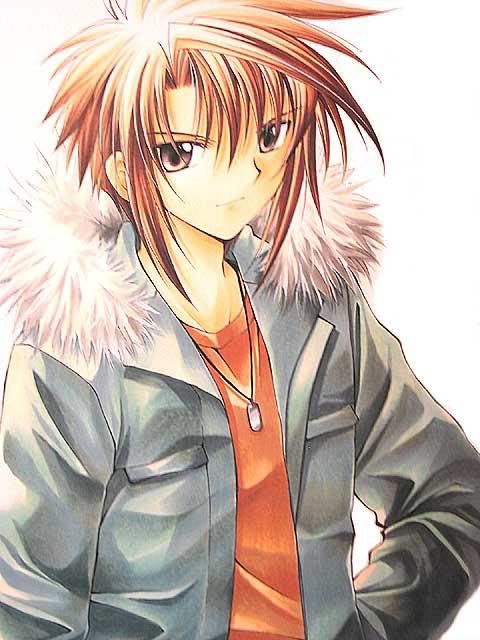 ---
---
Max stands at an average 5'11". He is toned to an agile body with his muscles more likely to move with speed and grace rather than brute and force. His dirty blonde hair spike out a bit everywhere and doesn't look brushed half of the time. His blue eyes constantly have a look of curiousness in them, as he is usually bringing his nose into businesses that isn't his, most of the time giving him trouble with it. His left arm looks scarred, bruised and beaten.
Average
Athletic and Agile
Max is usually seen in a jacket with a fur lining for it's hood. He usually describes it as 'remembering his life in Canada' seeing as how he was raised in the cold snow up there. Under that, he wears either a dark green shirt or an orange shirt seeing as how he gets too lazy to do his laundry every day. He wears normal jeans and shoes everywhere. In battle he would usually drop the coat to give him more movement with his arms.
---
---
Easiest way to describe Max? Gullible, cocky and extremely hyper active. Though that should be simple seeing as how he has ADHD. He is kind but reckless in the way that he puts everybody else's life before his and would usually die for anybody. Kid being bullied? He'll attack the bully. Kid in danger on the street? He'll run to save the kid. He will always throw his life on the line to save another's. He's stubborn and will not take an insult without back lashing. He fights for his own sense of justice.
His ADHD makes stops him from concentrating on one thing.
He heads face first into battle without thinking.
His abilities protect him as much as they injure him.
Arachnophobia: Absolutely despises spiders and will over react on sight of them. If they're too big he will cower in fear or if they're too small he'll bash at the spot he saw one until stopped or the spot is beaten down.
Agrophobia: Heights make him sick and looking down from them makes him stop being able to take action.
Thanatophobia: The fear of losing someone drives him into action. If a person is to die infront of him, Max will die before that person does by taking the blows.
---
---
Maximilien is a full-fledged Canadian. His father's family descending from the first settlers of Canada and his mother coming from rich merchants, he's always been 'spoiled'. Though unlike his three siblings, he's the one that doesn't want the world to himself. He's lived a rather peaceful life within his home in Toronto until he learnt the existence of the Kishin Eggs.

He was checking out books at the library until this.... thing attacked the library. The monster made quick work of it's meal, but not until Max tackled the last of the survivors out of the way. As he got attacked, he raised his arms into the air and saw them glowing as it blocked the blow. The monster, startled by the block, fell back. That's when a Meister came in and finished the job.

That's how he learnt about DWMA and the weapons and Meisters. He enrolled this year after much practice with his ability of conjuring his Soul shield.
---
---
[Soul Aegis]
: Max's greatest defense is his own soul. Max is able to manipulate his soul into a physical form and fuse it into his left arm. This ends up forming a makeshift shield covering him from harm. Though this can cause problems as if his shield takes too much damage it will crack and cause injuries to Max. Some may appear physically, others may not.
Repulse:
Max's arm fluctuates with energy and repulses the things currently connected to his arm. Clothing will burst off, that's why he wears t-shirts in combat, and the thing he was blocking will be sent flying.
---
---