Fate Reaper Evans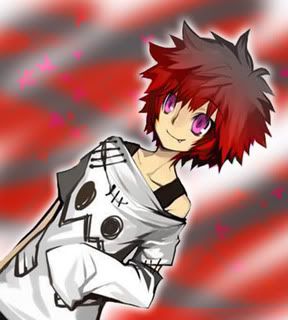 Nickname: Fate
Age: 17
Gender: Male
Meister or Weapon?: Scythe weapon (weapon 1)
Human Appearance:
Fate Reaper Evans. He usually drops the 'Reaper' part because well...that's not really him. It was his mother's sense of melodrama and uniqueness that caused him to have such a middle name. 5'6", Fate looks more like a girl than anything, with his head of spiky red and black hair, his large pale lavender eyes that seem to glow...He has a small tooth sticking out of his mouth. A fang, to be precise. He looks like a child, but Fate is much more than that. He got his hair from his grandfather, Shinigami-sama's own Death Scythe. It's funny, since neither of his parents have red hair that he should be the one to get it....
Weapon Appearance:
As a scythe, Fate has a straight rod, except for a small dip near the top where his technician's hand could fit. The rod is dark red, with intricate designs above the dip. His rod is smooth below the dip, except for one little area which has a small design to help his technician's grip. It tapers out to almost a point at the bottom.
His blade is two parts. The longer half is black, plain and simple, with a shine to it. This is where his face appears when he wants to talk face to face with somebody while remaining in weapon form. The other half is also black, but it is much smaller. And it has lavender swirls - the same shade of glowing lavender as his eyes - all over it. Hanging from the top is a small white fang attached to a metal chain.
Soul Appearance:
Fate's soul is pale blue. The top resembles his hair, but he also has a miniature fang sticking out of the mouth. His eyes are tilted.