DESCRIPTION
Age: 16
Sex: Female
Height: 105
Weight: 5'2
Role: Weapon
Skills & abilities: Self Resonation is included: She can turn into many odd weapons but prefers a scythe or guns.
Appearance: Hinata has dark blue hair, fair skin; traits she inherited from her mother. She also has the customary white eyes of her clan, which have a tinge of lavender in the anime. She is usually seen with a shy expression. Like the rest of her clan, she possesses the renowned Byakugan which, when activated, stimulates the veins and arteries immediately around her eyes to protrude much more prominently. Hinata has developed into a young woman with a slender, yet curvaceous frame and a sizeable bust. While retaining her straight hime-style haircut, she lets her hair grow to waist-length. The short, strands that frame her face still remain, but are now shoulder-length.
Dress: Her clothes range from a loose fitting, long-sleeved, lavender and cream zip-up jacket with lavender cuffs over mesh armour with navy blue pants and black, low-heeled sandals. Although she still wears her forehead protector around her neck always. To a short skirt wrapped up stomach and skirt with back tights and high heeled sandals to black and red short kimono to a black short skirt, a black t-shirt, a loose fit purple jacket and flat sandals.
Soul Type: Hinata's soul is 'very co-operative and has a lot of space to accept people' as said by Stein.
Soul Color: A Light Purple Grigori Soul,
Soul Description and appearance: a light purple soul with a shy expression on it's face. It mirrors Tsubaki's soul except for the color. It is also a Grigori soul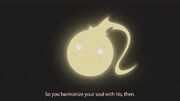 PERSONALITY
Likes: A.C, singing, music, polite, respect, magic, skate boarding, goofing around, laughing, games, being a ninja, caring and intelligent people
Dislikes: serious people, silent rooms, laziness, unintelligent people, to much sillyness, fake people, attention whores, competing and fighting, Calyx Avery Mason
Personality: Kat is one of the most mature characters. However, she is not as short-tempered and is very patient and forgiving. She has a very magnanimous, polite and gentle personality and always tries to help or comfort her friends even when she has no idea how to help. She is caring and understanding and sometimes acts as the mediator when her friends fight, and her understanding and insight sometimes makes her the agony aunt figure for people who are troubled. She cares deeply for her friends, and does not seem fond of things that might make them upset. She often worries about her friends if they are in danger, and is upset when the people she cares about are hurt.
She is also generous and kind-hearted, up until the point that some people even take advantage of her. Her tendency to trust people at all times also hinders her once on a written test at the DWMA, when she fails to see a trick question. She also has a habit of apologizing, even when it isn't her own fault. One of the most mature and flexible characters, Hinata is very amicable and gets along well with her peers and can be very understanding of their feelings.
Because of her accepting nature, she can see the good in people who, at first glance, do not seem to have anything likeable about them. She deeply cares for her friends and prefers to avoid unnecessary conflict, usually being the one who diffuses any arguments between people, making her a dependable and trustworthy friend. Her patience often makes her the only calm one. in situations when everyone else has lost their temper.
However, some people, like Masamune, accuse her generosity and capacity by calling her a pushover, saying that she does not have the ability to show her true feelings or deny something that she thinks is not true. As a child, Kat had a habit of pretending that she liked certain things in order to please others, such as when she told Masamune that she wanted to play ball when she really wanted to play house. She does suffer from low self-esteem at the start of the series, comparing herself to the camellia flower, a 'flower without a fragrance, blooming silently and looking tragic when its petals scatter.' She can also be a little submissive and reluctant to be direct. However, her confrontation with Masamune allows her to mature and be more confident with herself, and she denies that she is a flower without a fragrance, and proves it to her brother by defeating him. She learns to be more honest with herself. When the situation calls for it, she will put her foot down, and can be as determined and as stubborn as Black Star himself.
Despite being on the calm and accepting side, she still knows when to draw a line, and can be as punishing as Maka when someone, especially her partner, does something inappropriate, such as spying on her while she is bathing. Due to her overall serious nature, she still shows some dismay and shock. She is like this with Calyx Avery Mason
Abilities
Kat's abilities as odd as it sounds is actually luck. She is incredibly lucky which as useless as it sounds can actually come in handy when your fighting. She also has almost superhuman, speed, senses and endurance. She also has soul perception, Anti Demon wave length aka soul carries an Anti-Demon Wavelength. This Wavelength acts as a powerful barrier against insanity and darkness.Physical Fitness, Black Blood, Courage. Kat has a Grigori Soul, a rare type of soul that only one in fifty million people possess. Grigori Souls have wings, which gives the person the ability to fly.