---
---
17
Male
Meister
Masamune Tsubaki
Longish, unkempt hair tops the head of young Andrius. His eyes, deep crimson like his hair, have a somewhat glowing appearance to them, especially in a certain light. His parents used to joke around and say that they dropped him in a tub of toxic waste and that's why his eyes glow in such a strange way. His skin is usually very pale but, when exposed to a lot of sun, it tans very easily and very quickly, almost never burning. Usually, he dresses casually and comfortably, almost always consisting of a black tee and tan pants, occasionally cargoes.
5 feet 11 inches
---
Andrius isn't overly strong, but he's very quick and agile. He's good at sneaking around and assessing situations before jumping into them. He likes to stay in the shadows before he makes his move. He's very intelligent and calculating.
He's also very good at conversing with and getting along with strangers, despite his somewhat lacking people skills when at school.
When it comes to his temper in relation to fighting, Andrius actually is known to be much stronger when he's calm, unlike most people who are stronger when angry or emotional. He lets his emotions get in the way which fogs up his head quite a bit. Since he uses brains and strategy when fighting, he fights much better with a clear head.
Something strange about him is that he's very good at seeing in the dark, it is as if his glowing eyes help him see, like a flashlight. It also helps other people because, in the pitch black, you can actually see his eyes shining red, like a beacon to his location (this can also be a bad thing if he's being sought by a bad guy.
His grandparents used to always speak Russian when the visited despite the fact that they both knew English, and his parents occasionally did, so he has a good grasp on the language and it isn't uncommon for him to say some Russian words in the middle of English sentences.
---
This boy's personality is all over the place. He can be as fiery as his hair and he snaps easily, and then he can completely turn around and become a very gentlemanly, personable young man.
He has a lot of bad personality traits that people are often quick to point out to him. Andrius is very selfish, impatient, and often jumps to conclusions too quickly (when not fighting). He often lets his temper get the best of him and can be set off by just about anything. However, he is good at handling his anger, and will usually shout at whoever angered him and then stomp off so he can cool down.
On the flip side, Andrius can be a great friend and good ally if you take the time to get to know him. He's very loyal, not unlike a dog, and will often follow someone that he really cares about around to make sure they're always safe. He's a lot more edgy around other males, and more likely to get set off when he's with a group of boys than girls. He almost seems to be a different person when around those of the finer sex. He actually gets kind of shy around females, but will also try to act like a gentleman for them and it takes a lot more for him to get angry at a girl. Andrius is also very good with animals, children, and strangers. He's very intelligent, as well, though he doesn't like to show it as much when he's not fighting because he's convinced it makes him look weak to his other classmates. He usually tries to appear impassive when around others, but does have a bit of a habit of letting his emotions get the best of him which frustrates the poor boy to no end.
---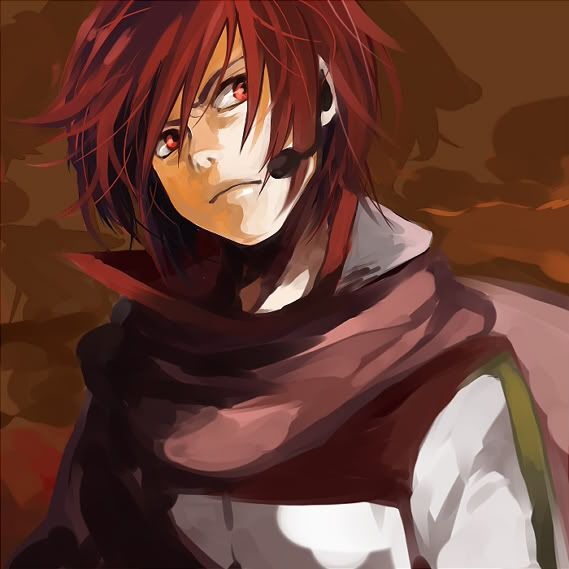 Andrius is the grandson of a Russian and Lithuanian who ran away to the United States just before the World War 2 with their families and settled down in New York City to live a long life as bakers in their own bakery. The two of them had five children, three males and two girls. Their youngest child, Samuil Kouligowski met a young art student from Maine, Alice Reed, and the two married two years later. When Alice was 24, three years after she married, she became pregnant and the two moved from the Big Apple to Amargosa Valley, Nevada where they had a healthy baby boy whom they named Andrius, after Samuil's father.
Andrius lived a happy life with his parents being an only child. He always had a temper and never really got along with the other kids at school. His lack of friends during his younger years led him to be more isolated and less friendly to new people, though he was always a completely different person when with his family, especially his babushka and dedushka (his grandparents) who always spoiled him like mad.
When Andrius was five, his grandfather died. Three years later, his grandmother died. He was very close to them, but their deaths didn't really devastate him or anything, they were all expecting it to happen.
When Andrius turned 15, his parents sent him to DWMA, hoping that the fighting and teamwork there would help with his temper and people skills.