[center]
Leon Silverking
Aliases: The Silver Rocker
Opening song
Catfish Soup & ARTIST- ATTACK ATTACK
Battle/Alistair theme:
The Wretched & ARTIST- ATTACK ATTACK
Ending song:
ONE OK ROCK-「アンサイズニア」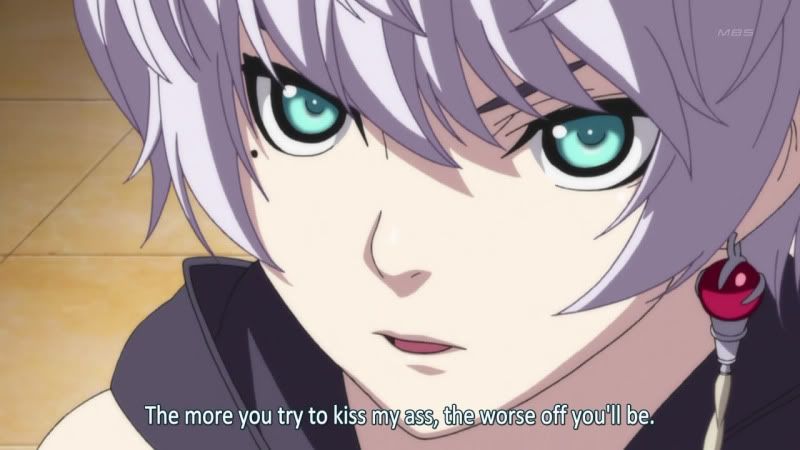 -Age:17
"Don't believe me? I'll kill you."

[b]-Gender:Male
"Who are you calling little girl?"

[b]-Weapon/Meister/witch/teacher:Meister
"What do you mean little kids shouldn't play with sharp objects?"

[b]-Partner:Roxanne McKelly

[b]-Description: Apart from the stuff you read below, whenever he gets mad his face turns red. He is a girlish and short looking boy for his age giving him a Napoleon complex. "Listen you. If you think I'm a girl then I hope you have the balls to back up your thoughts." Whenever he is in resonance mode, his left eye turns red and he gets the mark of Alistair on his face. It is a special mark which he was born with. He
He usually wears black and purple clothes with a hood connected to everyone of his shirts. He wears black sneakers. When it comes to looks, girls find him adoring and men even find him.....cute? He easily gets mistaken for Female. His beauty mark on his right eye doesn't make him look any manlier. His only piercing is on his left ear where he wears his family heirloom.



[b]-Height:
5 feet 8 inches
"Call me shorty one more time. I dare yah."
-Weight:140 LBs

[b]-Hair Color:Silver plated Grey

[b]-Eye Color:Emerald Green

[b]-Skill(s)/Ability(s):He knows how to play the guitar pretty well.
Like most meisters, he can see souls. He can even here the music that he claims every soul plays.
Martial artist. He doesn't practice a specific martial arts style, but because of his years without a weapon, he's good on his hands and feet.
Practical genius. Since all he did in DWMA was study and go to class he has allot of knowledge on souls and how they work. He would be considered a genius but he has no field knowledge or even weapon knowledge.
His Alistair mode: gives him a double dosage of resonating soul power. He can only use it for 30 seconds though and it causes red ooze to shine out from the birthmark that is activated at the time if he goes over that time limit. If he goes to far he turns into the demon Alistair.
More to come...

[b]-Personality:"My life sucks but who cares. At least I can kick your butt."
Leon is quiet at times and loud at others. It really varies on the situation. He has a Napoleon complex because of his height and his figure. Most of the time people mistake his gender which always makes him try to put on an stern face. He can only be tolerated by a person who can tolerate anything. He does have a sweet side to him though but hardly shows it because no one get's that close to him. He likes to emotionally prepare himself for the worse. He's ill tempered and generally a rock fiend. He loves how the music pumps him up. He also has schizophrenic tendencies. He has another him inside of himself called Alistair. When he fights he tends to say guitar and song references. Only after he meets his partner though. He is also very chivalrous. TBA


[b]-Bio: Leon was born in a small family of four. One mom and 3 older sisters. His mom was a famous Meister who took down a magical barrier at the age of 17 with his dad as her weapon partner. His dad died before he was born of a sickness. At least that''s what he was told. Being raised by girls he'tends to upkeep his appearance. He even wears lotion to make his skin smooth. He was born with a dual personality. The other him that calls itself Alistair talks to him only when it feels the need. He was always a troubled child despite his family being a good one but when he was 8 his mom gave him a guitar. It was his first instrument and it took his mind off the voice. His sisters are all weapons of the finest cuts of blades imaginable and he went into DWMA expecting one of them to be his partner. This didn't work out well since they were all older than him. When he was 14 he tried having a partner but their personalities clashed to much. At 15 another partner of his just couldn't match his high strung wave length. At 16 he sadly gave up trying to find a partner because no ones soul made a sound he felt like partnering up with. He instead focused on just learning how to control his wavelength so he could fight alone. He plans on finishing his years at DWMA not ever having a real partner and living the life of a rock musician. Little does he know, this year at DWMA things are gonna heat up in his life.TBA....




[b]-Other:
"So I'm thinking AMWD stands for Angry Midget Warrior Detention. If that's so, then prepare for this Midget warrior to make detention a living hell. Oh it's just DWMA spelled backwards. Well that's dumb."
Alistair: The dual personality that resides in him. Alistair's only goal is to one day take over his body and rule the world as a Meister in Lord deaths place. To bad for him that all of his catalyst so far have been stubborn Brats. He has a vendetta against lord death for ceiling him inside of males of the Silverking family. He is the embodiment of wrath. His power comes from anger. Leon was told by his mother that Alistair use to work with Lord death as a witch hunter, but his hate for all things evil drove him mad with rage and Lord Death sealed him in his his partner who volunteered. This man was the first vasal of a line of males in the Silverking family.
Trivia.
He has a soft side for soft things. IE. Cleavage.
He is a man, despite what others think and he's more than happy to prove it in a fight, or a meat eating contest. Meat is good.
His Birthday is on June 19. The Night of the Gemini. Hint:Dual personality
Being raised by only females he can do allot of femininely things. For example: He can apply make-up to a girls face.
It also makes him able to do the mans part too. Basically he is a husband and wife to himself.
That gallery thing the cool people do:
He like kittens.