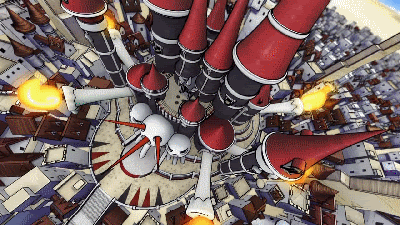 "Hiya and welcome to Death Weapon Meister Academy! I am the Grim Reaper, Lord Death, I established the DWMA years ago to train weapons and meisters like yourselves to combat the evils in this world. Your duty as a meister or a weapon and as a student at this academy is to collect the souls of human beings who've turned wicked beyond repentance! We call them Kishin Eggs, if a meister and a weapon collect 99 of these Kishin souls and the soul of 1 witch, the weapon's power enhances exponentially and transforms it into a Death Scythe, a weapon capable of being handled by yours truly, Lord Death! Your other goal while enrolled in the DWMA is to learn of course!!! While it is a very important thing to collect the 99 Kishin souls and 1 witch soul, you have to also learn many things, like how connect wavelengths, cooperation and team work! I hope most of you will be able to get along with each other, but in case that you don't, don't forget you don't get in trouble for fights, as long as a professor is there to monitor it! Good luck finding your partner or meister! Class starts now!!"
Plot Line

You were welcomed to the Academy by Lord Death himself, and in the following day's it would be up to you and the other students to find partners. The Death Weapon Meister Academy, or DWMA, seems to be much bigger than the outside, and had even more students than years ago. It's been 40 years after the skirmishes with Asura and Arachniphobia, the world has been at beast other than the normal Kishin eggs that students are sent to take care of, the DWMA is having an large amount of new students this year, so something bad is bound to happen. Most witches are hiding away no, afraid to have their souls eaten by DWMA students who are trying to make the perfect weapon for death, and there are rumors about a new Kishin being born that no one is denying, but the academy is no busy with all of the new students, but it wont stay like that for much longer.

The reality of things is that the new Kishin is nearly done being born, and most of the students aren't anywhere near ready to face it and the witches that are coming out of the shadows. Hopefully the professors and Lord Death can get you all ready in time to fight. Good luck and do us all a favor hmm. Try not to die to soon, because now you may be our only hope of saving this world from madness and chaos.
Note: The Following information is being used from Wiki, I have simply edited it to fit my desires.
Information

SOULS:

Souls are probably the most important thing in the Soul Eater series, in this role play and the centerpiece of the plot. It is the origin of all the characters' and is a manifestation of each character's personality, psyche and abilities. People with special types of soul can utilize different powers and abilities (e.g Maka's Grigori Soul enables her to fly). Souls can come in many different variations, differing in type and strength. Souls are important in the DWMA as Meisters can only wield Weapons that are compatible with each other's souls. The true power of Weapon and Meister can be exerted by them resonating their souls together, a Soul Resonance, which is a process of the Meister sending his/her Soul Wavelength into the Weapon, which sends back the Wavelength to the Meister. This process is repeated until a single, even greater, Soul Wavelength is made, which enables them to use powerful attacks.




Each soul gives out a sort of energy wave, called a Soul Wavelength. Each soul has its own Wavelength of a particular frequency and skilled Meisters who can use the Soul Perception ability can identify a person by sensing their Wavelength. Some types of people, like Witches, all share a distinct Wavelength and can thus be easily identified. To prevent this, they have adopted the ability of Soul Protect.
Soul Wavelengths vary in strengths and frequencies, depending on how strong and big the soul is, and also on the health of the person concerned. Individuals who have large souls have a powerful Wavelength, and if they have good control of their Wavelength, they can generate it and exert it freely through their bodies
in the form of an electricity-like surge in combat. Several moves, like Black Star's attacks, are made possible through the use of Soul Wavelengths. Soul Wavelengths, like souls, seem to have some different types with certain properties, such as Maka's Anti-Demon Wavelength and Marie's Healing Wavelength.

A Soul Wavelength can influence a person, or a group of people, with differing results. An Insanity Wavelength can cause havoc on someone's mental state. If an incompatible Wavelength is forced into a body, it can can be painful and, if the Wavelength is amplified with Resonance, even cause internal damage. However, there are also more positive influences, such as Soul Resonance, and if the bond between Meister and Weapon is strong, one can influence the other via their Soul Wavelength to break out of even a strong Insanity Wavelength.

The importance of souls in the series is emphasized through the phrase Maka utters-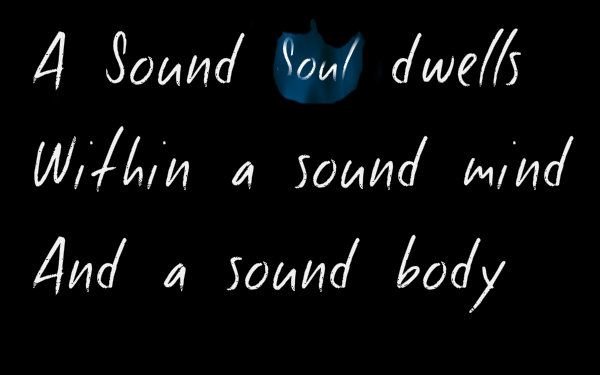 MEISTER'S:

There are three different levels of a meister, with each designated with a star, one-star being the lowest and three-star being the highest. The difference between the ranks is evident from the focus in battle, types of skills used, and desire to harvest evil human souls, rarely straying from these types. This likely stems from the fact that most new meisters strive to gather souls and create a Death Scythe. Two-stars and above seem to be sent on specific missions that have nothing to do with harvesting souls, often possessing a skill that would prove advantageous to them. Needless to say, three-star meisters are the best meisters for fighting without weapons and being common wielders for death scythes. Enrique shows that its possible for animals to be meisters but how this goes about happening is unclear. If your stars are going to change, the change will be done by Lord Death, and your rank of stars will be on your student ID just like the professor's ranks will be on their ID's. Much like the example below.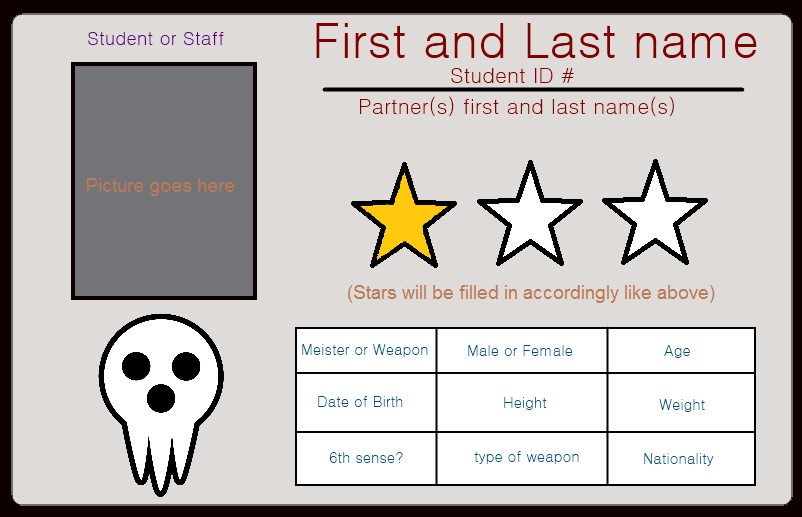 WITCHES:

In Soul Eater, witches are powerful beings and the natural enemies of the Academy, as almost all of them have a destructive nature. Most witches featured in the series are based on a distinct animal and have some of their traits in both their personalities, fighting styles and appearances. Witches are also distinguished by their uniquely-purple soul.




KISHIN/ EVIL HUMANS:
Kishin are beings created as the final result of consuming an unimaginable amount of pure Souls. Any individual who achieves the status of Kishin has the power of a god, and becomes an equal to Lord Death himself. This individual will also excrete a Madness Wavelength of such high density that it can encompass the entire world, driving those who fall to it to utter insanity, only a few people can with stand the sanity for so long, or people with rare souls.


In Soul Eater, Evil humans are humans with "corrupted" souls. If a Weapon should start to consume a human soul that is not on Lord Death's list, that Weapon's soul becomes corrupted and they become a Dark Weapon. Consuming pure souls is the one way to become a Kishin, and these Dark Weapons are in danger of going insane.

They are the product of a normally pure being consuming a pure innocent human soul. The end product is that the human's soul becomes corrupted and gains the urge to feed on more souls. Ultimately, this leads to them being hunted down by Meisters and killed before they become a Kishin. The anime shows evil human souls to be red in color with dark 'scales' on some parts of the surface once killed.


Roles
More roles will always be opened as long as we have a equal number of partners, there can be a never ending amount of Witches, and teachers. I'll be playing Lord Death, and hopefully someone else will be willing to play the new Kishin and be willing to help plan out some eventful fights and what not. Most witches will be helping the Kishin but I'll allow at least two the help the Academy. Also, the Professor's that are weapons will be Death scythes, they'll serve as a weapon to Lord death and the other professors who are meisters. Understand one thing through, Weapons and Meister's have a strong bond, and they would give their lives for each other most of the time. It's not likely for them not to get along. You can reserve as many characters as you can handle, so on that note, good luck everyone!
Meister 1
(Female)
- Taken by Emily3456
Weapon 1
(Male)
- Taken by SpartanWolf
Meister 2
(Male)
- Taken by けい-ちゃん
Weapon 2
(Female)
- Taken by Kiyokojordie
Meister 3
(Female)
- Open
Weapon 3
(Male)
- Open
Meister 4
(Male)
- Reserved for FamishedPants
Weapon 4
(Female)
- Taken by OurStars
Meister 5
(Male)
- Taken by DragonBreath
Weapon 5
(Female)
- Reserved for PINKAnime
(Will add more as needed)
Kishin
(Male)
- Reserved
Witch 1
(Female Helps Academy)
- Open
Witch 2
(Evil Male )
- Reserved for Capra
Professor 1 Master Meister
(Male)
- Taken by Emily3456
Professor 2 Death scythe
(Female)
- Taken by けい-ちゃん
Character Sheet
Code: Select all

[center][color=B50B0B][font=Bella Donna][size=400][u]NAME HERE[/u][/size][/font][/color]

[font=Times New Roman][url=YOUTUBE VIDEO W/LYRICS HERE]INSERT THEME SONG TITLE & ARTIST HERE[/url][/font][/center]

[img]Anime url here, feel free to put more than one image through out sheet.[/img]

[font=New Roman Times][b]Age:[/b][i]15-18(unless a teacher)[/i]

[b]Gender:[/b]

[b]Role:[/b]Weapon/Meister/witch/teacher?

[b]Partner:[/b]

[b]Description:[b] At least a paragraph, anything that the picture doesn't show.

[img]If your a weapon put the image of it here, if not take this out.[/img]

[b]Height:[/b]

[b]Weight:[/b]

[b]Skill(s)/Ability(s):[/b]

[b]Hobbies:[/b]

[color=green][b]Likes:[/b][/color]
✔
✔
✔
✔
✔

[color=red][b]Dislikes:[/b][/color]
✘
✘
✘
✘
✘

[b]Personality:[/b] At least a paragraph, characters will change as story goes, and event's unfold.

[b]History: [/b] At least a paragraph

[b]Other:[/b] Did I forget anything? Anything you want to personally add?[/font]
1. Proper grammar and spelling. I have typos too, no one's perfect, but please, not text talk.
2. Make your character detailed. I want length and effort. Make him/her unique and special. You are also more likely to be accepted if your character has images along with gif's.
3. Stick to the plot please. No creating your own fantasies and throwing random drama about unless you speak with me first.
4. This will be literate. I'm not expecting you to write a novel, but for every single post I want a clear, precise understanding of every single thing going on. Te fight scenes cant be one liners, it needs to be detailed and you need to explain how your character feels.
5. You can either OOC or PM me to reserve a slot. You have 48 hours to get your character in, then if you give me a reason why you haven't been able to and you still want the spot you have another 24 hours. But those are most likely the only chances you'll get. When you reserve a spot, begin with 'Hiya Emily!'
6. If I try to suggest other things to you, it doesn't mean I hate you, it means I care enough to try and help you out!
7. We are all friends here; don't be afraid to correct each other.
8. You must be able to post at least three times a week. But most likely we'll all post more than that.
9. Have ideas. I am always open to new plot ideas. If you have one, don't be afraid to suggest it to me. Please help this role play grow, I love plot twits, if characters don't get along right away then work with the other person to put together a fight that'll help! We will need all of the good characters to get along through.
10. Have fun! Please o_O
- Emily
Taking place in...
Arcs are bundles of posts that you can organize on your own. They're useful for telling a story that might span long periods of time or space.
There are no arcs in this roleplay.
There are no quests in this roleplay.
Here's the current leaderboard.
There are no groups in this roleplay!
Welcome home, Promethean. Here, you can manage your universe.
Arcs are bundles of posts from any location, allowing you to easily capture sub-plots which might be spread out across multiple locations.
You can create Quests with various rewards, encouraging your players to engage with specific plot lines.
Settings are the backdrop for the characters in your universe, giving meaning and context to their existence. By creating a number of well-written locations, you can organize your universe into areas and regions.
Navigation
While not required, locations can be organized onto a map. More information soon!
There are no groups in this roleplay!
By creating Collectibles, you can reward your players with unique items that accentuate their character sheets.
Once an Item has been created, it can be spawned in the IC using /spawn Item Name (case-sensitive, as usual) — this can be followed with /take Item Name to retrieve the item into the current character's inventory.
Give your Universe life by adding a Mob, which are auto-replenishing NPCs your players can interact with. Useful for some quick hack-and-slash fun!
Mobs can be automated spawns, like rats and bats, or full-on NPCs complete with conversation menus. Use them to enhance your player experience!
Current Mobs
No mobs have been created yet.
Locations where Mobs and Items might appear.
You can schedule events for your players to create notifications and schedule times for everyone to plan around.
Add and remove other people from your Universe.
The Forge
Use your INK to craft new artifacts in Soul Eater: The Memories. Once created, Items cannot be changed, but they can be bought and sold in the marketplace.
Notable Items
No items have been created yet!
The Market
Buy, sell, and even craft your own items in this universe.
Market Data

Market conditions are unknown. Use caution when trading.

Quick Buy (Items Most Recently Listed for Sale)
None
Discussions
Most recent OOC posts in Soul Eater: The Memories