---
---
---
---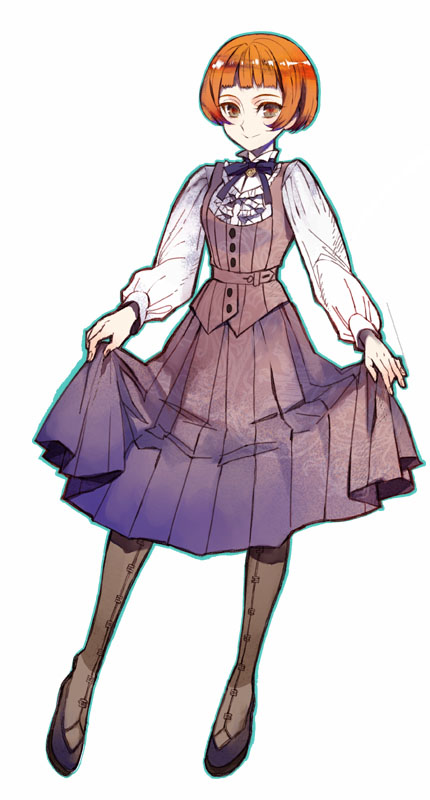 Name: Annabell Pyke

Age: 23

Height: 5'4 ft

Weight:104 lbs

Gender: Female

Nicknames: The Blood-Soaked Warriors(s), Anna

Class:First Class

Likes: Dresses, Dancing, The smell of blood, Her brother, Caramel apples

Dislikes: Jerks, loosing a bet, The idea of becoming a slave

Physical description: Anabell is usually descried physically as a petite and gentle looking woman. It's true that her human form is quite delicate for one who fights so very often, but it's not the body that counts; it's the soul.

Anyways, Annabell's human form is like that of a child. Her orangeish-red hair has been cut short to her ears, And her eyes are like that of an Apple; A little green, and a little red. Her breasts do not stick out much in the kinds of dresses she wears, however she does wear a B-sized sports bra underneath. Her dress size is 10-12, while her shoe size is 7.

Annabell loves to wear old Victorian style dresses. It's very unlikely for you to find her without a dress on, (Unless you've caught her naked, you pervert.)

Mental description:When in her human form, Annabell is just as elegant as she looks. She talks sweetly and seductively, as if to draw you into a trap. She's a good liar, but obviously not one of the best. She does it rarely, and only in emergencies. Her intentions are usually neutral, and all she really cares about are the soul points. Annabell's a quick thinker and not gullible in the least, though, if you're persuasiveness enough, she might believe it. Annabell is very sensitive to insults, and won't take any shit from anyone. She's always very eager to take on a rude challenger for extra soul points. But so long as you're clever, persuasive, strong, and handsome, she might just let you live.
---
---
---
---
Source of power: Most of the time, Annabell uses the strength of her anger or hatred for someone and converts that into her power. Her power ranges from how much she hates/wants that person dead. At a low level, she's strong enough to kill a boat full of regular humans with ease. At a medium level, she's able to defeat a low/medium powered soul. At her highest level, she may or may not be strong enough to defeat a Boss, depending on if it's at a high level or extreme. If its at a high level and she's teemed up with her brother, than yes, she can. But if she's fighting one of the strongest bosses, there's a high chance she won't even make it.

Skills:
-Can shoot fire from fists for 10 seconds
-Can move at incredible speeds (but there's no breaks!)
-Can hide during battles (If she needs to)

Weaknesses:
- Clumbsyness
- Can't swim
- Weakness to Ice/Water

Skill ranking: C+
---
---
---
---
History: Anabelle and her 'older' brother, Chester, lived in the higher class in the Pyke's Residence. If you looked closely, it could be spotted far north of the Solice of a city. With a mother and father who were always busy with work, the twins only had each other, and that was really all they needed. They were obviously spoiled little children, yet they were taught their manner by maids and followed the rules of their household every day. The kids made their beds, were quite in the halls, did their home-work and some of their chores, but when it came to play time they never stopped bickering. Annabell would scream at Chester saying that she won what ever game they were playing. Chester would disagree with her and pull on her hair, screaming the opposite. Though before things got too physical, they would be separated for a while and be put in time out. Afterwards the twins would apologize to each other and continue playing. This childish behavior went on from year 3 to 16. But When year 16 came, things started to change.

After a fight with her brother, Anabell ran away without a trace. No letter, no suitcase, no nothing. Chester felt extremely guilty for her leaving, not just because his parents said he couldn't come back until he's found her, but because he realized how much he really did care for his sister. Chester searched forever for his sister until he finally found her sitting on the edge of an old bridge. Chester quickly embraced her and comforted her out of her suicidal thought, and was able to convince the girl to come back home. They got up the bridged and walked quietly together, hands holding tight.

But as Annabell and Chester neared their home, they began to smell the faint smoke of burning. Chester was curious, while Annabell was scared. She ran ahead and was almost dragging Chester behind. By the time they got back to their home, Chester had realized what was going on.

Their Mansion was burning down.
Everything they knew and everything they loved was being engulfed by flames. Annabell attempted to run inside, but Chester knew better and held her back. There was no way anyone could still be alive. Not even his father, who spent most of his time in the wine cellar. Chester let Annabell cry, but didn't let a single tear drop from his eyes. He knew from that moment that things were going to be different. He knew something suspicious was going on, and he wanted to find out.

Chester and Annabell got jobs as shop keepers for a while. They sold dresses, dress accessories, bonnets, vests.. All the things Annabell learned how to make. But one day, a strange man came in. He asked Annabell about their store profits. They weren't going that well, but Annabell chose to say that they were doing fine. The man asked Annabell if she wanted to do better. Obviously, she said yes. The man grinned and handed over a needle and a letter. After that he tipped his hat and left. Chester walked into the room shortly after, said hey and asked about what Annabell had in her hands. She told him it was some kind of magical substance to make their lives better. Half-believing his sister, he sat down beside her and took a closer look at it. Annabell explained how the man came in handed it to her, and left. Just like that. Chester thought it might be some kind of drug, while Annabell thought it was a potion. She was about to inject it into herself when, Chester pointed out that it was locked, and needed a special key to be opened. Annabell mentioned that they needed to go to some sort of meeting. Thinking no harm would come from it, Chester agreed to come.

But little did they know that if they went, there would be no return.

Theme song: Misery Business by Paramore