---
---
---
---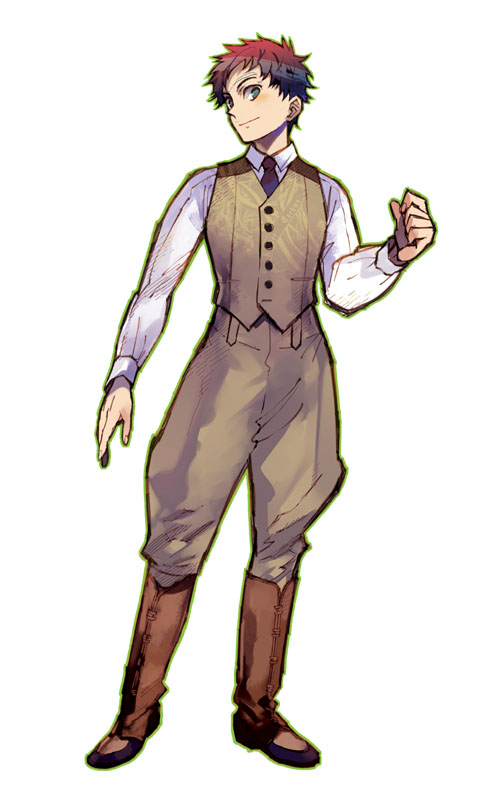 Name: Chester Pyke

Age: 23

Height: 6'2 ft

Weight:134 lbs

Gender: Male

Nicknames: The Blood-Soaked Warrior(s), Chess

Likes: Winning, Making his sister happy, Helping people, Dressing nice

Dislikes: Loosing, People who offend his sister, Mercy

Physical description: People who have seen Chester Pyke's sister already suspect him to be like her mirror image, and in a way, he is. But Chest disliked being called "her" mirror image, so to prevent it, he's cut his hair shorter and changed his way of dressing. Before, he used to have just ear-length hair like she did. But now, he has spiky red hair that shades blue in the dark. He's almost a whole foot taller than her. Chester's original eye color was like his sisters Hazel, but for some reason, the transformation has made it take only one side of the hazel and has changed completely to green.

Chester has big feet and wears a size 10 in boots and medium in shirts.

Mental description: Considering that they are twins, Chester's personality is not that much different from Annabell's, though he has grown a protective side over her. Chester can't stand to see Annabell fight alone, yet at the same time he can't stand to be fighting without her.

Chester does not however, have the same short-fuse as she does. Chester is a little more calm about his decisions and thinks through things carefully. He's a man of wisdom, understanding, and a lot of common sense. Making rash decisions is not something he's know for however, he will if it means the safety of his sister.
---
---
---
---
Source of power: Chester gets his source of power by thinking about what's going to happen if he looses. Chester's not really that powerful until something important gets taken away from him. To win normal fights, he would stay by his sisters side and usually play the defense while she plays offense. He doesn't care much for the soul points, and really doesn't bet that much on fights. But the part that really gets him to transform is the thought of getting revenge for his family. What really turns him into a beast is reminding himself that if he looses, everything can be taken away from him again. Chester doesn't want that to happen, so when the time comes, he lets his inner beast flourish. But once it comes out, it doesn't stop until everyone's dead.

Skills:
- Shoots fire from fists for 10 seconds a minute
- Can run at incredible speeds
- Can glide with wings for a minute
- Punches fast, hard and accurately

Weaknesses:
-Can't swim
-Weakness to Ice
-Weakness to Wind

Skill ranking: B
---
---
---
---
History: Anabelle and her 'older' brother, Chester, lived in the higher class in the Pyke's Residence. If you looked closely, it could be spotted far north of the Solice of a city. With a mother and father who were always busy with work, the twins only had each other, and that was really all they needed. They were obviously spoiled little children, yet they were taught their manner by maids and followed the rules of their household every day. The kids made their beds, were quite in the halls, did their home-work and some of their chores, but when it came to play time they never stopped bickering. Annabell would scream at Chester saying that she won what ever game they were playing. Chester would disagree with her and pull on her hair, screaming the opposite. Though before things got too physical, they would be separated for a while and be put in time out. Afterwards the twins would apologize to each other and continue playing. This childish behavior went on from year 3 to 16. But When year 16 came, things started to change.

After a fight with her brother, Anabell ran away without a trace. No letter, no suitcase, no nothing. Chester felt extremely guilty for her leaving, not just because his parents said he couldn't come back until he's found her, but because he realized how much he really did care for his sister. Chester searched forever for his sister until he finally found her sitting on the edge of an old bridge. Chester quickly embraced her and comforted her out of her suicidal thought, and was able to convince the girl to come back home. They got up the bridged and walked quietly together, hands holding tight.

But as Annabell and Chester neared their home, they began to smell the faint smoke of burning. Chester was curious, while Annabell was scared. She ran ahead and was almost dragging Chester behind. By the time they got back to their home, Chester had realized what was going on.

Their Mansion was burning down.
Everything they knew and everything they loved was being engulfed by flames. Annabell attempted to run inside, but Chester knew better and held her back. There was no way anyone could still be alive. Not even his father, who spent most of his time in the wine cellar. Chester let Annabell cry, but didn't let a single tear drop from his eyes. He knew from that moment that things were going to be different. He knew something suspicious was going on, and he wanted to find out.

Chester and Annabell got jobs as shop keepers for a while. They sold dresses, dress accessories, bonnets, vests.. All the things Annabell learned how to make. But one day, a strange man came in. He asked Annabell about their store profits. They weren't going that well, but Annabell chose to say that they were doing fine. The man asked Annabell if she wanted to do better. Obviously, she said yes. The man grinned and handed over a needle with a strange substance. After that he tipped his hat and left. Chester walked into the room shortly after, said hey and asked about what Annabell had in her hands. She told him it was some kind of magical substance to make their lives better. Half-believing his sister, he sat down beside her and took a closer look at it. Annabell explained how the man came in handed it to her, and left. Just like that. Chester thought it might be some kind of drug, while Annabell thought it was magic. She was about to inject it into herself when, Chester suggested he should volunteer first. Chester stuck the needle in his arm, but nothing seemed to happen. Annabell wanted to try it next, but nothing seemed to happen to her either. Little did the twins know, they were going to be a part of something big. Something big and something new, but something that they could never return from..

They were going to become monsters.

Theme Song: Demons by Imagine Dragons

Battle Theme: Slay it by Cryptex