Ro-mathius Crüven Domïnus
"Ro" is the title given to the ruling king of Estia. Even after death, Mathius prefers to be addressed as "Ro" by his subjects. Born without a name, the boy named himself. "Mathius" is the name of the captain that mentored him. "Cruven" a derivative of "Cru" the term for wolf in the Estian language; and "Dominus," to represent his dominion over the world.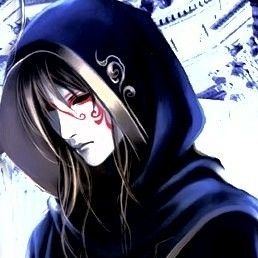 Title: The Arcane King
Faction: Seramel
Role: ♕
Race: Sorcerer
Gender: Male

Engineered by magic and forged in his mother's womb, Mathius was born a beautiful child and matured into a handsome man. With fair, creamy skin, eyes like frost, and hair of the sun, the evil that festers in his heart is obscured. The sorcerer is tall (6'4") and cut. A black tattoo of a thorn passes down his right eye and a scar rests over his heart. The sorcerer fancies wearing luxurious robes, denim, and boots. He will frequently wear rare stones and jewelry that assist him in regulating his powers.

As the White King, one can expect to see him in his robes with his face veiled by an ornate, ceramic mask. He will wear white and gold robes and not a piece of his skin or hair will be seen. His identity kept secret.

As a Gardenian, the sorcerer is very down-to-earth. He'll wear tanks, denim, boots, jackets and hoodies; whatever he fancies. His King's crest is visible on his hand like the other crests except it cannot be seen. A riddle in itself, or perhaps you are standing too close?
Personality – Mathius lived for more than a century before he finally died. His knowledge of human behavior is ingenious, and thus if one could be warned, he is a man not to be trusted. His ambitions are often selfish and are at the expense of those willing to help him achieve them. Having been created by his mother to rule, he believes that having acquired the position of king even after death was fate. He is a ruler, and he will take down nations with his cunning and power. With a man so invincible in self-confidence, his reign seems unstoppable, but he has died already once before.

As the White King, Mathius is hardly social. He gives orders and regulates the pieces of his army, but not even his subjects know much about him. As a Gardenian, one may be witnessing the honest side of the sorcerer—who he is when he's not the king. He is friendly, kind, and warm-hearted, a man easy to friend and admire. With such a guise, he finds it easiest to gather all the information he needs about his enemies.

Mathius knows how to appreciate a beautiful woman, and if a belle isn't careful, she could fall for his charm, which can be advantageous or disadvantageous. It depends if he actually loves her or if he is using her for information.

The sorcerer is a perfectionist, and dislikes flaw particularly in himself. This characteristic is what made him so strong, but it can also be a weakness. He never likes to see his own weaknesses.
Weapon(s) – His mind, tome, and jagged karambit (the tome and karambit, unfortunately, did not follow him into the next life).


Fighting Style- The sorcerer, like the king on a chess board, is never one to be taken alone unless one has prepared the proper trap. He is an undefeated champion and executioner when it comes to those enemies who challenge him without a plan. A wise opponent would stay out of his reach and use range to their advantage, but discovering that detail often requires one to make a fatal mistake. Mathius's jewelry allows him to harness and conduct most of his spells. Without it, he uses too much mental energy and can tire quickly. His tome and dagger are other relics that allow him to cast spells small and great effortlessly. Most small spells, he has memorized, but larger and deadlier spells require lengthy preparation. Often times, he will strictly use his brain in battle, reflecting attacks, utilizing ranged offensive, illusions, and for those unfortunate to be touched (skin contact) by him, he can take over their mind, imbuing in them one task that they will carry out until knocked unconscious or killed. The sorcerer likes a challenge. His self-confidence often shakes the confidence of those who challenge him. He always believes he will be victorious even if odds are against him. This deception is usually what gives him the advantage when his foes buy into it. He is quite the bluffer when he needs to be and an observer, always searching his enemies for a weakness and when he discovers it, he exploits it.

Having been a knight under the Estian throne, Mathius possesses the skills of a swordsman. He is skilled with long and short blades, archery, and shield combat. He is not to be underestimated for before he was a sorcerer, he was a warrior.

Role Abilities
Sense presence – Can feel the spiritual presences of the other "pieces."
Augmented Power – Their abilities and attributes are increased.
Contract of Royalty – exchange crest with allied member of your faction.

Natural Abilities
1) Psionics Mathius always possessed psychic powers from birth. The proper term for his race is Psychic, but having been born in medieval times, he was classified simply as a witch. He is capable of utilizing all regions of his brain. He is adept in telepathic communication, telekinesis in the arts of levitation, alteration, and repulsion, and violent forms such as mental domination. He can allow strangers into his mind as well as keep them out. It is the sorcerer's mind that is his most dangerous weapon. It is his third eye capable of seeing the distance of a normal human eye (made more convenient with his Sense presence ability). If the sorcerer happens to make skin contact with an enemy, whether it be a handshake, touch on the head, etc. He can fuck with their mind, implanting in their brain a task that they won't be conscious of and will be forced to carry out when the time comes. This ability doesn't work if he makes contact with gloves or clothing. It has to be physical contact, which includes: hair.

Having full control of his mind, he has regulated his own development, commanding his brain to make himself stronger and to make the necessary functions to extend his mortality. His mental and physical prowess is highly advanced and a marvel above normal humans.

2) Speechcraft The sorcerer's words seem full of magic; persuasion; charm; and influence. He can speak to all forms of nature, being capable of communicating with wild beasts and plants. By communicating with nature, gossip becomes the enemy's weakness. The sorcerer often wins a battle through words alone. More a natural form of verbal manipulation rather than a magical craft. When it comes to persuading intelligent beings, Mathius if allowed to discover personal information can emotional destroy his enemies, exploiting their weaknesses whether they be short-tempered, sensitive, or lacking self-confidence. A self-confident and courageous foe can resist his manipulation. Simply, one who figures out this technique can no longer be effected by it again for as long as they remember that he possesses such a skill.

3) Hex His greatest defense is his ability to project images into another's mind. To one affected by his illusions, one can be fooled into believing that the sorcerer possesses numerous magical abilities such as a shape-shifting, scaping (changing the space around a person), and elusion. Nothing is ever as it appears. Until one can discover his little trick, they will be forever lost in his ploys. After all, it's just an illusion.

Sorcery
4) Spell-weaver Mathius is naturally attuned to magic. He was created by his mother to be a ruler, and on her last breath, he became a mighty weapon. Without his tome or dagger, he can conjure small spells and curses. Mild sicknesses, plant growth, and forming small creatures or objects out of thin air; they are basic techniques that he unknowingly mastered as a child. As a boy, when he needed a friend, he would form one out of mud. His first pet being a mouse named Gorin. Intermediate forms of magic require a dagger: barriers, fireballs, gusts, small upheavals, etc. He can conjure such spectacles using any object as long as it's made of an element. The more rare and precious the stone or metal is, the more powerful the spell. Platinum or diamonds could grant him the power to level an entire city, but it depends on the size of the element. Mathius's tome is a magical book where he has recorded spells he has used and studied. A ritual to harm an individual without being near or seeing him or her, would require his tome and the ingredients needed to perform said ritual. The sorcerer can be a danger to his enemies even at a distance. Being an encyclopedia for spells, Mathius's tome is one of his most highly-guarded belongings.

Mathius's intermediate and advanced spells require "time" to conjure and as well as mental energy to perform. His intermediate spells can vary from one turn to three turns depending on the size and damage of the spell, while the advanced spells require more complex methods such as acquiring the necessary ingredients in-game and then taking an in-game day to complete. His spells above the basic level aren't instant, often requiring him to chant or draw the spell before casting it. In these cases, his conjuration can be interrupted by an aggressive foe. Giving the sorcerer time to cast his spells is any opponent's biggest mistake. Advanced spells require all of his power to cast, and so after conjuring one, the sorcerer becomes drained to the point that he can even lose consciousness depending on the magnitude of the spell. At most, he can cast up to ten intermediate spells before he feels fatigue. Without a conductor (object of pure element) or tome, the sorcerer is incapable of casting intermediate and advanced skills.
There once was a powerful king that fought and slowly conquered all the nations of Estia (the world). It was prophesied that a man would rise to claim the world in the name of peace, and the king had done exactly that. It was in the last, fallen kingdom that the king discovered his bride. She had been a dancer and entertainer for the last king and her beauty had enchanted him. Accepting the king's marriage request, she became his queen and was soon pregnant with his child. Married to a powerful man, the queen desired their child to be just as strong. She called her sisters to the kingdom to bless her child and with their magic, and they etched upon her stomach ancient runes. That night, in bed, the king discovered the strange markings on his wife and learned that she was a witch. Disturbed by his discovery, the king sought counsel from the royal priest, who advised him not to trust her for she was a former enemy. The queen, however, loved the king deeply, but was overshadowed by his love for his throne. He ordered her imprisonment but before her capture, a crow overheard the king and warned her. Heartbroken, the queen fled the castle before her capture. Soldiers were forced to chase the queen on foot for mysteriously their horses refused to aid them. They eventually caught up to her. Weak and with child, she could not go far. During her arrest, the queen savagely fought the soldiers off with her magic, killing one of them in result. In retaliation, a friend of the soldier's killed the queen and fearing the king catching wind of her murder, the soldiers told the king that by the time they had found her a wild beast had killed her. The king was devastated by the news and regretted ever listening to the priest, having lost his wife and son in result. He had the priest executed, but it did nothing to spare him from his wife's curse. With her dying will, she added her own blessing to her tummy, marking it in her blood. She asked that her child grow to be a ruler of many and to avenge her.
After the soldiers had departed back to the castle, a she wolf with her pups curiously approached the body of the queen and gazed upon her swollen belly. Sensing the endangered life within, she tore open the queen's womb and received the infant as her own. The boy grew alongside the wolves until he was five and a scouting group discovered him. He was feral and violent and not yet conscience of his power. The scouting captain had his men surround and capture the boy and he was taken back to the kingdom to be a kitchenboy. When he was ten, he became the captain's squire. Under his tutelage, the boy became a knight at fourteen, and it was in battle that he discovered his gifts.
Over the years, the ruling king grew old and no longer fearing his strength, the conquered kingdoms began to revolt. Mathius marched from one kingdom to the next, subduing the up-risers and destroying the usurpers. He rose through the ranks, becoming a captain, and then later, general. With the entire army under his control, all Mathius had left to claim was the throne.
The king eventually fell ill and what an opportune time for Mathius to seize the throne. He paralyzed the king, having matured his abilities along with him. The command he had left him with was not to move, and unable to speak, eat, or drink, the king laid in bed until he perished. His mother, unknowingly was avenged. Mathius lived for a century and a half, having reclaimed the conquered countries, and sitting upon the world as its supreme ruler. During this time, he had many wives but there was one who was disgusted by his seemingly immortality.
Jezebel was perhaps a woman more cunning than him. She was beautiful and she knew how to use her body to get what she wanted. She caught Mathius's attention, appearing in his court as a dancer. She seduced him with a magic that was as old as time: love; and found her way to his bed. She took into her his seed, but had no desire for him to ever know their child. Jezebel was determined to end his immortality and one night she carried a knife with her to bed and stabbed Mathius in the heart whilst he slept. With the king dead, she stole the throne as queen, but little did she know Mathius was far from gone.
The child in Jezebel's womb was merely a clone of himself. He imbued her belly with his magic, ensuring that when he died he would be reborn again. Her childbirth would not be beautiful; in fact, she would wish to die than give birth to him. It was revenge, and it was delayed by a sudden intervention. Mathius's soul never reached the heavens. It had been intercepted to be recruited for a strange game. Acquiring the crest of the White King, Mathius saw himself fated to conquer the purgatory as he had done Estia, and then return to his realm to once again reclaim his throne.