---
"I can only say your devotion will fail you"
---
Title
- Angel Of Wrath
Faction
- Seramel
Role
- ♔ Queen ♔
Race
- Angel
Gender
- Female
---
Appearance
– Nienna is just as an angel should be, beautiful and fair. She stands to about 5'7 and her body is proportional seeing she is a vixen worthy of her title. You can say she is busty having a nice backside and front visually but that's something that she often ignores. Her eye color is a fair sea blue which can be very mesmerizing if you look directly into them. The angel's hair is actually quite a unique sight. Upon her head you may see a head-dress yet in addition you'll notice that miniature angel wings hang from this accessory. It is unknown to every whether it is part of her angelic race or if it is actually just a magical feature. (It is a part of her race yet it does look like a normal head dress). Following this her beautiful silk, peach blonde hair flows down maidenly reaching only but a inch passed her bottom. Interestingly enough the wings and her hair are only but nearly the same color. The tone of the angel's skin is a toned peach giving off a calm appearance. Aside from this another noticable feature is that she has pointed ears like an elf. As many angels do, Nienna has wings upon her back. These wings are naturally quite large yet she retains and keeps them small until she is in battle.
When it comes to attire, Nienna wears a battle dress fit for a queen and an angel. Upon her left arm rests plated shoulder pad and on the right is a metal arm brace. Descending down you'll notice her plated chest which quickly becomes a fitted dress of the most beautiful cloth. The color's start out violet in the center and quickly become a beautiful white that radiates in the night. She does not wear any boots and rather decides to walk bear foot.
In day-time Gardenia, Her appearance takes a change yet there is quite a interesting factor in this... Gardenia DOES have elves during the day but this... is an extremely rare sight. The equivalent standing to say is that for every 10,000 humans there is at least 1 elf born in Gardenia of a population of fifteen million. When daylight hits, this is the form our beloved angel takes. Her toned skin becomes a lighter shade as her hair flows straight, her elvish ears remain allowing her to fit the rare population of the city. Her height and body structure remains as well yet her angel wings disappear visually to others excluding her faction which even then they will only be able to tell once they see her back without a layer.
Her attire is similar to the picture you see now holding Elvish culture with the dominant general culture of Gardenia. Her top is exact yet the bottoms are more so a styled shorts with a bronze belt slung around her waist. She does wear long boots unlike her appearance in her true form. Upon her wrist are golden armlets and her ears hold beautiful loop earrings (not too large).
Personality
- On the outside Nienna here fits a good stereotype to all angels we think of. They are seen to be kind and maidenly however, we know this isn't always the case. Especially for the "Angel Of Wrath". It is not to say that she herself can not be maidenly and kind but in "Heaven" she was known to have a more darker personality then others. Her reputation fed off it. In public when she is not battling she is kind and loves meeting people. In addition, she has a bit of a curious side which makes her wander off time to time without speaking to anyone. In addition to this she enjoys help people. Now as easy going and soft as Nienna seems it is a bit different when she is on duty.
Deep down, Nienna loves battling, fighting, torture. When on the job or for assignments when in heaven, she was known to be the first to head in and destroy in addition being one of the most powerful angels of her realm. This destruction marked history for her...When in battle she in sadistic and nearly tainted yet this does not mean she completely loses herself in battle. In fact keeps her sanity enough to even make smart decisions. She rarely speaks in battle but when she does it is often as if she speaks in a soft pitch sounding as though fighting is bring pain to her heart.
Nienna does interact with her faction and will help them if she can unless she knows there is nothing she can do and often she has her reasons if she turns a request down. Aside from this in the day time in Gardenia, she's often observing the town, and becomes very cautious wondering who's in charge, what summoned them, who among the people are the opposing. Nienna enjoys reading and Singing which occasionally you can find her in the castle garden doing one of the two things if alone.
History
- Nienna was born in the heavens among Nosgaea which is the world and universe that Dracunlina's Alchazra Kingdom rest. Before the world shaped into chaos's edge the war upon demons and angels raged upon Hell's purgatory. This war was lead by Tuor Nólatári who at the was with a fair angelic princess known as Linwë Elanessë. Upon the great war she was with child yet sadly Tuor did not know of this. Sacred was it for her to be with a lower class angel and even less for her to bare the child of this class not even married. The secret continued as darkness swept in. Forcefully going against the angelic royals code she found herself becoming distant and questioned. Even Tuor was being placed away.
As seclusion came upon them the war slowly escalated as raids began to sweep into the heavenly kingdom. It finally came the day, half way through pregnancy, Tuor made the mistake upon his kingdom and his life. Upon the army stood the dreadmaster Awk'wir whom was known as hell's most powerful sorcerer. The battle between him and that sorcerer were obviously unbalanced as Tuor was overpowered. It all came down as a torcher for him as the sorcerer went into his memories finding out about the woman. It didn't take him long to notice It was the princess. This demon well knew the codes and laws of angelical order and decided to take it in his own hands to make matters worse for her and him. After shattering angel Awk'wir went about and made his way into heaven's kingdom tainting the baby inside of Linwë who was to grow into the angel we have now. Originally his plans were to turn the angel into a demon and be a child of darkness of the inside yet it failed when heaven's light surrounded Nienna noticing something incredibly different. His magic was thought to not have worked on it as the vessel glowed brightly among Linwe so he falled back with his troops mainly to see what occurred. After nine-months it appeared that Linwë had died.... yet Nienna was born without parents. She technically was supposed to be princess yet Linwë's sister despised her on sight and took away her nobility to the throne. The cloisters of heaven took Nienna in this is where her story begins...
Nienna although everyone had angelic codes, Nienna was definitely different. The taint was through her personality. It was lucky that the divinity stopped the darkness of taking over yet... she still held tremendous differences compared to other angels. Nienna showed no care for when people died... and she interesting despised the nobles even though she never knew her mother or father. The angels over the year began to fear her because she was not afraid to go against the code and slay her own kin. The cloisters soon found out about what caused this chaotic neutral aggression that Nienna had and presented it to the throne. They did not tell Nienna about her tainted blood yet they did offer her a job to be one of the "paladin's" which is an elite force. Although not right away, she did accepted and over the years became one of the most feared "Paladin's" in angelic history especially when it came to finding out about her taint and treading the demon's halls herself. She destroyed Awk'wir without delay. Although it was a dire battle, Nienna succeeded and once she returned with a grin of darkness on her face. She was known as the angel of wrath.
Over the years whether it had been a thousand if not more, Nienna still a Paladin with fear in the heavens and hell yet... there was an interesting development going on between the two realms. One of which the angels and demons have ignored. Excluding demons who have found the area... there were other creatures as well this includes your typical elves, humans yet worst of all upon them... vampires. The vampiric race was a race of destruction and said to be a spawn of the highest of devils that hell holds. Nienna had fought some of these devils but never had she tangoed with a spawn. Naturally you'd find them weaker then where they came from but that is just not the case... at least for the very last one she fought...
Corruption upon the kingdom that holds most power... a demon sits at the throne. Last assignment at least from what we know yet our poor angel didn't. After battling for countless of years and attaining years of combat. The vampire known as Draculina Valentine gave her quite a dance.. It all ended when she and the vampire trapped each other among their strings although before Draculina's strings caved in to kill her. She decided to go out with her sending all 20 blades striking deep upon... Holiness was shown to be a severe weakness... To Nienna's mind she wish she didn't hold back on using the blades before but claimed in the end that she lived to long and faded way only leaving behind a black and white feather that flew to heaven... or did it...?
---
Weapon(s)
-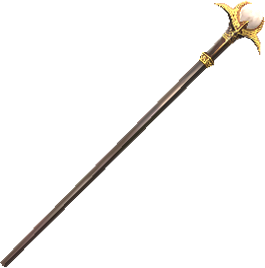 There is not true picture but they can be related to look like the wings upon her head. These wings on her back expand to become quite large... they can be used as a defense from incoming magical and physical attacks. They are quite strong yet... every time she defends feathers fall and disappear as light. Eventually her wings will go away and she will not be able to fly or defend with them... They do however recharge after sleeping and rest which is why she dislikes defending with them.
Fighting Style
- Nienna could very well be called a hybrid fighter with her abilities and style. The angel has speed, strength and magic at her disposal but of these which is her most noticed attribute? It can be rather obvious that being a angel her divine magic is her superiority. Nienna is skilled with the art of fighting with a staff in melee but she is also decently skilled in hand to hand which is often used when she has to. Ever since her death learning/knowing her version of the Strings of Death actually became her style when it comes to range or fighting in the air. She indeed is very tactical when it comes to this style and often prefers it to be this way. Although she enjoys this... she also enjoys when her opponents get in her aura. Dealing pain multiple times... as for her active abilities excluding her strings, she tries to hold back so no one will know her true power. Overall Nienna is decent in both range and melee combat as are her defenses.
--Abilities--Sense presence
- Can feel the spiritual presences of the other "pieces".
Queen Crest Augment
- Their power is increased to fit the queen position. In addition, they have a boosted regeneration rate. (Doesn't mean they heal wounds immediately, think more along the lines of after a full 8 hours worth of sleeping)
Aura Of Divinity

Description:
A divine aura surrounds Nienna. This aura actually works with the Queen's presence yet when felt. It will be a fearful aura to her foes and a gentle aura to her comrades. When you are within 15 feet of Nienna you will notice the holy energy surrounding her is attacking you. The attacks get stronger as you grow near yet for those around you who are your friends and comrades... all they will feel is warmth. The attacks if you are 15 feet away you'll feel begin to feet scratches as if a cat is scratching you... 10 feet away will be as if a knife as slashing you 5 feet and less is as if a sword is stabbing you. The pain varies upon your will... the pain, you can take a hell lot of hits but you'll eventually pass out if you can't take it anymore... your mind will trick you because of this illusion and your body will react is if it is taken too much pain or not. One last interesting factor is that your arms will have cuts but regardless the amount of pain you take from one is the same... (Just not to your nerves/brain). This aura is concealed when it is day-time unless she turns into her original form. Also she can leak this aura slightly when she is in her Gardenian form.
Angel's Strings

Description:
Although she does not know it, this ability was rather a improved and copied version of Draculina's strings of death that she learned in her last fight. The strings were deadly or could be used as a hold. Draculina had much control over them. There were times where the times strings may not kill but they can still bind the opponent. When they're bound, they will feel cuts because the strings are so sharp but the cuts wont be intense enough to go through the body unless Draculina makes them cave in. All of the above apply... the difference is... the strings are not controlled by hands and fingers but from Nienna's staff. These strings are actually divine infused holy energy which basically feels the same pain UNLESS you're a demon or undead in which it'll be about 3x as worse of a feeling even if they're just holding.
Divine Wrath

Description:
This ability can work by either her fist or through her staff. When it comes to using it with her body she is often on the ground. The aura surrounding her becomes physical energy surrounding her body. She then punches the ground releasing a blast of energy that spreads to about 30 ft radius around her. This blast is divine energy which damages anyone in it's radius excluding herself. This ability will even hit her friends/comrades if they're close. Once the energy clears the field there will be a crater around her. This does take a lot of energy and she can only use it twice if one more she will overexert herself becoming stone from the mass of energy that explodes among her. The stone effect last 1 hour so she can recharge at least 4% of her energy back. While in this stoned for she is breathing and she is alive. It is more to say that she is sleeping. This Is the way she sleeps normally though.. Only through this.
When it comes to using this ability through the staff, it is more powerful due to the fact that she can charge the staff with as much energy as she needs to. This ability however takes more energy and time to prepare sending energy into the weapon. Once charged often she is in the air therefore allowing her to send the weapon as if it were a javelin in any given direction... The explosion does not happen until impact of any given force among 20 ft radius and will cause destruction upon anything in it's path. If the staff does not hit anything... it will keep on flying until it does... for this reason she never uses it unless she knows it can be stopped or unless her opponents are below her.
Blades Of The Tempest

Description:
Nienna's most dire.. due to the amount of energy that it takes she only can only use it once. When this ability is used her aura roars and increases as preparations are made by 10 feet. The aura also becomes more violent and loses it's warm feeling that her comrades may feel if they're caught in it and will feel the same pain as her enemies do. The energy itself becomes a twenty divine blades of destruction ready to pierce their target around Nienna in a circle. Upon command these blades will go to her Nienna's target stabbing them in different areas each time. These blades do not disappear once they pierce their target until all twenty are inside. After all twenty area in the blades become a aura once more. Preparation time takes 30 seconds and Nienna can not move. Her eyes are lit as if they're blinding lights and as you know the aura shines brighter too. Once the blades are out … Nienna has no aura until all blades are gone. These blades are divine infused. These blades can be stopped but know they're quick.
---