Adrian wearing his armor: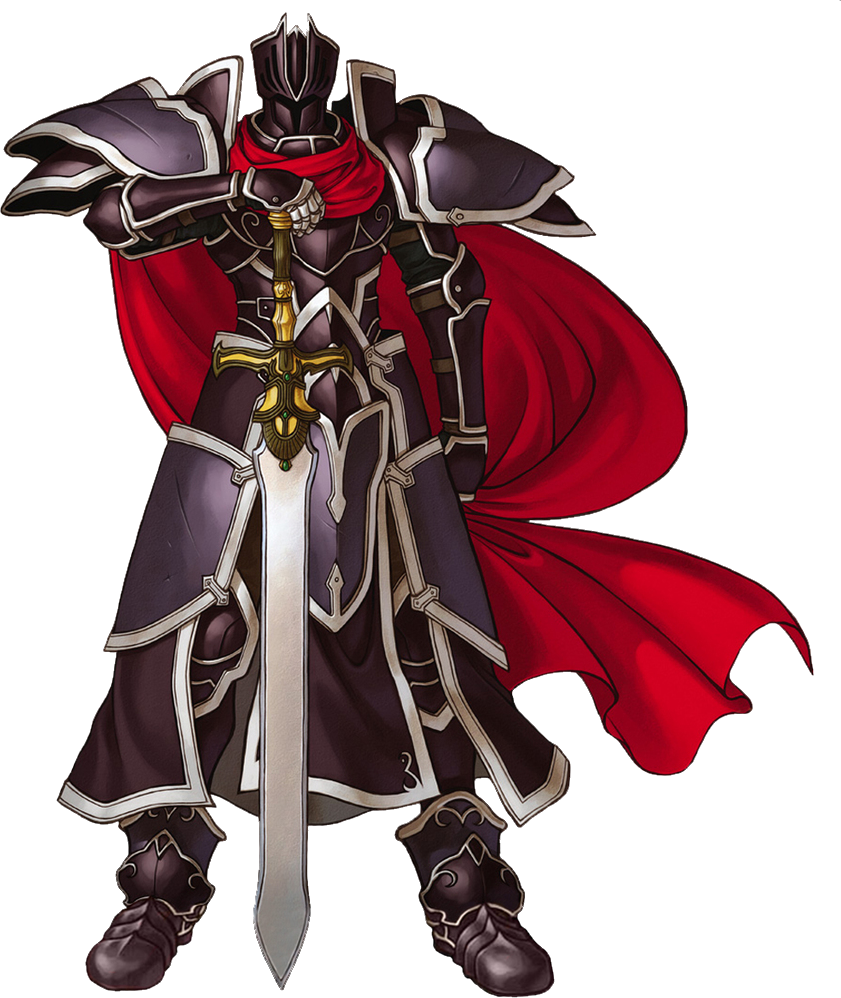 Name - Adrian Norwood
Title - (Will think up one)
Faction - Plenoran
Role - Rook
Race - Human
Gender - Male
Appearance - A man of a younger age, say about 27. He is of avergae height say about 6'1 to 6'2, weighs in at about 220 lbs, mostly because of his lean yet muscular build. He has Reddish-Brown hair that grows down to the back of his neck, past his ears and bangs down past his eyes near the nose. He has reddish eyes and a pale complexion. A notable feature on his body however is the appearance of long tatto that resembles a black dragon, the tatto extends from its head on his right cheek down the neck and behind his right shoulder to his back. He often wears black and red, such as long-sleeve black shirts, his red leather vest, black leather pants, boots and fingerless black leather gloves. He sometimes wears a black collar. When Adrian goes out to battle he wears a complete suit of black plated armor, that is lined with silverish plate that outlines the designs of each piece of the suit, such as the pauldrons, the grieves, the gauntlets, etc. He wears his black helmet that shields his entire head and often hides his facial features, making it hard to gain a reading of Adrian's emotions. He is adorned with a long red cape that flows from the neck all of they way down past his waist. He weilds a longsword with a golden handguard and handle. Yet his most notable piece of equipment is his sheild.
Personality - At first he may seem like a quiet and solem person, but he is a strong and honorable individual. He always placed others before himself, even with people that were undesriable at best. He is undoubteably loyal and trustworthy, and will sacrifice anything in the name of his beliefs. Morally refined and intelligent, Adrian always lived by three principals that dictated everything he does, honesty, integrity, and honor. Normally when he is alone he recites his vows his moral principals and trains to become better. When he is around others, people can feel the care and respect he shows to his friends and his allies. Adrain may not know why he is thrusted into this battle, but he will defend the Plenorans and their leaders with fierce tenacity, all in order to not disappoint them and to redeem himself from a past failure.
Weapon(s) - Wields a longsword and has a mighty shield. The shield is mostly black, except the edges that encompass the shield is a golden-platinum as well as the crest that is built into the center, it too is golden-platinum. The crest has the symbol of a castle and gryphon at parallel angles.
Shield:
Fighting Style- An extremely techincal fighter, Adrain has an extensive knowledge of battle strategies and tatics. Knows many attacks and counter-attacks that is mainly based on sword and shield use. He also has grappling knowledge and boxing. He knows a little bit of martial arts, but that is mostly in defensive techniques than offensive ones.
--Abilities--
Role Abilities)
1) Sense pressence - Can feel the spiritual pressences of the other "pieces".
2) Castling - Use the crest's power to forcefully swap areas with the king. This can only be used when the king is truly in danger.
3) Detect the king - Can sense if your King is in danger
Ability Name: (1). Protective Aura: A magical barrier surrounds Adrian keeping him protected from attacks. This aura is activated by Adrian calling up the spiritual power that he has been storing as quickly forms a barrier around his entire body. The barrier is self-sustaining not requiring his spiritual energy but it does have a duration, it can only last for 30 minutes . Now the barrier is penetrable from any attack physical or magical, depending upon the power of the attack is how much damage will be done to the aura. Now the aura has two functions that will cost him. Strengthening and Repair. Strengthening will draw upon his spiritual reserves making the aura harder to destroy. The cap of hardening it is three times its original power, each cost is 10% of his reserves. Note that one cost does not make the barrier three times more powerful. Repair is much more costly at 25% of his reserves, but it will cover any damage done to it. Repair can only happen twice. One more note even though the barrier is self-sustaining at first, if the aura suffers contiuous damage, it will make it disintegrate as it cannot possibly withstand an onslaught of attacks as it falls apart.
(2). Regeneration: Through an astounding ability to manipulate his cells through magical influnece he can heal most wounds. Yet these wounds do not heal instantly but rather over time since it does take a while for the magic to connect with the cells. It also depends on the seriousness of the wound, a small scratch will take less than a minute, but a stab through the shoulder will take 10 minutes to heal completely. But if they are fatal injuries, he cannot muster enough magic to force the cells to regenerate such grievous harm. The cost of this is rather insignificant since it is only taking less than 0.01% of his energy. This regeneration pratically uses natural healing just at a more accelerated pace (this is what uses the cost of energy.)
(3). Gryphon's Attributes: In response to his crest he may call upon the guardian gryphon to lend him power. From their he gains the strength and dexterity of a lion and the perfect sight of the eagle, as well as temporary flight. This state of enhancement does not last forever and will fade from his body over a period of time. This does not call upon his energy but rather an external source, (The Crest) therefor a time limit is imposed, the limit is 25 minutes. He could extend that time period but that is incredibly taxing on the body and will not prove fruitful, especially in long battles. The length of extension would only be 5 minutes more, any more and he could seriously cripple himself or worse kill himself since it does require his energy to extend it. The cost would be 20% per minute for extension.
(4). Imprisonment: In a sense this similar to protective aura, but instead its a barrier that surrounds the enemy and instead of protecting him to keeps him trapped in one spot. This barrier is stronger and larger than the protective aura and is meant as more of a delay tatic to keep an opponent busy on destroying the barrier around. However there is one way that it can be used offensively. The Imprisonment starts of in a large containment field, but that size can be altered, if so it can be used to crush the opponent by reducing the size and more enclosing on the opponent. The drawback to this variation of Imprisonment is that the containment field is at its weakest when its changing its size. The reason being is that instead of the magic being concentrated solely on hardening the field making it difficult to break, it must split up that concentration shrinking it, this may weaken the structure from a quarter to half of its original power, making escape much more likely. The cost of casting would be an immediate 40% of his reserves. The cost of channeling will be 2% per minute. Shrinking does not induce a casting cost since it manipulates what is already there, channeling cost remains the same. Also let it be known that unlike the protective aura, Imprisonment cannot be hardened. The strength of Imprisonment is already at its maximum , but it is stronger than the aura. Also it cannot be repaired once its decimated its gone, unless he wishes to subtract another 40% to cast it again. The number of casts cannot exceed two times.
History- Before becoming a part of SoulChess, Adrian was a detective back in his world. He was good and really helped his city clean up the most dangerous criminal elements. Tragedy struck however when Adrian's partner, Arthur died in the line of duty. Adrian blamed his partner's death on himself and ended up quiting the force for failing to save his friend. Before his transportation to SoulChess, Adrian was in a great state of turmoil. Adrian's fiance Susan was caught in a devastating car crash during a very, stormy evening. Adrian recieving the call from the doctor rushed as fast as he could to the general hospital that Susan was being taken cared of. Adrian not for a moment left her side until the nurses had to remove him since she went in to critical status. Trying to save her life the doctor managed to get her stabilized, but she may have receeded into a coma thanks to the blunt force trauma she suffered in the accident. Being told to go home and with some protest Adrian had to leave his love and place her in the care of the doctor. When Adrian went home he mainly collapsed on his bed from exhaustion as he lay there worrying about the future of his bride to be. As Adrian managed to fall asleep he was transported to SoulChess. Now in SoulChess, Adrian sees this opportunity for redemption over his failure of saving his friend's life. Not only does he wish for redemption he to wishes for a swift victory so that he may return to his love as soon as possible.
Theme Song - Want a theme song? go ahead (Optional).