ANIME PICTURES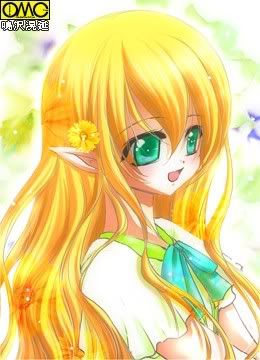 Name - Eden
Title -
Faction - Seramel
Role - Rook ♖
Race - Tundra Elf
Gender -Female
Appearance - In her normal appearance Eden is a child of 10 years with huge green eyes and a pale skin. Her hair is a golden blonde colour which is typical of the Tundra people. Because her hair is quite long is usually wears it up and out of the way in a high ponytail. She stands at 4'7 in height. She normally wears lose fitting dresses so she can hide her knife belt around her waist. This stops her looking too suspicious when she's out in public. She always keeps a knife on her for protection. On her wright wrist is a tattoo that looks like a bracelet. This is a symbol of her clan and although she knows that the tattoo is symbolic Eden has forgotten when she got it and who did it.
When it comes to fighting the tattoo on her wrist ages her by 10 years. This is because the Tundra Elves are always fighting and children are no use to them so they equip them with a time skip tattoo and teach them how to fight. Her height increases to around 5'6. Eden's blonde hair changes to show some green. This is also part of her culture although she doesn't remember. Wearing green is a symbol of a defensive fighter. Her outfit is a low backed dress with a long backed skirt. She also wears high lace up boots and gloves to conceal more knives. The pouch with the cross on holds bandages and other medical supplies. The staff she uses is to channel her defensive abilities and can also be used as a weapon to fight if the need arose.
Personality - Eden is quite a quiet girl. Raised in a world of fighting and taught to fight from an early age she missed out on a real childhood although she is still a child. She doesn't understand the idea of affection or love and is quite happy to exist without either. This hasn't made her a bad person though. Even as a child she is mature for her age and says some wise things without meaning too. She is loyal almost to a fault and would sacrifice her own life for her king without a second thought. Retreat is not an option and she believes that only cowards run. When she is alone she likes to read and learn more spells and will practice her magic until she can do it perfectly.
Weapon(s) - Eden's main weapon is her staff. It is long, just a little taller than her in her adult form and has six spikes at the top. The last point curves back in on itself representing a birds beak. There is a purple crystal at the center of the staff. The crystal amplifies Eden's own abilities but has none of it's own.
Fighting Style- Eden is physically weak due to the constant strain of changing form which makes her a very poor fighter. Although she can use a dagger and staff in hand to hand combat she knows that she can't keep it up for long and most opponents will overpower her in the first minute. She prefers to fight from a distance but ultimately Eden is a defense fighter. She can use her magic to create shields and barriers as they rely more on mental strength than physical. The flaw in her abilities is that an extended strain on the mind can kill a person.
--Abilities--
Role Abilities)
1)Castling - being able to force a swap with the king if they are in serious danger.
2) Sense the king - being able to sense when the king is in danger.
3) Air Shield - Being able to compact and solidify the air in a selected area. ( this ability can only be used for 3 minutes at a time and strains the users mental strength.)
4) Blooded Earth - At a price of blood the user can create a cocoon of rock around a selected person. (The ability only lasts as long as the user lives and can't be used for extended periods of time)
History- (will fill in later)