Medusa has long light magenta hair and wears magenta visor like band cover her eyes, red marking on her forehead, she wears modfied greek mythology short black dress, wears magenta collar-like stoker, bands and handcuff with long black sleeves, cutoff black legging with magenta armor to the legs, and black shoes. She has a vixen's body build. Underneath the visor her eyes are bright pink. To fit in with Gardenian society and to not stand out even if at times she is sensed, she wears a black turleneck ,dark navy pants, wears glasses and has her hair slightly tied with purple ribbon.
Naturally silent, sultry and vigilant, Medusa often is bold when speaking. However she is kind to those who deserve it. From past experiences learned she doesn't take teasing or being asked to do something lightly, Immediately towards her allies she will draw her dagger even if shortly after disengaging, especially when it comes to the king. Even if she has a annoyed side that is aggressive, she is protective over her allies and will do anything to keep them from harm. When in battle, she is often calm and sadistic when it comes to the opposing. Even with these traits she tends to not engage in battle if the odds are against her and has no shame in fleeing if thats what it comes to. When it comes to daylight and in Gardenia, Medusa enjoys doing modern day every day things. Shopping, getting to know friends, etc. She never experienced such things in her life time but knows it never last forever and sometimes will be interrupted.
A Dagger connected to a chain.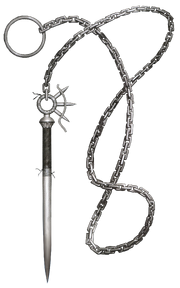 the beginning and before battle, Medusa often is subtle and likes to strategically get the first move often resulting in an ambush with her long extended chained dagger. Her style outside of using abilities is often quick with much agility and speed on her feet to get close to the opponent with her dagger. She is knowledgable with her reflexes to dodge and parry when she can. If she is unable to reach the opponent then she often switches to range slinging her dagger. She does know hand to hand combat but is not as skilled with it as she is with her natural weapon. Most times she resides to using it, is when she has to forcefully use the dagger as a sling.
Role 1) Sense pressence
- Can feel the spiritual pressences of the other "pieces".
Role 2) Queen Crest Augment
- Their power is increased to fit the queen position. In addition, they have a boosted regeneration rate. (Doesn't mean they heal wounds immediately, think more along the lines of after a full 8 hours worth of sleeping)
1) Mystic Eyes
- To activate her eyes, she must remove the blindfold and activate the seal on her forehead. This is how Medusa turns her foes to stone. Note within Gardenia, this power drains more energy then natural and those inflicted with the effect are constantly in pain no longer petrified. Medusa herself was surprised by the change when she first uses this ability in Gardenia.
2)Seal Release
- To activate her mystic eyes, she must break the seal. This seal actually enhances her fighting prowess too increasing how much spiritual power she holds. Although this does make Medusa vicious for the time. In Gardenia, she can't hold the seal back long and if she forcefully stalls the time, her body and sight begin to take a number in which she requires much slumber to recover.
3) Blood Fortress
- Creates a barrier around a Medusa, draining life from those within it. Although powerful as it sounds. The ability takes a lot of energy to prepare and the more range she would want the more spiritual energy required. To place a barrier over all Gardenia would probably kill Medusa in less then five seconds. Naturally the range she allows the barrier to go from her is 20 feet all radius. Which is enough to release such constant energy as she battles. Her body will suffer however depending on the flow of battle. To clear if any confusion, this drain life doesn't drain but .50% of life per second giving the enemy 200 seconds to live. (This does not express how much seconds it would be if she were to seal release and use her mystic eyes. In addition know this damage is excluded from what she does with other abilities, so at maximum you have 200 seconds if the ability stays on and she maintains spiritual energy, It could be less seeing that she deals enough damage to decrease the duration of your life or you may last seeing overall she'll run out of energy to keep up with the fight.)
Medusa, a gorgon born with two sisters from the wishes of mankind. All blessed with beauty and immortality, however Medusa's immortality was false. In addition, she was cursed with mystic eyes which like mythology transmutes living flesh under her gaze into stone which made her begin wearing a blindfold until able to control it. Due to these differences Medusa was indeed treated poorly but she didn't realize it and loved her sisters anyways despite how they treated her. Athena forced the gorgon's worshippers from her jealousy, to attack them sisters and force them to live upon the Shapeless Isle. Now due to such tragic events and the fact that humans came to lust and invade. she often decided to rid slaughter and ingest them. At this time, Her life became incarnated as her appearance did to. Often causing her hair to change into snakes as she devoured. In addition, she even devoured her sisters by requested after they finally realized upon their actions that it was their fault. After years of living a tortured and dismal life, Perseus came to end it and as she died, her appearance resoted itself as she noticed how cruely her sisters treated her. Although they were her only memories, her sister were her fondest. She began to think that she had died forever but only to be revived and awaken in Gardenia. She now stands in belief that she was brought here for a second chance and to stand in saying her sister's were forgiven. Although she was brought here as Queen. She does try to fit in with life in Gardenia.