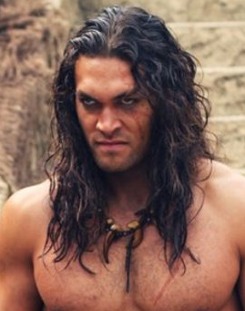 (Face Claim: Jason Momoa)
Name:
Torin Draak
Nickname:
Torin
Age:
20
Gender:
Male
Height
:6' 5"
Weight:
200lbs
Eyes:
A Dusty brown.
Hair:
Dark brown. long and wild.
Extra physical info:
Torin cuts an impressive figure, tall, broad, wild looking. He bears every hallmark of a Warrior. He also bears a tribal tattoo on his lower arm, a sign to show he has completed the rite of passage within his tribe
Marital status
:Arranged within tribe.
Occupation:
Warrior/Guard
Personality:
Torin can end up being very boisterous, he loves nothing more than passing then fighting, or proving himself in tests of strength against he fellow man. It is very rare that he backs down from any challenge. Deep down he is extremely loyal to his tribe and people but often slates the weak for dragging him down and holding everyone back. If something is on Torins mind he will say it, and if it offends people he always offers them the chance to silence him.
Biography:
Torin was born child number four in his family, two elder sisters, one elder brother. As with most families within the dragon tribe the sisters were put to work maintaining the homes, while the two boys of the family were taken out to hunt, to train, to learn all the skills they would need to survive not only the desert but the tribe, as any position of power, or any dispute was settled with a duel. Every time the boys stepped out of line they were beaten though Torin's brother always protected him taking the blame in his stead. The rite of passage within the tribe is a duel between boys, winner may adorn the tribal tattoo, loser must survive the desert for 6 months before they may return to try again. Though its rare anyone ever returns. Torin had to face his brother, to all observing the match was a good fight, but Torin knew his brother was holding back, he knew he was taking a dive, but if he spoke out they both would be punished and the scared him so much that he just stayed silent and fought his brother. After the bitter victory and becoming a 'man' Torin began his duty's as a man of the tribe, ignoring the strange dreams that started to filter through, for now he just placed them down to guilt, or something funny to eat.
Power:
The dragon grants him great strength and durability. The ability to control the sands and winds are granted as well but for a strange reason Torin will struggle to gain the control of the winds later, and for now will struggle with even simple control of the sands.
Skills:
Fighting. Good perception and senses. Hunting big game. Survival craft, weapon and armor maintenance
Likes :
Praise upon his strength, Hunting, Training.
Dislikes :
The weak, Failure. Being alone. his own weakness.Cooking
Strengths:
Physically Strong and durable. Well versed in many forms of fighting.
Weaknesses
:Brash, not versed in the art of subterfuge and often does not expect it.
Fears:
Being helpless or other people finding out he is weak.