---
---
That's why, darling, it's incredible that someone so unforgettable thinks that I am unforgettable too.
тнємє: Unforgettable by Sia

diαlσgυє cσlσя:

#E59866



тнσυgнт cσlσя:

#F3C6A8



fαcє clαiм: Mirai Kuriyama from Kyoukai No Kanata
---
---
Basics
иickиαмє(ร):
KiKi123 - Her online alias
Kiyo - Her mother calls her this
αgє, biятнdαy αиd zσdiαc:
17 years old // April 28th // ♉ Taurus ♉
иαтiσиαliтy αиd єтниiciтy:
50% Japanese/25% Korean/25% Irish & Asian
lαиgυαgєร:
First language: Japanese (Fluent) // Second language: Korean (Fluent) // Third language: English (Understands; cannot speak)
gєиdєя:
Cis-Female
รєxυαliтy:
Panromantic // Pansexual
яσмαитic iитєяєรт:
TBD
σccυραтiσи:
Works at a bookstore part-time when she's not being a student
---
---

Personality


тяαiтร:


|| Upbeat || Shy || Stubborn || Sweet || Awkward || Modest || Fragile || Naive || Playful || Friendly || Emotional || Wise || Clumsy || Creative || Secretly Sad ||



likєร:


♥ Strawberries & Fruits ♥
♥ English & Western Culture ♥
♥ Reading & Writing ♥
♥ Internet & Blogs ♥
♥ Rain & Swimming ♥
♥ Art & Drawing ♥



diรlikєร:


✗ Crying In Public & Getting Mad ✗
✗ Cooking & Baking ✗
✗ Her Height & Being Used As An Armrest ✗
✗ Falling & Breaking Things ✗
✗ Loud Noises & Storms ✗
✗ Her Weight & Being Told To Eat ✗



fєαяร:


☠ Astraphobia - Fear of thunder and lightning ☠
☠ Pyrotechnophobia - Fear of fireworks ☠
☠ Taphophobia - Fear of being buried alive ☠
☠ Scotomaphobia - Fear of blindness/going blind ☠



รтяєиgтнร:


Swimmer: Having been enrolled in swimming lessons since a very young age should be a clear indicator as to why Kiyoko is a talented swimmer. Despite being a hermit in her room for most of her life, Kiyoko finds joy in swimming.
Creativity: Her creative mind allows Kiyoko to thrive both in school and in her personal life with her blog. Escaping in her mind offers Kiyoko some happiness from the cruel world around her.
Kind: Despite all she's gone through, Kiyoko continues to stick to her morals and treats people with kindness.



wєαkиєรรєร:


Cooking: Don't even try teaching Kiyoko how to cook, people have tried before multiple times and failed. She always gets the ingredients wrong, burns everything, knocks things on the floor, it's just a disaster.
Fearful: Kiyoko is easily afraid of basic things, such as loud noises, and it prevents her from being a functioning human being.
Her Appearance: Kiyoko's tiny frame and nerdy appearance has always made her an easy target for bullies or simply larger people. Her height also prevents her from doing certain tasks on her own and people sometimes mistake her for a younger age. She does look more mature without the huge glasses.
Eyesight: Due to a car accident that she was involved in at age four, Kiyoko has really bad eyesight in her left eye. Having bad eyesight naturally runs in her family, so she wears glasses for both eyes but her left eye is far more severe. Occasionally, her left eye will black out completely which makes even walking a dangerous task sometimes.

---
---

Appearance


нєigнт & wєigнт:


5' 1" & 97lbs.



bσdy тyρє:


Thin; She is very thin due to an incredibly fast metabolism



єvєяydαy αρρєαяαиcє:


When at school, Kiyoko obviously wears the assigned uniform. She matches it with thigh high socks and wears an over-sized open sweater over the uniform that reaches past her skirt. On a different day, Kiyoko has a variety of clothing that she chooses from. Somedays, she'll dress like a homeless man on the side of the road and others she'll dress like a flower girl at a wedding, there's really no middle for her. However, she typically wears a knee high skirt and a white, thin blouse. Kiyoko tends to wear her short hair down but once in a while switches it up to a half updo or ties her bangs back. She never ever wears contacts (because she's scared of them) and doesn't wear makeup under her glasses either, only settling with concealer when she gets pimples (which is rare). Kiyoko wears her father's wedding ring on her left pinky finger, which her mother got fitted for her and wears a heart locket around her neck, with a picture of her mother, father and sister inside.



รcαяร, biятн мαяkร, тαттσσร, єтc.:


-Oval shaped birthmark on her left hip
-A small scar below her collarbone and one on her upper right thigh from a car accident when she was a child



єqυiρмєит:


-Backpack filled with: School books, novels, laptop and charger, phone charger, wallet, water bottle, glasses case and handkerchief, extra sweater, and umbrella

---
---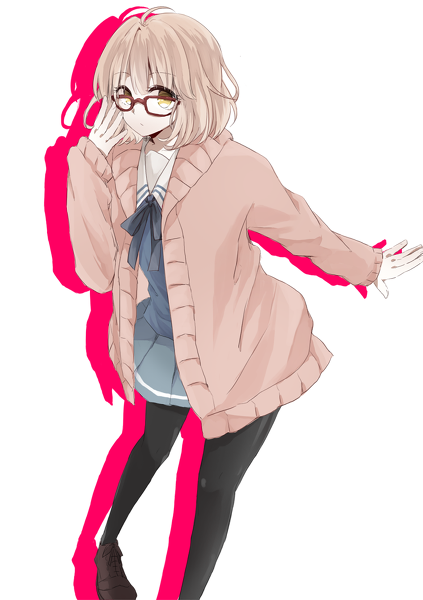 Background


нiรтσяy:


When Kiyoko was just a little girl, her father was driving her to her first day of school and they got into a severe accident. Kiyoko only suffered damage to her left eye, blinding it. However, her father had much greater issues. After many attempts at saving his life, the paramedics just couldn't save him. Kiyoko's father died, leaving behind a 4 year old Kiyoko and a pregnant wife. After a few weeks of grieving, Kiyoko's mother realized that she didn't want to raise a miserable child. She became her old humorous and cheerful self, putting on a good example for her little Kiyoko. Kiyoko gradually became more optimistic about life and embraced her father's death, because her mother told her every night that he was watching over them and he was happy.

Kiyoko got bullied at school, because she was constantly wearing a bandage over her eye and as cruel as it sounds, people would say that it's her fault her father was gone. Kiyoko tried to be strong, but her shy, reserved personality at the time didn't allow that to work out in her favor. She just continued to allow the bullying to happen and didn't tell anybody. The bullying got worse and the cruel children began bullying her physically. When she came home with bruises, her mother obviously discovered what was happening and pulled her out of the school and put her in a new one.

The bullying didn't stop, her shy, passive nature made her an easy target to bullies but she wasn't getting hit anymore. After a year, a miracle happened and she could see once more. She is not blind out of her left eye anymore, to this day, after going through much pain and surgery. Though her eye has recovered since then, it is difficult for her to see from that eye now and sometimes it will just completely black out or blur. Her other eye became weaker as well, as poor eye sight naturally runs in her family so she simply chooses to wear glasses. For years and years, Kiyoko simply stayed focused on improving her grades and helping her mother raise her little sister. Kiyoko found an escape in books and her own stories that she created. When Kiyoko became older, she discovered deeper things on the internet, like sites where she could post her creative writings, drawings and just overall thoughts.

Being able to express herself to a wider audience increased her confidence slightly and she became less shy. When going into middle school, Kiyoko was less shy and became friends with two people, a boy and a girl. It wasn't anything too wildly popular, but it was definitely a start. Those two were her best friends throughout middle school and the first two years of high school, but Kiyoko and her family moved to a small, rainy town on the outskirts of Tokyo when high school came around, leaving Kiyoko alone once more. Kiyoko is now beginning her senior year at Hisashi High School. She is now a popular blogger online and her online alias is well known by many all over the globe.



fαмily:


Haruki Nakamura // Father // Died at age 30
Akane Nakamura // Mother // 41 // Alive
Haruko Nakamura // Sister // 13 // Alive


---
---
ѕнєєт ςяє∂ѕ тσ:
xLevesquex