Plot of the RP
The year is 2022. A company known as TDI purchases the rights to an old franchise known as "Star Ocean". Their goal is to create the first fully-interactive Virtual reality based Massive Multiplayer Online Roleplaying Game. Thus, Star Ocean Online was born. Using a precise interface that placed an electronic helmet with a visor over the users head, and connected a wire to the back of their neck, within the "Data-uplink" that was already often used for TV News feeds, they could jump right into the virtual world of Star Ocean Online.
At first, things went fine during the "Beta" testing phase, where a select 10,000 users tested the game. The users were selected via one of three sources: 1. Family Members of the Developers. (1 per-employee), 2. Winners of Contests surrounding the game. 3. A select number of Subscribers of TDI's Online magazine, chosen at Random.
The Beta was deemed extremely successful and then released to the public. Everything seemed fine for the first week or so...then disaster struck. For reasons we cannot explain, the users found themselves not only unable to log out, but players mysterious begin to vanish from our world, their souls trapped inside their player characters within the game. In addition, if the player character contains their players soul: they actually feel any pain their character would endure, and unless they have a revive spell used, if their character dies, they die. The public thus bans the game from being played anymore, however cannot shutdown the servers for fear of killing all of the players the second they do. Some believe it may have been an inside job that caused this. Others believe it may have been one gigantic accident, all that can be decided for sure is..they will not permit any more people to become victims, thus the game is widely banned, with law enforcement completely unsure of how to handle the situation. Right around the time players had their souls sucked into the game: all players had their levels reset to Level 1, including Beta Testers who were still playing.
Thus the groups of what you can be are as follo
ws:
1. A player trapped within their character in the world.
2. A member of a group of players dedicating their time to illegally playing the game normally (but are not trapped themselves), in order to try to free the players.
3. Players playing the game illegally for any number of their own reasons.
NOTE: The above isn't the only differnces from the World of Star Ocean. Examples of differences include but are not necessarily limited to: Eldarians DID escape the death of their homeworld, and live on Earth, and The ending of Till the End of Time is not considered canon and instead of the big "4D Space" plot-twist, the beings on the other side of the gate were simply god-like beings and it started the "God Age War", which ended with Earth and Elicoor II victorious, with the main protagonists of Star Ocean III: Till the End of Time being among its victors. It also to some degree ignores the plot of Star Ocean 4: The Last Hope, but includes the Eldarians from it anyways, stating they lost their homeworld but live on Earth with the Human race.
Gameplay(within the MMO
) :
Within the world, the player can with a single thought, bring up the menu in front of their player character's face and then using their character's hand, touch the menu and choose options such as "Log Out" (currently disabled to those whose souls are trapped within the game), send private message, friend invite, Party invite, Item (for giving or receiving items), "World Select".
During battle, players have the following stats:
HP -their character's health. If it reaches zero, the character dies and must be revived within 10 minutes in-game time or the soul attached to the character will die for real
MP - Magic Points. Need at least some to perform magical spells of any kind, and is also necessary for some types of special attacks. Can be restored with the "blackberries" items. If the player's MP reaches Zero, your character is unconscious and can only be restored back to consciousnesses outside of a battle.
Fury -Stamina points, if the character is out of stamina, their character is sluggish and cannot perform physical attacks unless they rest for a moment and restore some Fury. Fury also is attached to attack blocking-effectiveness.
Worlds of the MMO/Stories behind the Worlds
"World Select" is only usable when in a town, and warps you to other World's of your choosing instantly, via the menu. While there ARE restrictions on what levels are allowed to go where, there are still enemies strong enough for any level, depending where you go on the lower level planets. For example, if a high level were to look long enough, he will face a worthy challenge on Elicoor II.
The World permitted to low levels is: Elicoor II
For Medium Levels the world permitted is: Klaus III
For only the higher levels (only certain Beta Testers ever reached it before): Diablo
As for Earth. Diablo has not reached Earth itself as of yet, thus Earth is a planet at peace that is only meant to go to for items and weapons unique to the planet.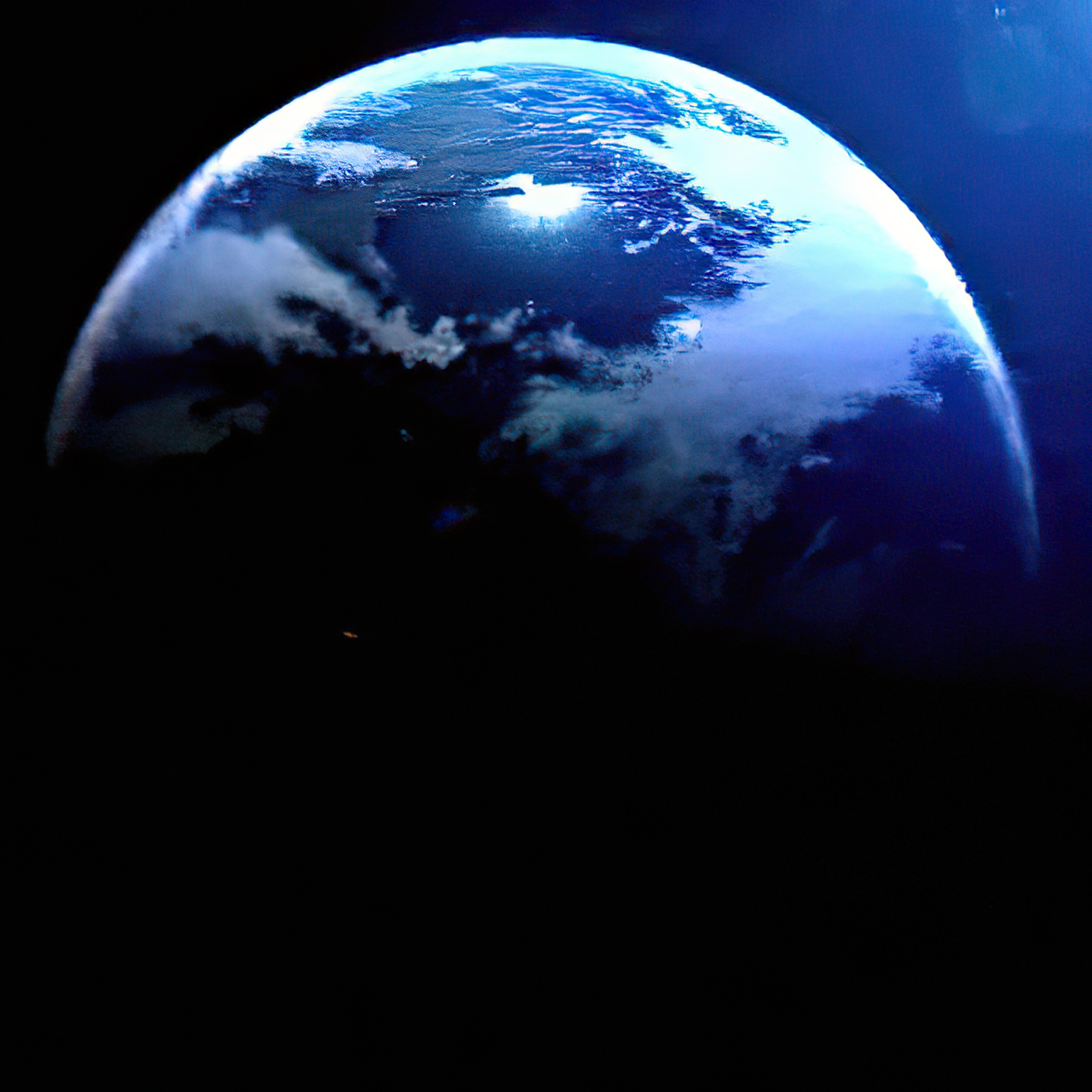 Elicoor II
-The planet where the majority of this role-play is played. Its Technology is roughly that of 17th Century Earth thus referred to as an "Underdeveloped Planet". Normally humans would not be permitted to set foot on this world, but due to the "God Age War" that ravaged the lands, now they are on open terms with the people of Earth, and while advanced technology is only permitted in limited form here, people of Earth are permitted to live here, to avoid overpopulation of Earth. Other than the fact that most of its atmosphere is composed of neon and other noble gases, the second planet in the Elicoor system has an atmospheric composition that is similar to that of Earth. There are two known continents on Elicoor II, the Continent of Greeton, and the Continent of Gaitt. Both of these continents are in the Southern Hemisphere of the planet. Elicoor II's northern hemisphere has a number of island chains, but no continents. The Island Chains aren't visitable by players and are merely backdrop scenery. The locations available to players are The Kingdom of Aquaria, Samnite Republic, and Kingdom of Airyglyph. Greeton is listed as "TBA". It is rumored that the coding is finished, but the developers were waiting for a special event before releasing it to the public...nobody knows what will become of it for now. Elicoor II is trying to rebuild after the "God Age War" that Earth aided it with, and while Diablo forces main target is Earth, they have attacked Elicoor II first, and thus Earth is trying to help defend the planet before the enemy can get any closer to Earth. Diablo's attack was recent enough that their greatest troops have not yet reached the planet, sending mostly scouts and basic troops. Meaning that most NPC's of Elicoor II don't even know of their presence. The races here are Elicoorians, Menodix, Featherfolk and human immigrants.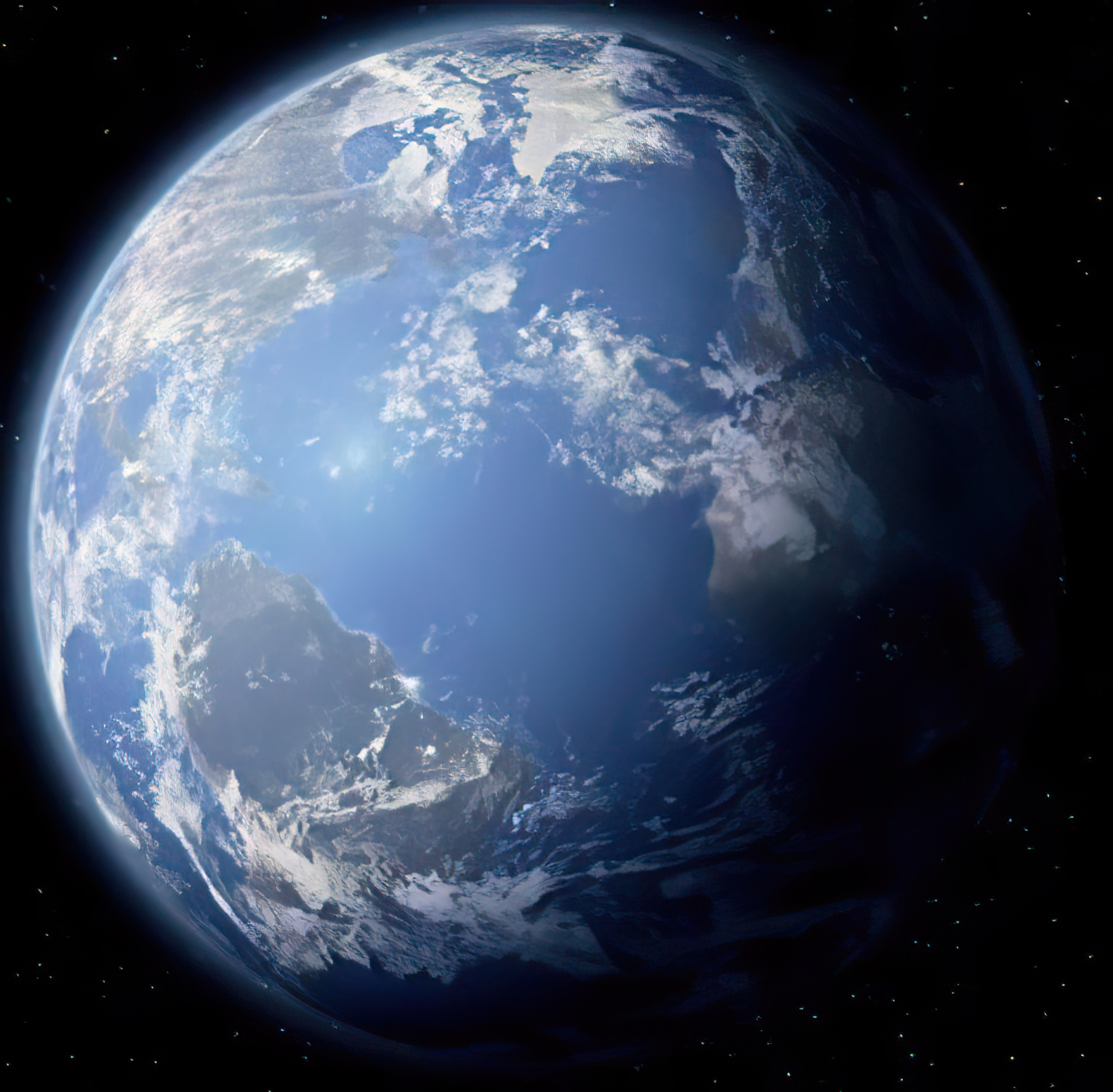 Earth
- Advanced Technology exists throughout this planet, it is also listed as a "Developed Planet" meaning you can buy more advanced weapons here such as laser riftles, etc. Transport allows for flying cars and the like. Its futuristic in nature, but set in a future much further than 2022. When selecting "Earth" you will first sent to Tokyo, Japan. From there, you can choose to teleport via "Location Select" to any of the following places: New York City, New York; London, England, and Moscow, Russia. In the world of Star Ocean, all other countries were reduced to rubble due to a fictional "World War III" in A.D 2064 followed by many years after where now Earth's surviving nations united, as the date the game sets for its world is "SD 772" (Star Date 772) The Races here are: Human, Eldarian, Fellpool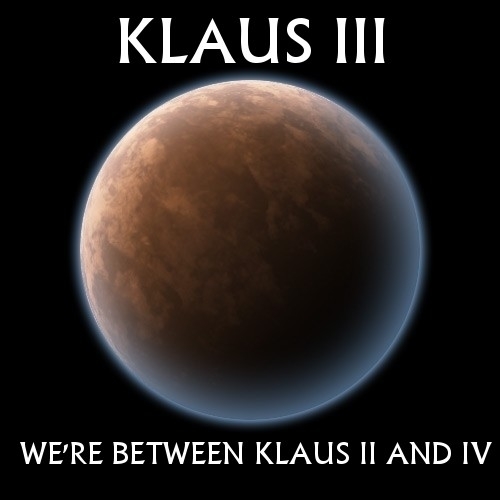 Klaus III
- The third planet of the Klaus System, Klaus III has no seasons due to its axial tilt of 0.4', is 1.2 AUs away from its parent star, and has a gravity of 2.4 G. Its atmosphere has only two-thirds of Earth's oxygen in terms of density. The oxygen is replaced by additional nitrogen. It is thought that the severity of this environment--low oxygen density and heavy gravity--is responsible for giving the Klausians their incredible physical capabilities. Klausians are a neutral party to the wars between Earth and Diablo, wishing to not be involved. Thus enter this world at your own risk unless you are a Klausian. Despite their neutrality, some individual Kluasians choose to get involved in the war on either side, and are not punished, as long as they emphasize they are acting as individuals, and not as a part of Klaus III as a whole. Some question if this is just Klaus III's way of playing both sides so that either way, they don't lose, though Klausians strongly deny anything of the sort.
Diablo
- A gaseous planet with a race referred to as "Daemon" (singular and plural sounds the same and is spelled the same). They resemble humans but with demonic horns and wings, and at higher levels can have Demonic looking forms they can change into and are at war with Earth for unknown reasons. It is the only race players cannot play as. Only high level players can go to Diablo. Race: Daemon
Playable Race Descriptions
:
Of course note that each playable race may have their "Story" but the people playing as them are all just regular humans in 2022 whom are either playing illegally or have their souls trapped within their player character, thus what they may know about their character's race may vary.
Humans (when stating this term I usually refer to Earthlings)
-A generic term for bipedal species that are descendants of anthropoids. The majory of Earth's beings, the establisher of the Terran Alliance, belong to this race. They do not have tails, and compared to Fellpools, their animal-like senses of hearing and smell are not as sharp as a result of evolution. However, they are highly knowledgable and exhibit great competence in the field of science and technology. They also have developed the magic art known as "Symbology" which most other races seem to have one form or another of.
Eldarians
- Essentially the same as humans, but with slightly more pointed ears and initially had far greater technology and symbology than that of Earth, they have sense shared their knowledge to help great with its post WWIII conditions, which have long since ended many years ago.
Fellpool
- The Fellpool, also referred to as the Felinefolk, are a species in the Star Ocean series. They are a humanoid race that descended from felines. Fellpools bear an astonishing resemblance to Earthlings, the only physical difference being the tails that extend from their posteriors and the greater variety of ear shapes. The Fellpool are also extremely curious. They have exceptionally strong senses of smell and hearing, as well as powerful night vision. During the "God Age War" Fellpool's homeworld of Roak was destroyed, but many were able to evacuate and now live on Earth, leading to why they needed some Earthling humans to live on Elicoor II.
Klausians
- A sentient race that lives on Klaus III and IV. This race possesses excellent motor reflexes and hand-eye coordination, and it is said that the average Klausian can easily surpass a top Earthling in every aspect of physical capability. Klausians respect self-reliance, and regardless of the fact that more than a century has passed since first contact was made with this race, they still do not belong to the Pangalactic Federation, or to any other multi-planetary government for that matter. Klausians are also known for having an external appearance that very closely resembles that of Earthlings. If they didn't have three distinguishing green lines around their necks, they would resemble Earthlings with extremely good physiques.
Elicoorians
- Humans living on Elicoor II, primarily found in the Sacred Kingdom of Aquaria and the military superpower of Airyglyph. Although Elicoorians look exactly like Earthlings at first glance, they are a completely different race. The most distinguishing characteristic of Elicoorians is a special ability of their eyes--they are able to visually recognize fluctuations in Symbological force. The precision with which an individual can discern Symbological fluctuations depends on their genetic makeup. Holy Mothers, who have the greatest concentration of this power, are able to see the workings of symbols in every living or non-living bodies or activity within their field of vision. This is why the Elicoorians possess symbological technology that greatly exceeds their general level of civilization. They are the racial majority race on Elicoor II.
Menodix
- a cheerful race living in the Sanmite Republic which is descended from raccoons. They may not be very tall, but they boast dexterous fingers and a high level of adaptability to new circumstances. Compared to other races, Menodixes have an excellent sense of smell. Their downfall is that they are very curious and easily excitable, characteristics which more often than not will act together to offset the Menodixes positive characteristics. Strangely enough, Menodixes have an excellent ear for music and there are many eminent Menodix troubadours. Unfortunately, thanks to the innate Menodix personality almost no one is aware of this fact.
Featherfolk
- A race of people with large wings on their backs, descended from birds. The process of evolution has split the humerus bone of the featherfolk in two, allowing ths remarkable race to possess both wings and arms. Featherfolk are extremely lightweight and can use the wings on their backs to fly for short periods of time.
Non-Playable Race Descriptions
Daemon
- a non-playable Race that is also the main antagonists of the MMO. They resemble humans but with demonic horns and wings, and at higher levels can have Demonic looking forms they can change into. On Elicoor II and Earth they are the strongest enemy type you can fight, though their strongest forces are on their home world of Diablo, which only high level players can go to. Daemon so far have not gone to Klaus III at all yet.
Classes/Weapon Types:
Note: All Classes have fully customizable Armor/Clothes/Weapons that can be changed on the fly, as well as being able to equip/unequip individual items such as Pants, hats, etc. allowing for a mix and match of whatever the player prefers. It is also possible for players to wear clothes belonging to other classes if they purchase them in stores later, as long as the outfit isn't too heavy for their class. That said, level 1's start with the same clothes for their entire class, they will be listed below where appropriate.
2nd Note: All level 1's start with 1000 Gold (the in-game equivalent of 100 bucks.) and more gold is gained from either completing quests or defeating monsters (both give gold) Furthermore, all level 1's may choose a level 1 spell or special attack to have for their character. Except for Mages who due to being physically weak, have more than one. (Suggest something in the OOC and I'll either approve it or request you pick something else. Or if you prefer, just put it in your bio and if it looks fair, I'll approve it.)
Warrior
- User of a longsword or a spear, strength, speed and magic are all average. Is also capable of special physical attacks, which are average. Well rounded. If using a spear slashing attacks are weakened but range is improved.
Races of this Class: Humans, Eldarians, Fellpool, Elicoorians, Daemon
Level 1 Starter Clothes/Armor:
Male: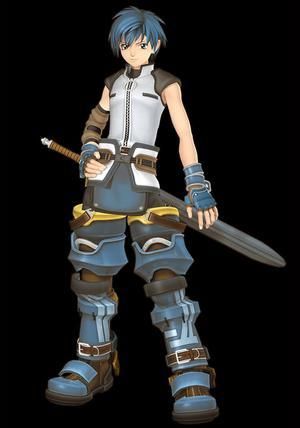 The Female variant looks the same but shows the midriff and has her thighs bare.
That is also your level 1 starter Sword, but you may start with a level 1 spear instead if you choose:
Samurai
- User of a Katana. Strength is average, speed is above average, but use special attacks instead of magic.
Races of this Class: Humans, Eldarians, Elicoorians, Daemon
Level 1 Starter Clothes/Armor:
Ironically this is a male wearing the FEMALE version of the outfit. The only real difference between it and the male version is that the male one doesn't bare a midriff, thus it, covers slightly more skin.
This picture also displays the level 1 Katana people start with.
Also, its optional but both females and males can wear a samurai helmet if they choose.
The optional samurai helmet looks like this:
Mage
- User of a staff. Strength is below average, Speed is average and uses magic instead of special attacks. Magic is above average and can get rather strong.
Races of this Class: Humans, Eldarians, Fellpool, Elicoorians, Menodix, Featherfolk, Daemon
Level 1 Starter Clothes/Armor:
Female:
The male variant has the "Dress part" covering the legs completely and is more "robe-like" showing little-to-no skin. Also, the male version's boots do not have high-heels and end slightly below the knees, instead of going up higher on the legs. Obviously like any clothing, certain parts can be un-equipped and mixed/matched such as the hat being optional.
This is also the starter mage staff, however the only difference between this and the image is a sharper and longer point at the top, almost like a spear, allowing it to be used for stabbing.
Fighter
- user of fists and feet, a physical fighter. Strength is above average, speed is above average but they have no magic at all but have special attacks.
Races with this Class: Humans, Klausians, Elicoorians, Daemon
Level 1 Starter Clothes/Armor:
Male:
Female:
Gunner
- user of a pistol and feet. Strength is average, speed is average and they are capable of magic and special attacks. Thier magic attacks are below average and their special attacks are average. However their pistol based attacks, while having a slightly better range, have a slight delay that is slower than average, while their feet attacks have average speed.
Races with this Class: Humans, Eldarians, Fellpool, Deamon
Level 1 Starter Clothes/Armor:
Female:
The males is basically the same. Aside from of course the clothes being fitted to fit a male, the skirt isn't on the male version and instead he wears black leather pants. Obviously the tights under the skirt on the female version are also not worn by the male either. Other than that, the outfit is the same.
Level 1 Weapon:
Rogue
- user of knives, daggers or little hatchets. Above average speed, below average strength, only uses buff magic and instead of special attacks they get criticals more often.
Races with this Class: Humans, Eldarians, Klausians, Fellpool, Elicoorians, Menodix, Featherfolk, Daemon
Level 1 Starter Clothes/Armor:
Male/Female: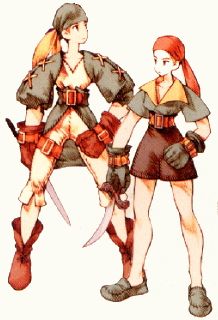 (note: unlike thieves of other RPGs, Rogues don't have a "Steal" function. However, at higher levels I might permit this.)
Rules:
1. No instant-kills/godmodding. No world destroyers, etc. You must be reasonable with your strength and abilities
2. You may have up to 2 characters, but each character must have a bio before they can begin.
3. Your weapons, items, etc. must be determined by your race and home and fit the general technological level of where you live.
4. The head and/or vice head determines rotation order. You don't post out of turn. If you don't post at least once within 24 hours, your turn will be skipped. However, if you beforehand wish to be skipped, please let us know ahead of time so you don't slow down the RP.
5. If you wish, your character's death can be written off as a "near death experience". However, they must skip at least 1 turn.
6. No canon characters from the Star Ocean games, as those would be NPCs and thus you can't be related to an NPC if your character is a Player character and thus "real".
7. Please be patient with the RP staff, we are new to this website and are trying to figure out the inner workings of how everything works.
8. Story format for your posts. That means you type for example:
James walked into the corridor, unsure of what would occur. He'd spent days without restoration items, and he was showing for it. He was low on Hp and there was still more to the place that he had to go. He should've better prepared at the shop beforehand, but he didn't expect this many enemies.

"Damn!" he cursed under his breath as he continued down the corridor.

Not for example this:
*walks down corridor*

Damn
-

Don't do that.

9. Don't have walls of endless texts or extremely long paragraphs. For aid in that, here's something to use as a guideline: (not required, all that's required is prevent walls of text, but this guideline could be helpful) Roughly every 3-5 sentences, make a new paragraph. Everytime someone says spoken dialogue or thinks something, it would be its own paragraph (no matter how short).
10. All of these rules are subject to change.
23 posts here • Page 1 of 1
23 posts here • Page 1 of 1
Arcs are bundles of posts that you can organize on your own. They're useful for telling a story that might span long periods of time or space.
There are no arcs in this roleplay.
There are no quests in this roleplay.
Welcome home, Promethean. Here, you can manage your universe.
Arcs are bundles of posts from any location, allowing you to easily capture sub-plots which might be spread out across multiple locations.
You can create Quests with various rewards, encouraging your players to engage with specific plot lines.
Settings are the backdrop for the characters in your universe, giving meaning and context to their existence. By creating a number of well-written locations, you can organize your universe into areas and regions.
Navigation
While not required, locations can be organized onto a map. More information soon!
There are no groups in this roleplay!
By creating Collectibles, you can reward your players with unique items that accentuate their character sheets.
You can schedule events for your players to create notifications and schedule times for everyone to plan around.
The Forge
Use your INK to craft new artifacts in Star Ocean Online. Once created, Items cannot be changed, but they can be bought and sold in the marketplace.
Notable Items
No items have been created yet!
The Market
Buy, sell, and even craft your own items in this universe.
Market Data

Market conditions are unknown. Use caution when trading.

Quick Buy (Items Most Recently Listed for Sale)
Main Central Hub
Kingdom of Aquaria - since the "God Age War" they've been an uneasy peace with the Kingdom of Airyglyph. People here tend to worship the goddess Apris and are ruled by a Queen. The Natives of this Kingdom are all Elicoorians.
Considred one of the 4 surviving "nations" of WWIII hundreds of years ago though its brought into debate whether it counts as more than one nation survived.
One of the four surviving nations of WWIII hundreds of years ago
One of the Four Surviving Nations of WWIII hundreds of years ago.
The Capital of the unified planet of Klaus III. Fighting Competitions are held regularly here and they are firm believers in "working off your own steam"
Kingdom of Airyglyph is located on Elicoor II and is at an uneasy peace with Aquaria. They often have harsh weather, but soldier on through it all with their great military might.
One of the Four surviving nations of WWIII hundreds of years ago.
Discussions
Topics

Replies
Views

Last post
Most recent OOC posts in Star Ocean Online
There have been no posts in the OOC topic for this roleplay!