__________________________
Character Info||
Description:
||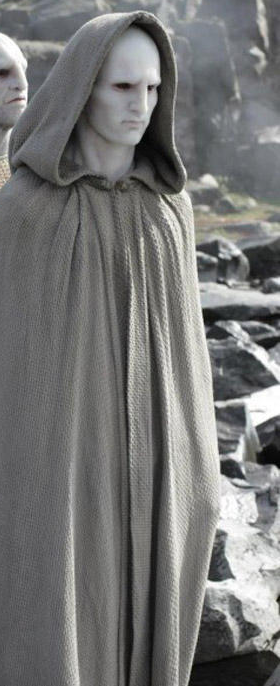 ||
Species:
||Adellian||
Home world:
||Xandra, located in the galaxy cluster Adel-3627||
Eye color:
||Black, but with no pupils or eye lids||
Hair:
||Adellians are bald||
Height:
||Like humans, Adellians are of various heights and sizes||
Language:
||Native language is Adellian||
Family:
||Adellians do not reproduce like other beings, the need of a mother or father in no longer applicable to their survival and propagation.||
Affiliations:
||United Federation of Planets||
Full Name:
||Gelbia||
Nick Names:
||GB||
Age:
||134 years old||
Role: (good or bad)
||Good||
Occupation: (If any)
||Chief Helmsman||
Weapons:
||Standard issue Phaser
Communicator||
Physiology:
||Adellians are humanoid in appearance. They do however have a complete and utter lack of body hair, including eye lashes. The skin tone of Adellians is genetically light, almost ghost-sheet white. Their internal organs are completely alien to modern medicine, the Adellians are still awaiting physiological clasification.||
Strengths:
||1. They keep their promises - even if it means death.
2. They can manipulate magnetism.
3. They possess telepathic senses that let them navigate through hyperspace, making them natural helmsmen. In this capacity, they can be useful to a degree should a starship's navigation system were compromised.
4. They never quit or surrender.||
Weaknesses:
||1. Certain sensory extremes are painful to them.
2. Adellians are not known for their medical expertise, they can therefor be harmed just as easily as human beings and similar alien races.
3. Gelbia is concerned for the survival of his species, sometimes this concern can reach great heights of obsession.||
Additional Abilities:
||Most of their species ascended to a godlike existence - Gelbia and the remaining Adellians are descendants of those that did not.||
Personality:
||Elegant and poised. Like Vulcan's the Adellians hold logic in high regard. Though they are far less dependent upon it, which is to say that they don't allow logic to govern their society completely. It is simply a virtue which they aspire to. Gelbia is extremely concerned with how his species is presented, he has become a sort of ambassador their their kind.||
Training:
||Gelbia graduation Starfleet Academy with high honers, he is the first of his kind to be accepted into the Federation. Being the chief navigator for the starship Yeager is Gelbia's first assigned duty.

Gelbia's hope is to establish his species as an important asset to the Federation of Planets||
History:
||The Adellians come from a high-gravity, mineral-poor world that has only a small area that is actually habitable by their species. The Adellians originate from the spiral galaxy cluster Adel-3627, which is being tidally stripped of stars and gas through its high speed traversal through the cluster, leaving a high density, 260,000 light year tail with large amounts of star formation. The tail features the largest amount of star formation outside of a galaxy seen so far. The galaxy has the appearance of a comet, with the head being the galaxy, and a tail of gas and stars.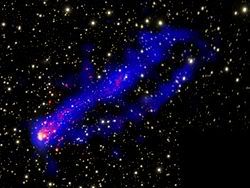 The stripping of gas is thought to have a significant effect on the galaxy's evolution, removing cold gas from the galaxy, shutting down the formation of new stars in the galaxy. Although there is little in way of immediate threat to his Galaxy, and by extension his planet, the Adelians are desperate to find another home world.


Adellian society is split by gender - males and females are separate cultures. In direct relation to this the Adellian species do not reproduce, but instead infect and transform other beings into new members of their species. In their barbaric past this was done by forcing another alien race to submit, they have recently (within the last 1000 years) evolved to the point where this biological imperative is accomplished through mutual consent of lower life forms.

There are however factions within their society who view this a devolution for their species, some of these groups are violently vocal concerning their disdain for such actions.

Their government is a theocracy.

They are famous for producing navigators.

There is another race they worship as gods - Which are those of their species that have become enlightened and beyond physical concerns.