Name: Tal-Koren Wavingstrider - Lord Timaeus
Age: 38
Race: Human (Tetan)
Home system (system of birth): Empress Teta
Gender: Male
Hight: 6'2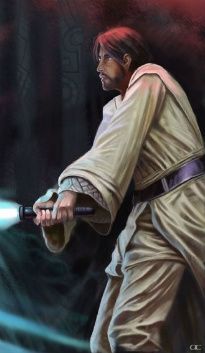 Appearance: Tal-Koren is a rather tall man with a strapping build acquired from years of training and fighting. Koren is not vain about his appearance but does keep himself well groomed and presentable. Koren has been described as handsome with a statuesque like appearance. His facial features are firm and strong which is framed by a short boxed beard and complemented with shoulder length ponytail. He has a variety of battle scars across his torso and arms, most of them results from lightsaber battles, the rest from blaster and knife wounds.
Clothing: Tal-Koren typically wears expensive clothing, mostly in colors of blue. His robes are typically made from simmer silk, with costume made Vjun tunics and pants complemented with Corellian leather boots.
His sith robes are of sith design but are a modified version of a historical sith's robes. Koren wears a Cuirass with a cortosis weave and a mask when among his fellow sith. Though he respectfully removes it when alone with Ashara.
Occupation (or disguised occupation): In the public Koren is an Investor in Andosa Corporate and a representive of the House of Wavingstrider.
Force specialization:
-Power; Tal-Koren is very strong in the force and is a highly skilled lightsaber duelist. Years of honing both have made him very powerful in this category.
-Sensing: Though strong in the force Tal-Koren's sensing is relevantly average compared to others it is clear it is not his specialization. He can sense alignments to a degree and he has limited mind reading.
-Manipulation: Tal-Koren has little use for controlling the minds of others through the force and thus his skills extend no further than manipulating non force sensitives.
-Sight: Tal-Koren's power in sight is second to his power, allowing him to see into the past and future and using it to his advantage.
Rank: Commander
Weapon (please make a description of the aesthetics of the weapon): As a master of the blade and collector of lightsabers, Koren has quite a collection of such weapons in his possession. However Koren always carries three lightsabers with him at all times. Two of them are his primary lightsabers from his days as a Jedi. Both are silver hilt sabers with engraved ornate patters. Both ignite into blue blades and can be joined together to form a double bladed lightsaber. The last blade is gold and silver with words of an unknown language engraved into them and ignites into a silver colored blade. Koren never uses this blade except for emergencies and has never lets anyone know he has it.
Personality: Tal-Koren is kind and emphatic compared to other Sith. He can come off as firm and a bit hard among other Sith he trains but he is not cold and cruel. Koren treats all of his students with respect and care while remaining firm in his teachings. Koren carries himself with the grace and an exalted air about him, projecting the air of a noble man. Given his background he is well versed in the arts of a gentleman, etiquette and the noble arts. In public eye he portrays himself as a noble from Empress Teta with a shrewd business mind, a kind heart and a ladies' man (Albeit the last is true of his true personality).
Koren is a very intelligent man and strives to accumulate knowledge. Particularly subjects of the Force and alien cultures are among his favorite subjects. Much like many great Jedi and Sith masters, Koren prefers to use his mind in a logical and strategic manner. He will often make plans in advance and use his intelligence to outsmart his foes. Koren also enjoys intellectual pursuits, one in particular is archaeology, which allows him to search for secrets and artifacts of the force and his heritage.
Since he played a part in it's formation and philosophy Koren remains a follower of the teachings and philosophy of the Grey Knights. Koren's compassion and kindness keep his ambitions and vices in check in a constant balance. It is his belief one becomes stronger in the force when harmony within one's self is achieved and Koren strives to balance light and dark in him. Koren allows his ambitions and vices freedom but insures to keep them tempered.
It must be noted while he follows a path of balance Koren does have his moments of weakness. When it comes to matters of slavery Koren has a zero tolerance for it and can react...darkly, as a result. Koren also has a zero tolerance for harming children and shows no mercy to those who do. Koren also does not accept Humanocentrism policies and while not violent about it he remains a harsh critic about it.
Background: Tal-Koren's origins are rooted in the Empress Teta, where he was born to one of the noble families of the planet. Koren became the last successor in his houses' line of heirs when his father was assassinated months before he was born and his mother died giving birth to him. With only his uncle and aunt to care for him, the house of Wavingstrider had reason to mourned and celebrated in the same period. His birth was more than just a monumental occasion for his family's house as it also created a powerful ripple in the force. Feeling the ripple the Jedi sent recruiters to find the source of this ripple and found Koren six months after his birth. When he was tested Koren was found to have a very high Midichlorian count, on par with some of history's most renown Jedi. But a problem arose as many of the guardians and caretakers for the Wavingstrider household staunchly refused to let the young master be separated from the house. With the family refusing to part with Koren the Jedi returned to the Temple on Corucant.
Two months later a woman came to the temple, with her was Tal-Koren. She explained the family had changed their minds and wanted a safe place for the young master from the dangers of the interhouse conflicts. For over a decade Koren was raised and trained to become a Jedi, learning their ways and philosophy. Koren's was respected by many of the masters for his dedication and respect and a role model to other apprentices for his personality and kindness. But while Koren did believe in the ideals and some of the philosophy of the Jedi he did not agree with all of their philosophies and policies. Over the years he had seen many apprentices leave the order with some joining the Sith for one reason or another. Though for some reason Koren was not among those few who left the order despite his reservations of it. For Koren he felt out of place with the Jedi but remained with them until one day he found his place.
After over two decades as a Jedi Knight with a well founded reputation word reached of Ashara Ashok's new Grey Knights. Koren didn't know what to make of them until he and several knights were sent to meet with Ashara's new order. Though small at the time Koren somehow felt at ease among the fledgling order and found their philosophy of balance was more in line with his own beliefs. Ultimately the meeting ended with neither side budging in their opinions. But it did cause Koren to have conflict in his loyalty, one which would result in him resigning from the order and leaving to join the Grey Knights.
Having been a pursuer of knowledge and a prodigy with the blade Koren served as a teacher of the intellectual and saber arts in the early days of the knights. He also played a role in helping create some of the ideals and rules of the Grey knights. The Grey Knights also allowed him the freedom to further his strength in the force and discover many other things such as his ties to his family on Empress Teta. During a visit to reconnect with his family a year after joining the Grey Knights Koren uncovered the truth of his aunt and uncle. Apparently when the Jedi came for him they saw it as an opportunity to seize control of the family, considering their secret bloodline it would have been a boon to Koren out of the pitcher. Carefully waiting two months after the Jedi left they killed off all who opposed Koren being given to the Jedi before sending him to them. They also had been conspirators in his father's assassination and had planed to kill off his mother before her death after his birth. Koren used this information to expose his aunt and uncle and reclaim his birthright as the rightful heir to the House of Wavingstrider and it's titles and resources.
With his duties aligned with the Grey Knights for the time being Koren appointed overseers to run the daily work of the House and dedicated his time and some of his fortune to help build the new order. It was all for naught as tension continued to rise among among the Jedi and Sith against the Grey Knights as they went from a nuisance, to heretics and then eventually all out war. Koren was among the those on the front line defending his fellow knights and fighting against Jedi he once called friends. Koren proved his mettle and skill was well deserved during the purge but even he couldn't stop the death of the Grey Knights. Only he and a few of his fellow knights survived the purge and managed to go into hiding.
Though the order had been shattered Koren remained optimistic they could recover but it was not the same for Ashara. As she dwelled on the losses and survivors lost faith it drove Ashara further and further into misery until she once again fell to the Dark Side. Taking those who continued to have faith in her, Ashara formed a new Sith Order, one to surpass the old and to bring about a new empire. Koren however did not agree with this new goal of theirs and did not hide his opinion. None the less he followed Ashara and the order out of a sense of loyalty and under lining duty. Koren retained his responsibilities as a teacher and blademaster, teaching the next generation of students and being a keeper and seeker of knowledge for the Order.
Were it not Ashara and his belief in the way of balance she taught him, Koren would have nothing to do with her new Sith. Yet he has remained loyal to Ashara and continues to follow her on this new path.
For he feels it is his duty to guide her out from the darkness and back into balance.
Alignment: Chaotic Good