Name: Soo Aani
Age: Old, 180 conscious
Race: Neti
Home system:Ryyk
Gender: Male
Appearance: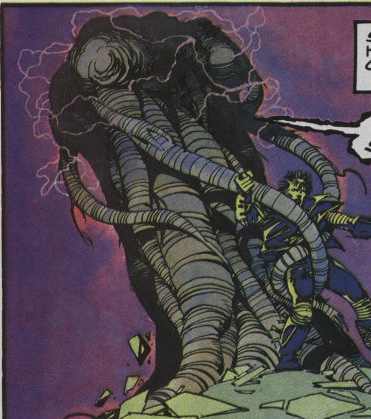 Clothing: Loose light colored robes They look like those of the Jedi, but definite differences can be seen
Occupation:Grey Knight
Force specialization:Sensing
Rank:Teacher
Weapon:Silver Light Saber
Personality: Quiet and soft spoken, though a presence that made it clear that his beliefs were there to be held.
Background: Born on Ryyk, in the days of the old republic it was unfortunate the timing he was born in. He was found young and trained as a knight in the traditional manner. Having earned the rank of Master, tensions drove him into war. The clone war raging through the galaxy, he was not one of the most able fighters. He had focus in the moment, and through it could make up some of that. Still that does not save much when the Sith fleet ambushes your lone fighter. It was a short fight before he was shot down. His ship crashed on a lush jungle world and using the force he jumped some ways from his ship before taking the form of tree he evaded capture by the search teams sent for him. Reported dead, he found himself on a remote world in the Outer Rim. His ship had been taken and left him with nothing to contact any distance with.
He set his communicator to put out a distress signal, though it seemed it was not to be read. There he spent many years meditating, reaching through the force but it seemed the galaxy had lost him the tumult of it all hiding his presence. A little over a decade after his arrival a disaster happened a large mass hurtling through space slammed into the star and it died. The light out, Soo knew that he would not live too long so he took the form of a tree and entered stasis. There he sat, dormant, still until he felt once more the rays of a sun shooting through space and to him. brining him back the did not know where he was or when, His materials sere long since done, but he reached out to nearby ships. He reached out and called those to him.
A force sensitive captain felt the call and picked him up. He could have returned to the Jedi, but it did not seem right, in his time too much had happened with him, he had felt too much in the force he sought a place and when the force answered he was drawn out, to Ceru V, that was where the force guided him to learn and to teach.
Alignment: Neutral.