In 250ABY, the Jedi and the Sith engage in a massive war. The Jedi are backed by the Republic, and the Sith by the Empire. The war ravages the galaxy, destroying worlds in a caliber that had not been seen in centuries. The Jedi numbers drop, until none were left to oppose the Sith. While the war between the Republic and Empire goes on, the Sith cease fighting. They celebrate the destruction of the Jedi, and then do what the Sith always do. They betray one another. The Sith slaughter their own forces, wiping themselves out seemingly completely in a mad grab for power. The Empire crumbles at this civil war, and he Republic slowly starts to take control of the galaxy again.
In 400ABY, the Republic has control of the galaxy once more. Massive rebuilding efforts are put into effect. Numerous historical information is lost, leaving historians guessing at the gaps left in the timeline. Coruscant is once again the capital. The Jedi and the Sith fall into legends and myths, with most of the galaxy doubting their existence in the first place.
In 488ABY, a private droid business owner breaks off from the Republic, forming the Confederacy of Independent Systems. Supported by the black market and other illegal organizations in the Republic, the Confederacy gains quick wealth. War began with the Republic. The Galactic South becomes Confederate Territory, with Mustafar as the capitol.
In 493ABY, the Imperial Remnants band together and form the Empire once more, entering the war as a third party. The Empire has the smallest numbers, but the most advanced technology. The Galactic East becomes the Imperial Territory.
In 498ABY, the Confederacy and the Empire assault Coruscant, causing a 2 year long assault from all three factions.
In 500ABY, All three Factions are blind-sided by Coruscant militia, pushing each of the factions off the planet. Coruscant becomes an Independent planet, and with the defenses left by the Republic, it becomes heavily fortified.
The year today, is 500ABY. You are on the planet Tython, a planet in the Deep Core that has long been lost to the rest of the galaxy. This is where the Jedi retreated, all those years ago, when the Sith had thought they had destroyed them all. The war that rages on outside does not effect the Jedi. Missions can send Jedi out into the galaxy, but it is rare, and they are sworn to a low profile.
The light of the morning rolls over the the tall forests of Tython, inching its way to the temple stairs. There is a feint, warm breeze that dances around the temple grounds, and into any open windows. It is a perfect time to wake in the morning...
Nope!
You were up nice and early that morning, when that soft wind was a chilly and strong force that was more formidable than your training partner. You were out with Denak Kilbaine, taking part in his mandatory training/workout session. This happens every week, and you get up at 3. You get up with the masters, the knights, the padawans, and the vanguards. The only ones who seem to be able to get out of the hell that is the day, are the council members. And hell it is.
After all day of a vigorous training regimen, its time to finish with some sparring. You are brought down to the training rooms, and assorted with a group. You are given training weapons, and then told to enter the training cell. With your first step into the cell, you can see your opponent entering from the other side, ready for you...
The Jedi Temple:
The Jedi Temple is the Jedi's headquarters. Here, the temple consists of a multitude of systems that work together.
The High Council
The Council of First Knowledge
The Jedi Service Corps
The Vanguard Corps
The Jedi High Council
(Grand Master)Gwada Kotsa(Cerean)5'10"- The leader of the temple, Master Kotsa has the best traits of every master in the council. He is very powerful in both the force and Lightsaber combat, and was put in this position for a reason.
Style: Double /Favorite form: Shii-Cho /Forms mastered: 1,6 /Lightsaber: Purple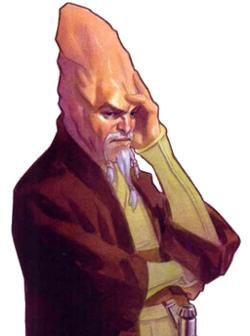 Mu Zathris(Twi'lek)6'1"- Master Zathris is not interested in the outside world, and thinks the jedi should completely stay away from affairs that the Jedi aren't strongly involved in. It would take the younglings being put in the cross-hairs of a blaster...
Style: Single /Favorite form: Niman /Forms mastered: 6 /Lightsaber: green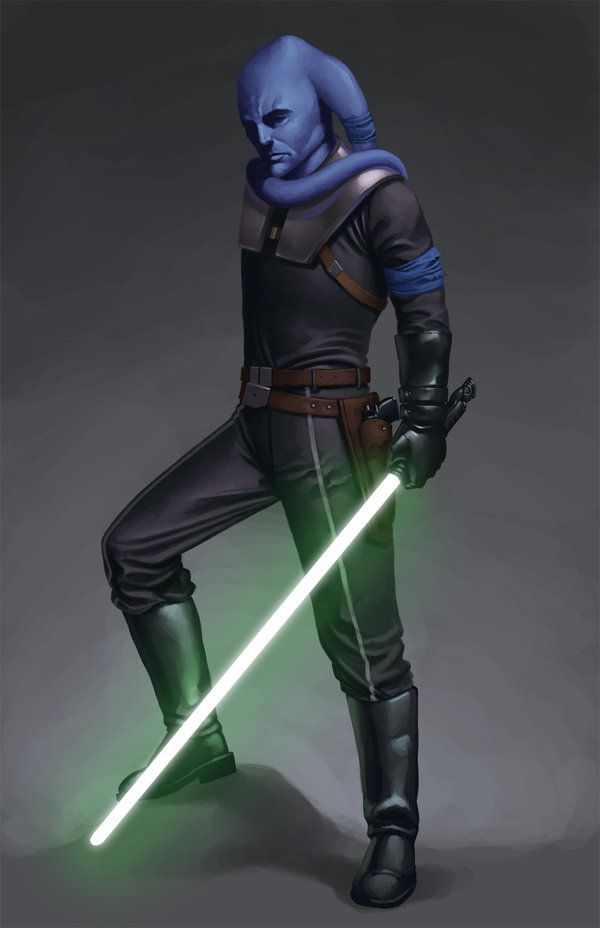 Carta Fe(Kel Dorian)6'- An older master who has seen much, master Fe is a very accomplished pilot and is the best in the order. He is strong in the force, and stronger in the skies.
Style: Single /Favorite form: Makashi /Forms mastered: 2 /Lightsaber: orange
Zonne Pax(Nautolan) 5'9"- A younger master, Pax believes that the galaxy will not fix itself, and that the force guides them to help whenever possible.
Style: Dual /Favorite Form: Shien /Forms mastered: 1,Shien /Lightsaber: L: Green R: Yellow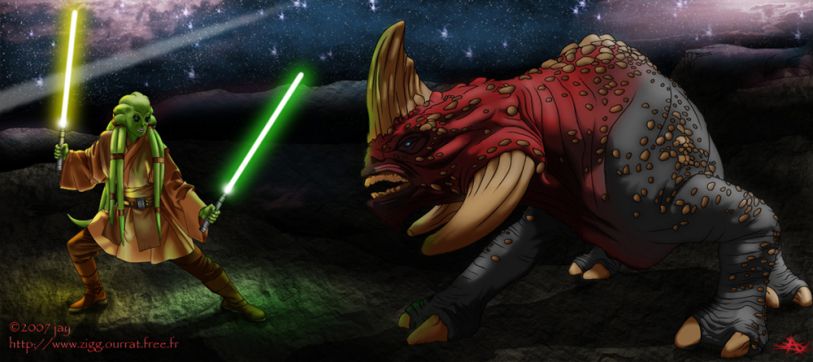 Votar(Yoda's species)2'3"- An old and wise master, Votar is only second to the grandmaster in wisdom. Master Votar believes in helping where ever possible, so long as it is not unreasonable.
Style: Single /Favorite form: Ataru /Forms mastered: 4,6 /Lightsaber: Blue
Resadisk Dostter(Besalisk)6'1"- A young(for a master) council member who believes the jedi have no place acting as "police officers" in the galaxy, he instead thinks the jedi should be isolated people who keep to themselves. He does believe in stopping the Sith, of course.
Style: 2 Double Bladed Lightsabers /Favorite form: Soresu /Forms mastered: 3 /Lightsaber: L: blue, R: green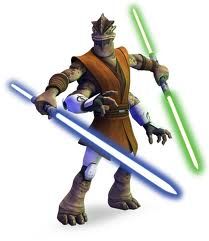 Basa Jerosi(Gungan)5'9"- A great teacher, master Jerosi is patient and very good with students. He is the head of youngling training.
Style: Single /Favorite Form: Soresu /Forms mastered: 3,6 /Lightsaber: Green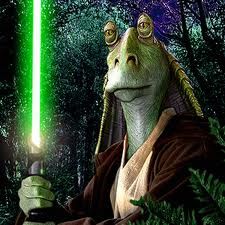 Other Notable Masters:
(Battle master)Denak Kilbaine(Human)6'5"- Father of Karkun, Master Kilbaine is a very powerful duelist, being a master of every style and having also mastered force absorb. He is also a master of force sight, and has a natural talent for it just as his son. He is a decendent of the founder of this Order.
Style: single /Favorite form: Djem-So /Forms mastered: 1,2,3,4,5,6 /Lightsaber: blue
(Lore-Keeper)Glyk Fey(Bothan)5'6"- The oldest of the Jedi, Master Fey holds more knowledge in her mind than most data pads can. She is the head of The Council of First Knowledge.
(Healer)Handra Vas(Human)5'6"- Handra is a young Master, only in her mid 30s, who has always possessed a strong skill in healing. She is the head of the Jedi Medical Corps.
(Master)Kisha Kil'donis(Human)5'4"- Kisha is an old master who took Kilos in as her apprentice, and brought him to Knighthood.
Style: Dual/Favorite form: Soresu/Forms Mastered: 3, V(Shien)/Lightsabers: Purple
Vanguard Corps
The Vanguards are the non-force sensitive members of the Temple. They are hired by the temple, and can range from volunteers to mercenaries. The Vanguards mainly serve as the security force of the Temple, but some can also serve as mechanics, messengers, etc.
(Captain of The Guard)Zalthuur(wookie)7'- Zalthuur once lived on Kashyyk, but left to explore the galaxy. He settled down in Zimita after a while of exploring. When the temple sent Master Kilbaine(a padawan at the time) and his master to help defend the town from thugs, Zalthuur was saved by Master Kilbaine, owing a life debt to him. He left with Kilbaine when the village moved to Jortin . He would never leave Kilbaine's side to ensure his protection, and because of this, he eventually was put as head of security at the temple, and thought of it as a good way to protect Kilbaine and the rest of the jedi.
Faction Leaders:
Republic: Supreme Chancellor- Wempta Piscotti(older, black, male Zabrak), Vice Chair- Lowanta(male wookie, dark brown fur)
Confederacy: Head of State- Sunko(Male Toydarian)
Empire: Emperor- (Name, species, even gender unknown to public), Grand Moff- Cuit Giff(older, white, male human)
Jabba's Palace: Leader- Durgo(Hutt), Translator- IG-110(Ancient Confederate droid from Clone Wars, reprogrammed for translating), Head of Security/Body Guard- Corvo Takisir(Human Mandalorian, wears Mandalorian Shock Trooper Armor, wields a DLT-19 rifle and unknown blaster pistols)
Character Creation
You are allowed to be either a force sensitive or non-force sensitive character. Characters can be a Jedi Padawan, a Jedi Knight, or a Vanguard. Keep in mind that non-force sensitives can seem under powered later in the story, and is unfortunately a drawback of being a non-force sensitive. If a Padawan, then you must have a Knight for a master, which could include another player, so go ahead and ask. Force bonds may also be established with other players. Any other ideas for a character must be PMed to me first.
The Dark side will overtake one's mind, and I reserve the right to alter your character's actions and words if he is not being RPed properly. If your force sensitive character is performing Dark side acts, then his actions will be affected.
Character Bio:
Name:
Species:
Force Sensitive: (May choose not to be.)
Jedi Specialization: (
Guardian
,
Consular
,
Sentinel
) (If applicable)
Jedi Rank: (Padawan, Knight) (If applicable)
Age:
Appearance:
Language(s): (Spoken, Understands) (must be explained in history if not native language)
Description(personality):
History: (Must be on Tython of course, working or a part of the Jedi Temple. PM me if you have an idea to be something else)
Equipment: (Keep it reasonable, non-force sensitive characters have access to more and higher quality gear)
Lightsabers
"This weapon is your life."
A Jedi's lightsaber is a symbol of his membership among the Jedi. Every lightsaber is personalized to the user. There are a number of colors, hilt designs, and styles to be used by a Jedi. First thing to choose, is style.
Single Saber
Dual Sabers
Double Bladed
Guard shotos(Tonfa Sabers)
Lightsaber Pike
*Note: Double Bladed Lightsabers may not use the Makashi Form when both sides are active.
Lightsaber pikes may not use Makashi or Shien.
Jedi may take any color, for it is what the Jedi expresses him/herself with.
Special Features: Jedi may take a single special feature to their lightsaber, listed below.
Dual-Phase: Allows the lightsaber to adjust length
Bifurcating cyclical-ignition pulse: Allows the lightsaber to be activated underwater
Mandalorian Iron Hilt: Makes the hilt unable to be cut in one swing.
Silent Emitter: The Lightsaber makes no noise when activated.
Magnetized Shielding: When the Lightsaber makes contact with a shield of any kind, including a lightsaber, it repels it with greater force.
Conductive Emitter: Electricity is attracted to the blade, making blocking any form of electrical attack easier.
Dual crystals: Allows a Double-Bladed Lightsaber have two crystals, allowing one blade to be active active without the other.
Thin Emitter: Thins the blade of the Lightsaber. Useful for Makashi.
Lightclub: A Lightsaber of much bigger size. For larger species.
Attributes:
Strength:
Dexterity:
Charisma:
Intelligence:
Awareness:
Constitution:
Luck:
There are 6 points to spend freely. For humans, each attribute starts at 5, and caps at 10. PM me your species and we'll work out the stats.
Skills:
Heavy Weapons:
Blasters:
Melee:
Thrown:
Unarmed:
Repair:
Medical:
Programming:
Science:
Piloting:
Land Vehicles:
Naval Vehicles:
Vehicular Weapons:
Survival:
Animal Interaction:
Security:
Expression/Art:
Speech:
Politics/Strategy:
Stealth:
Larceny:
Demolition:
Non-Force sensitives
Characters choose 4 major skills, and 4 minor skills. Players have
4 specializations to use on your major skills, and 4 for your minor skills. You can have multiple per skill. So you can have 1 specialization for each major skill, or use all the points to put three specializations in one major skill. Same idea for the minor skills.
Example: If i have major skills of repair, melee, and stealth, i can either put 1 specialization in each, put 1 in stealth and 2 in repair, or put 3 in repair(skills in this example are interchangeable). Repair may have specializations like star ship or weapon maintenance. This is to further explain where your skill set lies.
Example 2:
Major- Melee(Dueling, Multiple Opponents), Survival(Harsh Environments), Unarmed
Minor- Repair(Forging, Star ships), Medical(First-aid), Blasters, politics/Strategy
Force Sensitive Characters:
Characters choose 1 major skills and 2 minor skills. They have one Major Specialty and two Minor Specialties.
Sentinels may choose 3 major skills and 3 minor skills, with 3 major specialties and 3 minor specialties.
Melee weapons do not cover lightsaber combat.
Lightsaber Styles:
Form I: Shii-Cho
Form II: Makashi
Form III: Soresu
Form IV: Ataru
Form V: Shien/Djem-So
Form VI: Niman
Form VII: Juyo
Form proficiency rating is ranked as follows: None/Novice/Apprentice/Journeyman/Adept/Expert/Master/Grand Master/Unleashed
All Jedi start at no proficiency in all forms except for Shii-Cho, which starts at Novice. Jedi Consulars and Sentinels may increase proficiency levels 3 times at character creation, so going from None to Journeyman in one style or spread out into other styles if desired. No rankings may be taken in Juyo
Jedi Guardians may increase proficiency 5 times, but may only increase proficiency 4 times in one form.
Ex:
Form I: Shii-Cho: Novice
Form II: Makashi: Apprentice
Form III: Soresu: None
Form IV: Ataru: None
Form V: Shien/Djem-So: Novice/ None
Form VI: Niman: None
Form VII: Juyo: None
3 proficiency levels are increased, Makashi from None to Apprentice, and Shien Novice.
Force Powers:
Control:
Breath control
Detoxify Poison
Flashburn
Force Agility
Force Body
Force Enlightenment
Force healing
Force speed
Force stealth
Force Strength
Hibernation trance
Morichro
Tapas
Cloak of Shadow
Sense:
Force Listening
Force meld
Force sense: Apprentice
Precognition: Novice
Shatterpoint
Psychometry
Force empathy
Farsight
Force sight
Force Vision
Telepathy
Comprehend Speech
Shadow Vision
Alter:
Alter Damage
Alter Image
Alter Environment
Animal friendship
Battle meditation
Combustion
Crucitorn
Dark transfer
Deadly Sight
Drain Knowledge
Droid Disable
Electric Judgment
Force absorb
Force bellow
Force blinding
Force cloak
Force Destruction
Force drain
Force fear
Force-flash
Force Jump/Leap: Novice
Force Light
Force lightning
Force Rage
Force scream
Force Stun
Force Slow
Force weapon
Force Whisper
Pyrokinesis
Malacia
Mechu-deru
Memory Walk
Mind trick
Plant Surge
Revitalize
Telekinesis: Apprentice
Force Powers rank the same as Lightsaber styles do, following the system:
None/Novice/Apprentice/Journeyman/Adept/Expert/Master/Grand Master/Unleashed
Dark side powers are able to be taken, but keep in the mind the power must be practiced and learned in secret, as the council would not approve. Only one dark side power may be acquired at character creation.
Guardians and Sentinels may rank up Control abilities 6 times, Sense abilities 6 times, and Alter abilities 8 times.
Consulars may rank up Control abilities 7 times, Sense abilities 7 times, and Alter abilities 10 times.
Adept is the highest one power may be raised at Character Creation. Some abilities start out at a certain proficiency for all characters, which is indicated below the power.
RP Sample:
Create a short sample of your character doing...pretty much anything.
1. The obvious, no god-modding. Player vs Player battles must be held fairly, which is a reason for all the stats for characters. For any attack on a "Boss Character", make sure to PM me the scene first, or expect me to edit your post.
2. Codes: Quotations surrounding Bold indicates another character speaking. Quotations indicate a person of your control speaking. Italics with no quotes indicate your character's thoughts. Brackets [ ] indicate communication over comm link, use above codes in brackets for speech. Use arrows < > to indicate telepathy speech.
3. RP sample is required. If RP sample is not given, the character will be rejected immediately.
4. If rules of creation are not followed, or god modding is done repeatedly, then your character is able to be killed as I see fit.
5. If there are any questions, please PM me or just post it in the OOC.
Arcs are bundles of posts that you can organize on your own. They're useful for telling a story that might span long periods of time or space.
There are no arcs in this roleplay.
There are no quests in this roleplay.
Here's the current leaderboard.
There are no groups in this roleplay!
Welcome home, Promethean. Here, you can manage your universe.
Arcs are bundles of posts from any location, allowing you to easily capture sub-plots which might be spread out across multiple locations.
You can create Quests with various rewards, encouraging your players to engage with specific plot lines.
Settings are the backdrop for the characters in your universe, giving meaning and context to their existence. By creating a number of well-written locations, you can organize your universe into areas and regions.
Navigation
While not required, locations can be organized onto a map. More information soon!
There are no groups in this roleplay!
By creating Collectibles, you can reward your players with unique items that accentuate their character sheets.
Once an Item has been created, it can be spawned in the IC using /spawn Item Name (case-sensitive, as usual) — this can be followed with /take Item Name to retrieve the item into the current character's inventory.
Give your Universe life by adding a Mob, which are auto-replenishing NPCs your players can interact with. Useful for some quick hack-and-slash fun!
Mobs can be automated spawns, like rats and bats, or full-on NPCs complete with conversation menus. Use them to enhance your player experience!
Current Mobs
No mobs have been created yet.
Locations where Mobs and Items might appear.
You can schedule events for your players to create notifications and schedule times for everyone to plan around.
Add and remove other people from your Universe.
Orphanage
By marking a character as abandoned, you can offer them to your players as pre-made character sheets.
Are we the Guardians of the galaxy? Or the Harbingers of its doom?
The Forge
Use your INK to craft new artifacts in Star Wars: Return of The Force. Once created, Items cannot be changed, but they can be bought and sold in the marketplace.
Notable Items
No items have been created yet!
The Market
Buy, sell, and even craft your own items in this universe.
Market Data

Market conditions are unknown. Use caution when trading.

Quick Buy (Items Most Recently Listed for Sale)
None
The Galaxy...
Discussions
Most recent OOC posts in Star Wars: Return of The Force