Zebron Kooladi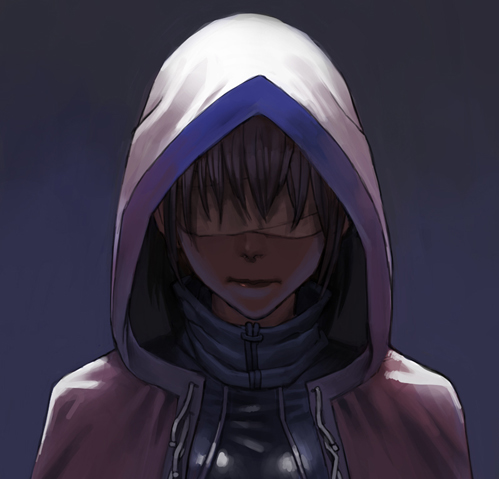 GENERAL INFO
Full name:
- Zebron Kooladi
Alias/Nicknames: - Zeebs
Gender: - Female
Species/Race: – Miraluka
Birth Date: - 1516
Age: - 19
Descendent(of): - Chikit Kooladi (father) and Wismin Kooladi (mother)
Current Residence: -
Job/Profession: - Student
Title: - Padawan
Allegiance/Alignment/Clan(s): - Jedi
APPEARANCE
Height: - 5'1"
Weight: - 110
Build: - Skinny
Eye Color: - N/A
Hair Color: - Pale blue
Handedness: - Left
Skin Shade/Color: - Tan
Scars/Tattoos/Piercings: - None
Description: – Zebron Kooladi is a skinny, short Miraluka whom does not wear any designed eye cover, instead she uses simple bandages to help her remember the many lessons of the Jedi teaching. Her pale blue hair is draped in front of her bandages. Her skin is mostly covered by the padawan robes she wears, but what skin is seen is has a rich tan from meditating outside in the sun. She wears tight fitting clothes to help her move for combat training, but she doesn't have much of a figure being so skinny.
MENTALITY
Sexuality/Preference: - Bisexual
Sanity: - Sane
Friends: - None at the moment
Likes: - The way of the Jedi, her old Master, Animals
Dislikes: - Her Current master, being showed up
Hobbies: - Meditating, taking care of stray animals
Personality: - Zebron has a kind heart, but also has all the worst traits of a teenager. She helps others when she can, however she often acts on impulse instead of logic, and is often ending up the one who needs to be helped.
EQUIPMENT
Weapons: – lightsabre
Combat Attire: – Padawan robes and full leather outfit.
Accessories: – Eye bandages
FIGHTING STYLE(S)
General/Preferred Style: – Zebron prefers distance using force powers instead of lightsabres or blasters
Weapons Style: – Zebron uses a defensive fighting style aimed at putting distance between you and your attacker
FORCE POWERS
Force Sensitive: - Yes
Force Alignment: - Light Side
Major Powers: - Force Sense, Force Sight
Minor Powers: – Telekinesis, Force Speed, Mind Tricks
HISTORY
Relationship Status: – Single
Family: – Chikit Kooladi (father) and Wismin Kooladi (mother)
Known Languages: – Miralukese
Personal History/Background: - Zebron Kooladi was born into an average family. She was not exceptional but had fantastic dreams of becoming a Jedi master. As all Miraluka are gifted in the force she began training herself in the arts of the force as long as she could remember. It was obvious that unlike most of her kind, she was gifted beyond force sight. She was accepted into the ranks of Jedi, and began official training quickly. Her master was a young Zelosian, only 15 years older than her, by the name of Cerix Lod and she became as loyal to him as one could. It wasn't long before she grew madly in love with Cerix. She knew it was wrong, and that it was against everything that the Jedi code taught be she couldn't help it. He was smart funny, and incredibly brave. Then everything changed, when her master died.
With this death she was transferred to a new master, Vividy'aru'wessinidid, or Yaruw.. She couldn't understand what was the purpose of this transfer. She was old enough, and ready to be a knight. Obviously, she was upset when her master died, and there was no way the council could not have known that she was in love with Cerix. She made no mention of it to anybody, and she never talked to anybody about her feelings. Sure Yaruw was good with the force, be she was innate with the force, she was a Miraluka. Zebron decided to play these council games, she would earn her knighthood one way or the other however, was not going to make this easy on Yaruw. She would prove that she was ready to be a Jedi Knight.