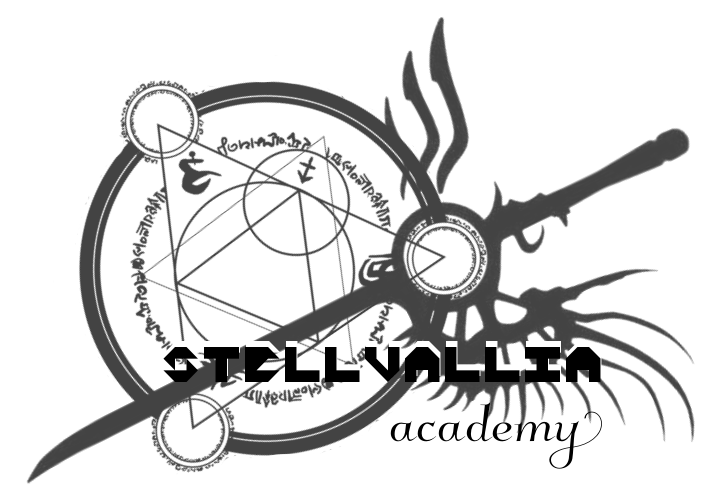 The Stellvallia Knight and Mage Academy is a school established to help educate and prepare future generations to reach their fullest potential, while also pushing the boundaries of what could be accomplished in the field of magic. Originally built on a magical leyline, Stellvallia is a hub for the fantastical, a world far different and separated from the wars and politics of the kingdoms surrounding them. Though it is true that many attend the academy to learn skills for military purposes; the academy itself maintains neutrality, and has limited tolerance for the squabbles between nations. Some even see it as a sanctuary from such disputes. Yes, Stellvallia is a peaceful place… Well, at least in regards to the outside world. Inside, the antics of the students, faculty and even the creatures that make it their home always mean something is happening.

Having been built on a rich source of magical energy, the very reality of the school is constantly filled with things that break the laws of nature. Dimensional portals and gateways lead to different planes of existence and realms undisturbed by man. Magical constructs diligently work building machines of unknown purpose. A castle floats above the school ground, vanishing and appearing with the phases of the moon. Much of the school remains unknown or unexplained, as its founder and the purpose of many of the creations within have been lost to time. Despite this however, quite a few of the teachings and edicts remain, foremost of which are the concepts of freedom and creativity.

Stellvallia believes in the freedom of magic, that it should be available and free for anyone to learn. Not only that, but students should be given freedom to pursue it in whatever manner they wish, as the possibilities and forms of magic are essentially limitless. Though this has changed a little over time to introduce a few taboos, Stellvallia allows students what is essentially complete freedom and open study. That is to say, students are encouraged to independently learn from the vast library and each other; pursuing magic that interests them, and developing their own unique style. This carries on into the lifestyle on the academy grounds, with students expected to coordinate responsibilities such as garbage duty, meal preparation in the cafeteria, library duty, etc. As such, the Student Council tend to manage the delegation and rotation of such chores. Though some staff do remain on site for supervision, they maintain a mostly hands off approach, though are often happy to be consulted and questioned. A few traditional classes are run to teach the basics or on the whim of some teachers and students, but these are of course, completely optional. With the exception of chores and academy wide events, students are given complete freedom.




Of course, magic isn't the only thing on display at Stellvallia. The Academy is also home to the finest knight school across the realms, teaching traditional swordplay, honourable conduct and integrity. Unlike the Stellvallia's School of Magic, the regime of the Knight School is far more constricted; with drills and training throughout most days. Established far later than the mage academy, the Knight Academy was born out of a desire to put into place an option for individuals without magical aptitude to attend the academy. These individuals, known simply as the Relinquished, found themselves unable to draw on the energies required to cast spells. With the powers of the mind off limit, these warriors instead turned their focus to the body. Although this proved to be strong in its own right, Knights were still nothing before the power of mages. But it wasn't long before another form of strength was found. Through one of the Academy's many dimensional gates, it is said there is a sacred ground. Once a knight has shown sufficient dedication and skill, they are given an opportunity to attend a ceremony, and are judged by a great spirit, and bestowed a blessed weapon. It is said that, while wielding such a weapon, a knight can transcend even mortal limits. Over time, more and more Knights are being found worthy to possess such strength, and many that have found their sacred weapon continue to train at the academy and hone their skills.

Though students from both sides of Stellvallia's academy may not see eye to eye, the faculty attempt to dissuade anything more than friendly rivalry; though the same cannot be said outside the Academy grounds. Some particularly brave mages attempt to become Mage Knights, bridging the gap between the two disciplines, but few have been particularly successful. Life at Stellvallia truly is something incredible, and the students will likely experience many adventures at the Academy. As a new year begins and an influx of new students arrives, the academy is brimming with excitement. What new adventures await Stellvallia and its students? Only those enrolled will find out…
---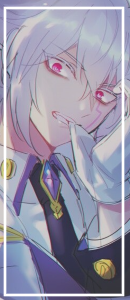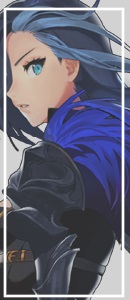 ---
---
There's one main rule: Be cool. But, if you want the specifics of how to behave...
Be kind and considerate to your fellow roleplayers.
No Godmodding, taking control of another person's character, etc.
Try to be active, or if you can't be active, keep in contact so we know!
Ideally, I'm expecting at least a few paragraphs per post, but I'm flexible.
Not so much a rule, but come join the
discord
!
Taking place in...
9 posts here • Page 1 of 1
9 posts here • Page 1 of 1
Arcs are bundles of posts that you can organize on your own. They're useful for telling a story that might span long periods of time or space.
There are no arcs in this roleplay.
There are no quests in this roleplay.
Here's the current leaderboard.
There are no groups in this roleplay!
Welcome home, Promethean. Here, you can manage your universe.
Arcs are bundles of posts from any location, allowing you to easily capture sub-plots which might be spread out across multiple locations.
You can create Quests with various rewards, encouraging your players to engage with specific plot lines.
Settings are the backdrop for the characters in your universe, giving meaning and context to their existence. By creating a number of well-written locations, you can organize your universe into areas and regions.
Navigation
While not required, locations can be organized onto a map. More information soon!
There are no groups in this roleplay!
By creating Collectibles, you can reward your players with unique items that accentuate their character sheets.
Once an Item has been created, it can be spawned in the IC using /spawn Item Name (case-sensitive, as usual) — this can be followed with /take Item Name to retrieve the item into the current character's inventory.
Give your Universe life by adding a Mob, which are auto-replenishing NPCs your players can interact with. Useful for some quick hack-and-slash fun!
Mobs can be automated spawns, like rats and bats, or full-on NPCs complete with conversation menus. Use them to enhance your player experience!
Current Mobs
No mobs have been created yet.
Locations where Mobs and Items might appear.
You can schedule events for your players to create notifications and schedule times for everyone to plan around.
Add and remove other people from your Universe.
The Forge
Use your INK to craft new artifacts in Stellvallia Academy. Once created, Items cannot be changed, but they can be bought and sold in the marketplace.
Notable Items
No items have been created yet!
The Market
Buy, sell, and even craft your own items in this universe.
Market Data

Market conditions are unknown. Use caution when trading.

Quick Buy (Items Most Recently Listed for Sale)
None
Discussions
Topics

Replies
Views

Last post
Most recent OOC posts in Stellvallia Academy
-
Name: Kota Kotari
Age: 13.
Gender: Male
Class: Mage - Initiate
Short general description: Kota Kotari was born to the unusual but very much cliched pair of a Mage Father, a member of the Arcanium Race, a race that were essentially short and young looking humans, who were better at magic then physical power, and a human Knight Mother. Kota showed a natural affinity for magic ever since he was born, but his mother still wanted to train him as a Knight, as she feared he might not be able to protect himself. Her worries were only amplified by the fact he was shown to be a very active, very eager, and very troubleprine child with a diverse array of emotions and a bright spirit.

However, his affinity for magic could not be ignored, and so they ended up with a compromise. They agreed to train him in both the art of physical head on head fighting, and in the art of magic and sorcery, even attempting to teach him their unique techniques. Now, Kota was certainly gifted, picking up both paths, but it was clear as he grew magic was strong with him. Furthermore, with his father being an Arcanium, while other boys his age started to develop, he did not. Because of that, while his physical training was continued, it was proving less effective then his magical training.

Eventually though, he developed his own style, right before it was time to go off to Stellvallia Academy, his parent's Alma Matter. With gifts given by each of his parents, he made his way to the institution they said would help him reach the next levels, and where he would have plenty of peers.

His general appearance is a short boy, often wearing clothes as seen in the image. He wears white shorts as well, and sturdy combat boots. In fact, he does not have a single pair of sandals or such, as he would rather walk barefoot then wear any sort of, as he calls it, "flimsy footwear". Even as a mage, he believes being able to have a sturdy footing is important. He has long light brown hair, which he lets down. However, if he is trying to focus on reading a book, or some other written document or drawn up image, he may put it into a ponytail. His eyes are also brown, but if he gets extremely angry or upset, they have been known to glow from the stirring of the thick and powerful mana inheritted from his father.

He also carries around two daggers with him. They were especially designed to be able to act as a magic focusing and casting device, and are also capable of having both the blades and handles extend. Additionally, the handles can be connected together to form a dual bladed spear, which he can also use as a casting device, among other things.

All in all, he can be a bright, eager, energetic kid, and while sometimes getting himself into trouble or rushing into things, his magic is the real deal and he has talent that would gladly be accepted. And if you befriend him, you will find him to be quite loyal and willing to get into trouble in order to help a friend. Unfortunately, as one of the new kids, a lot of people either look down on him or want to mess with him, though that might have something to do with his parents. After all, he is the child of a Knight and a Mage, so both sides have people who would be drawn to pick on him.
-
Name: Lin Felwinter
Age: 24
Gender: Female
Class: Mage - Master
Short general description: Lin is tall with a reasonably toned build. She sports short black hair with matching eyes. At all times, she's often wearing long-sleeved tops, and her left hand is always clad in a thin black leather glove. A plate on the back of her glove sports a set sapphire that oozes a magical aura.

Her typical day uniform is mostly comprised of comfortable, flexible pants that promote mobility, a standard magician's longcoat, plain white but with silver trimming. Off-hours, if she ever gets the chance, she enjoys wearing long flowing dresses that just reach her ankles. Additionally, she wears a long blue scarf she wraps loosely around her neck. Though she doesn't necessarily need a focus, she does carry a sturdy staff made from a remarkably tough wood. She often attaches the heads of polearms to this basic staff, depending on what enchantments she wishes to test.

She is rarely ever alone, as a strange amalgam of earthen material and naturally-formed gemstone follows her around and rides around her shoulders. This strange-looking familiar acts akin to a puppy or a friendly cat. She calls it Mesa.

Lin's family was comprised of crafters and blacksmiths. Humble origins, but the Academy wasn't exactly one to turn away a promising talent because of class. She doesn't talk of them that often, but rumours say she's often slipping something into the mail room outbox. As far as most people are concerned, she tends to keep to herself, never speaks of her origins, and never passes up an opportunity to spring a prank.
-
Name: Nori Kenichi
Age: 17
Gender: Female
Class: Knight - Adapt
Short general description: Nori was born in a noble and honorable mage family, however at a young age it was apperent Nori was unlike her many sisters and brothers, she was born without the power to draw on the energies required to use magic. Due to the shame this caused her parents, Nori was disowned, and shipped off to live out of an orphanage with other children like her, though life at the orphanage was gruesome, Nori managed. At the age of 14, a Knight representative from Stellvallia came to the orphanage looking to find anyone with enough promise to join the program at the Academy. Nori was one of three children that went to Stellvallia that day. She found herself filled with a burning desire to prove to her parents that she was more than just a disposable spare and that she could become more than a stain of shame upon their family tree.

At the Academy, Nori has always been in the background, though a top performer in her class, she very rarely is the first to talk to others, or to branch out and make friends. She is extremely focus driven and will allow nothing to derail her from her goal of becoming one of the best Knight's this world has ever seen. Due to her clear dedication and skill, Nori has been progressing aggressively in her training and feels she is ready for the ceremony sooner, rather than later.
Roleplayer For Hire.
Will work for free~ Inquiry via PM welcome! Alway
Welcome to the OOC Discussion topic for Stellvallia Knight and Mage Academy!

Thanks for your interest in the roleplay!
Here, you can do a variety of important and helpful things; including, but not limited to:

Putting in a character application!
Asking questions regarding the roleplay, characters, lore, anything really.
Making plots for the roleplay with other players, sharing ideas and concepts!
Requesting assistance with the character sheet.
General discussion and being social.
Positive feedback on the roleplay or players! Let's be friendly and fun!

In addition to this, we have a Discord up and running! You're far more likely to get a timely response there, so be sure to pop by and say hi!

Discord Link:

Anywho, if the roleplay seems interesting to you and you'd like to take part, below is the character application sheet. Even if you haven't come up with a character concept and are just interested, be sure to post in here! The application is more to get an idea of what everyone's working on conceptually so we don't tread too similar ground. Once again, thanks for your interest (and potentially, participation!), I look forward to hearing from you all!