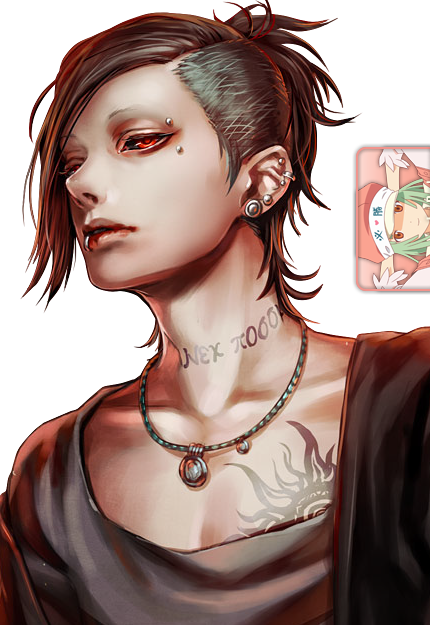 Name:
Syfer Reigns
Age:
23
Gender:
Male
Class:
S
Aspirations:
Nothing more. Not much of a leader. Might shot for one of the Wizard Saints one day.
Magic:
Arc of Embodiment is a form of Lost Magic that allows the caster to materialize, and subsequently use to their every whim, anything they can imagine. Any of their creations give them great versatility both in and out of combat. They can range anywhere from everyday objects and weapons to more complex creations, even living ones. These creations are also given special properties that goes accordingly to what they are. The magic does of course have its limitations and Syfer himself has stated that the magic makes it easy for one to trick themselves into believing themselves invincible, but that hubris will be their downfall. Due to its status as Lost Magic, it is rare to find those who employ it.
Strengths:
Experience- Syfer is incredibly adapt at wielding his magic and due to its versatility he has developed and honed skills across multiple ranges and styles of fighting.
Combat- Syfer takes a very cerebral and tactical approach to fighting. He will pick apart an enemy and never wastes any motion doing so. Due to this approach, he is able to formulate plans and strategies on the fly, making him dangerous even if removed from the action. During battle he relies on speed and deceptive strength.
Weaknesses:
Ego- Syfer has been known to let his confidence get the better of him, causing openings and moments for enemies to gain the upper hand.
Fire Type Magic- Due to an event in his past, regardless of how strong he is, Syfer has a near paralyzing fear of fire.
Appearance:
Syfer has several tattoos and piercings covering his body. He stands just north of 6'0" with a slim build. He normally dresses very casually, more like someone going to grab a bite to eat than defeat a band of raiders. He wears a black sweater over top a sleeveless white shirt and black pants with normal, black shoes. His most noticeable feature is his black eyes with red iris'. He often jokes that he got them when he challenged a God to a creation contest and lost.
Personality:
Despite his appearance, Syfer speaks in a friendly manner to most people and can often be found teasing other members of the guild. He rarely shows any seriousness. He can be serious when the situation calls for it, but he still maintains a laid-back demeanor during such situations and is never with out a witty taunt or comeback. Syfer can seem at times to be uncaring or even callous, but actually has a very strong sense of justice and prefers to fight fairly. He can be counted on to do the right thing, even if he makes cynical quips about it the entire time. Syfer also enjoys fighting shown when he sometimes does not fight at his full potential so he can toy with his opponent or make a fight last longer. It is known that Syfer gets bored with fighting weak opponents and only finds entertainment in fighting strong opponents who will give him a challenge.
Despite verbally complaining about being in debt, Syfer seems quite willing to perform missions solely for the good of them, and rarely enforces payment from poor clients. In fact, he will typically refuse any job he dislikes, regardless of how much it pays, but will immediately take any that involve the harming of innocents. Many of his clients take advantage of this good nature of his, and leave bills for property damage caused during the mission instead of paying for his services. Syfer has a fondness for pizza, and while he complains about olives, he always ends up with them on his pizza. He is also shown to favor strawberry sundaes as well as pizza with it being pointed out on several occasions that those two foods are all he eats. He has a habit of getting roaring drunk, once mentioning getting so drunk that he proposed to a mop.
History:
Syfer was originally the son of the Guild Master of a dark guild, Dread Wolf. He grew up in the guild, being taught how to wield and control magic of defeating any who stood in the way of his father and his guild. Syfer did not know that there was even another option, believing it was simply a rule of the world to crush anyone who stood in your way. When he became a teenager, he took the S-Class test for the guild, passing with flying colors and even defeating older guild members in the process. However, Syfer found his time within the guild to be short lived. Not long after the test, Syfer received a mission from his father. Syfer was to infiltrate a strong and old guild in a town far from their own guild. He was to be a parasite, a devourer who ate away at the guild from the inside. He entered the guild as a wanderer whose guild had disbanded and was looking for a new place to call home. It was there that the plan began to unfold.
This was no short term task and before he knew it, two years had past. He had spent so much time there, he was on the verge of becoming an S-class mage at this place he was meant to bring down. In the beginning, he was carrying out his job like he was supposed to. But, as time past, he had grown attached to the people in his new home, even becoming involved in a relationship with a mage by the name of Elana. The two became close, and Syfer found himself forgetting about the shadow that loomed over him in the dark. While returning from a job with his team, his "evil" eyes widened to see the guild in flames. Members of Dread Wolf awaited the heir outside the destroyed guilds doors. In an instant, Syfer's team members were run through, falling to the ground beside the young man they called a friend. Out of the flames of the fallen guild, Syfer's father emerged, carrying Elana by the collar. The defeated girl looked up, relieved to see Syfer unhurt. In that moment, Syfer's father revealed the true nature of his arrival at the guild and who the man she loved truly was. Even then, Elana struggled in order to distract the Guild Master so Syfer could escape. Syfer's father threw her back into the guild as it collapsed behind him, staring his son directly in the eyes as he did so. Syfer became unhinged and attacked his father, decimating every member of his old guild who got in the way until he reached the man. After a short battle, Syfer was on the ground, bleeding and unable to stand. His father left him there, leaving the scene with those Syfer didn't manage to get his hands on.
He traveled for a few years, fighting dark guilds and evil where he could find it. Before long he developed something of a reputation. No one knew of his origins, but the man they saw was one who did good deeds where he could, so few cared. When he came upon Storm Shield six months ago, he saw potential in the guild to become like the one he forsook his own father for. So he stayed.