Yuna Osai
Age
-
| 16 |
Gender
-
| Female |
Role/Title
-
| The underdog |
Current Location
-
| Currently wandering around the streets of Hanamura |
Personality
-
She loves stuffed animals and sweets and acts like a child because she didn't see the need to grow up. Her twin sister always did that part for her. But since she was gone, she had to grow up herself. She refused and decided to use her height to gain the trust of the people she met and dressed like a kid dispise her age. She is a compleet sleepy-head, always looking at the sky and dreaming away. She hates concentrating and school and mostly skips it. She doesn't like arguments and basicly everything grown-ups do. She likes everything she can get for free since she lives on the street if she's not with a family. Besides all that she's a crybaby.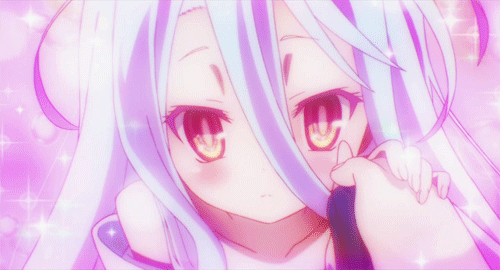 Appearance
-
About 5' high, long white hair and a small long face. Cute little ears that are hard to find through her hair and she always wairs plain dresses.
Face claim
-
Shiro from No Game No Life
Skills
-
Despite her hating to concentrate on things, she is actually quite good at it. She's a mastermind when it comes to strategy and she isn't shy about it. When it turns into a game, you can be sure she's taking it serious, even if it doesn't seem that way. She has also mastered some fighting skills but she rarely shows them.
History
-
She was a foster kid together with her twin sister and lived in a foster home for as long as they can remeber. The foster home always wanted the children to be adopted as soon as possible and so they weren't picky with the families. As a bonus they gave the children a VRMax to make them more worth. There was also a brief amount of money on it but they woudn't be able to touch it unless they were 18. However, any other person could withdraw it with the persmission of the owner. And so the children were more merchandise then children. Life wasn't easy there since the competition was high to get into a nice family. Whenever a family wanted a child, the kids were prepared to torture another so they wouldn't look adoptible. So the sister remained out of the competition untill at least the worst ones were gone. Yet they never got away with it unbruised. Mostly Yuno took the hit for Yuna as she was such a crybaby and Yuno wanted to protect her. And no one suspected that the one would leave without the other.
Untill one day Yuno explained to a family that she got the bruise while playing outside. She said it never happened before and that she was surprised it even happend. She started to tell them about her hobbies and passion and the family fell in love with here. Not ever batting an eye to Yuna she signed the papers and went with them. Yuna looked through the window as she left but she didn't even look, as if Yuna never exsisted. She followed the car with her eyes, only to see that they didn't live very far away. That night she snuck out of the window and went down to the city, searching for her sister. As she was afraid she wondered through the streets searching and searching. She got easily scared by cats and howls that made their noice and tired of walking she rested near a tree. There a man walking his dog found her and asked her if she was lost. Yuna decidid to use this man to get to her sister faster and noded 'yes'. He caried her on his back while she pointed which way to go to end up at the home her sister was staying. And there was no doubt about it since she saw her sister eating through the window. Surprised though she was eating alone while the family was watching tv. The man asked her if he needed to ring the bell for her but knowing they'd send her away, she jumped off his back and ran around the house, leaving the man alone. She then returned for a brief moment, bowed to him and went to the back of the house again to go through the back door. The man smiled and walked away with his dog, not suspecting anything. Inside she found out that her sister was being used for cleaning and fixing instead of being a part of the family. She begged her to come back to the foster home with her, or run of to who knows where. But Yuno refused, she said the family owned her now. Disgusted she screamed at her to run and the family heard the noice and stormed in the room. At first they were surprised to see Yona two times but figured out the real one by her clothes. They demanded an explanation but Yuno remained silent.
Yona took lead and said she was her twin, and that twins should always stay together. Laughs shattered around the room, and the family declared they would not pay for two workers. Yuna declaired that she would not give up untill she could stay with her sister. So the family agreed and took her to the basement. Yuno started screaming and begging the family to stop, but they pushed her away like a used toy. In the basement the dogs were barking and growling, waiting for their meal. It was at that moment that Yuna realised how many times the family stopped by to adopt children, Yuno must have thought they weren't picky and loved children, so she saw her chance even with her bruises. But it was all clear now that it wasn't the reason.
While they were trying to force her into the cage, Yuno had shown up with a kitchen knife. "I made a mistake already, and I'm not going to make one again!" She yelled when she struck the mother with the knife. She started to scream and the father run to her but it was already to late. He pulled out the knife and turned around wanting to hit me with it to pay Yuno back. Yuna hid behind his son while he was trying to get away from her. Yuno jumped up to him trying to strangle him with her little arms but gets thrown on the ground. Meanwhile the son is still trying to get away from Yuna and gets himself to close to the cage. One of the dogs sees his chance and goes for his hand. He is brutaly forced into the cage while other dogs are also trying to get grip on him. The father runs towards him trying to save his son while Yuno and Yuna make their escape. They run through the backyard hoping to escape the horror and jump on the fence. Just when Yuna reached the top, she sees Yuno falling down and freezes. The father had run outside and struck her with the knife in her leg. "If you ever want to see her again, then you will return to me and you won't tell anyone what happens in this house!" Yuna tried to climb back, not wanting to leave her sister behind. But Yuno demanded her to go and never return. To scared to stay she ran of crying.
Ever since she has been wondering around, searching for cruel homes and freeing those who are captive.