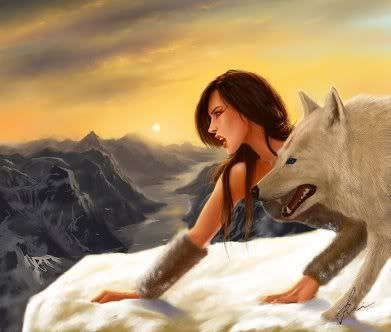 The Omagii are a nature loving tribe who live in the eastern lands of the world where the lands are covered in dense forests and snowy mountain ranges, the villages undeveloped. The Omagii people respect and honour the wilderness where they reside, killing only what they need to survive and wasting none of their kills, taking meat for food, hide for clothes and bones for tools, weapons and building materials. Chief of the Omagii people is Rais (name meaning Leader/Chief), he is an older man who rules over the people, ensuring their ways are followed and oversees the warriors of the tribe, keeping his people safe and protected; the only thing that the Chief loves more then his people is his daughter, Luyu (name meaning Wild Dove). Luyu was left outside the chiefs hut when she was but days old and the chief and his baron wife, Freya, took in the baby to raise as their own. As the baby grew however rumours flew of the Chief's infidelity, the child's rich brown hair and deep wild brown eyes were undeniably the same as the Chief's, however, her lighter tanned skin and sleeker physic was different then any Omagii woman, or even any local tribe they knew of. Despite this the tribe accepted Luyu easily and this meant that she and her husband would lead the Omagii people when Rais stepped aside.

As Luyu grew she blossomed into a beauty the Omagii could never imagine, she was wanted by all men before she was even of age and people begged to do things for her; despite this Luyu did not seek to use her beauty and often refused their offers. Luyu found herself different to the other women of the Omagii tribe, while they spent their days sewing, making clothes from the animal hides, cooking meals or collecting fruits and vegetables Luyu wanted to run and paly in the wilds, adventuring and watching the animals so free. As a child people saw it as high spirits and would tut but laugh, as Luyu came of age though more was expected of her, standards that would show she was fit to lead the people.

Gunnar was a member of the Omagii, a boy six years Luyu's senior but who had always been attracted to the Luyu's beauty before it was even decent but drawn even more to the potential power that came along with the taking of the girl as a wife. Luyu despised Gunnar and his arrogance, he was praised as the strongest warrior as he grew but only Luyu could see the truth, see his arrogance and strive for power, see the lies he lived and how he twisted the Omagii ways. When Luyu was ten she used to sneak from the village and befriended a wolf in the forest, the wolf was old but friendly and Luyu was drawn to him. They used to play in the forest but Gunnar followed one day and found how happy Luyu was as she played with the wolf, angered at it he killed the wolf, telling the people that it was about to attack Luyu and he had protected her from a wolf, proving his strength and dedication for his people but Luyu saw it for the arrogant power hungry and unneeded act it was.

Over in the western lands the towns and world is developing more, forests cut down and replaced with new towns as Human's replace nature with development. The Djöfull Úlfur, Devil Wolf, are a creature said to have been created by a God as his own guard, able to walk among man undetected but with the strength and ability to turn to the beast to defend their master. Generally the Djöfull Úlfur lived in a pack, very few existed outside a pack, those who did did so due to exile and lived a lonely existence that often resulted in crawling back to their pack and begging for forgiveness; they were not solitary animals. Valko was a child of Djöfull Úlfur but he had been forced to leave his pack. Valko's father was the leader of a strong pack of Djöfull Úlfur, Tarolf, but Valko and his father disagreed on some points, mainly those involving man. Valko despised man, they were changing the world, destroying forests, building vulgar buildings and even inventing new weapons that tore through the air and destroyed each other; Tarolf tried to tell his son that not all Humans were this bad, that the few that Valko had seen were but the essence of evil, were few and the worst example. All Valko had seen was man that hunted them, only ever seen death and destruction but he despised them and even his own Human form often refusing to change from the wolf. Tarolf argued that man was a part of who Valko was and that he could never truly be strong unless he embraced all of what he was man and beast but Valko saw his Human side as but a weakness. Valko's views were not healthy for the pack, Djöfull Úlfur were more then beast and more then man a balance between each and it was unhealthy for Valko to think otherwise. He knew his son needed time to think and see the error in his thoughts, exile was the only option and suggested Valko wander east, Valko did. Valko found the lands further east untouched by the poisoned hands of Humans, coming across few Humans but he did not stay to get to know them.



Characters

Not sure if best to do as a one and one as Luyu and Valko and use the other characters as NPC as it were or search for others to play some of the main characters, suggestions desired.





Luyu


Luyu is the daughter of Chief Rais of the Omagii people, she is a high spirited girl who wants nothing more then to free among the nature she loves so much. She is determined that the Omagii keep their way, however, she believes that they should live more freely in nature, not only venturing out when they need something from it but embracing the lands fully and the creatures that live within. Luyu's looks mean that people have always been wanting to do things for her, not to mention men wanting her attention for the chance to become the next Omagii Chief, but Luyu does not relish the attention, she much prefers sneaking off into nature and being herself.



Valko


Valko is a strong wolf, stubborn to the end he refuses to believe that there is goodness within any Human, despising even his Human form. In his wolf form he is larger then your average wolf, like all Djöfull Úlfur, his fur white as snow, eyes an unusual blue; in his Human form he is tall, pale skinned with hair so blonde it is almost white and aqua blue eyes that match his wolf.



Rais


Rais is an older man, his appearance that of an old warrior. His hair a rich brown and eyes wild brown, a trait shared in his daughter. The man is a kind Chief, the only thing he loves more then his people is his daughter. He ensures he listens and cares for his people, however he can be strict, especially when it comes to his daughter.



Freya


Freya is Chief Rais' wife, when she discovered she couldn't have children her delicate nature hardened some and she turned bitter when Rais brought Luyu into their home; it was easy to see that her husband had an affair and Luyu was the result of that. It was made even worse by how beautiful the child grew and how much her husband adored her. Freya despises Luyu and has since she was a baby. The woman has dark tanned skin, her features rounded and well built like their race was known for; before Luyu arrived Freya had been considered the most beautiful of the Omagii.



Gunnar


Gunnar is a determined warrior, tall with a bulky build he is one of the strongest warriors in the tribe. His black hair cut short and his features hard and harsh; eyes a dark brown that could be almost black and emotions often stern and almost angry. He hates Luyu's independence and believes she should be locked away, learn to be a dutiful wife, his wife, so he can take place as the next Chief; he has been working hard since he was young on impressing Chief Rais into thinking him the best suitor for Luyu.



Saga


Saga is Rais' mother and Luyu's grandmother, she is also the tribe's sage and although most of the tribe believes her to be a crazy old lady at times and think her odd, but her opinions are greatly sought after and she is considered the most knowledgeable of the Omagii people. It is also said that she 'sees' things in the world. Luyu loves her greatly but the woman often looks at her like she knows more about what is going to happen then she lets on. The woman is elderly, her tanned skin wrinkled and weathered, her hair grey and thinned; eyes a soft amber that were aged and wise.



Tarolf


Tarolf is a strong old wolf, knowledgeable and wise he leads his pack well in the western developing lands. He encourages all his pack to find the balance between man and wolf to become controlled and strong.
The idea behind the story is about Luyu's struggle to get her father to understand her need to be more then a dutiful little wife and her need to embrace the nature they live in while trying to find a way to avoid the terrible fate of being joined with Gunnar the awful. About Valko's stubbornness and non existent desire to learn or trust Humans. When Valko stumbles upon Luyu in the forest she is in danger, a group of travellers from the Western Lands intent on harming the Human woman, Valko doesn't understand why but there is a need in him that says he has to protect this woman and it is that need that causes him to do so, despite his hatred of Humans. During the fight he urges the Human to run but instead of abandoning the wolf to fight alone Luyu stands her ground and aids the wolf. Valko starts to realise that he has never met a Human like this woman and worse his wolf seems eager to be around her. Because of Valko's hatred of his Human form he doesn't change at first, so there will be little dialogue between Luyu and Valko until further on.
My thoughts on how it would go at the start were:
Luyu is playing in the forests when Gunnar follows her, ordering her back to the village to the extent he actually hits her and drags her back claiming to have saved her
Luyu is upset and shocked that Gunnar actually hit her and her Grandmother, the village wise woman, suggests that a walk in the night air might do her good to clear her mind
Luyu comes across a campsite in the forest of men unfamilar to her, men with pale white skin, in bulk of furs and unfamiliar weapons, they've killed an entire herd of deer to Luyu's dismay.
The men of the camp spot Luyu and the group descend upon her, they speak a foreign language and grab her roughly with lust-filled gazes and overpowering her.
Valko hears Luyu's cry in pain and goes to investigate, attempting to save her
Luyu tries to help in the fight
Both beaten but victorious Luyu drags the injured wolf off to the nearby river, clearing his wounds with ice water when the calls of her people pull her from her aiding him
Having made sure he was clean Luyu runs from him remembering how Gunnar had slaughtered the last animal that she had played with out of selfishness
Valko is stunned by the girl not only her aid but the strength she showed in the clearing in actually helping him fight. He is strangely drawn to her from the moment he saw her, some need drawing him to protect her.
Valko follows Luyu from a distance, hiding in the shadows of night and following curiously
At the village Valko remains on the outskirts but is shocked when an elderly woman sneaks from the shadows upon him, impossible idea to him. She speaks to him as if she knows what he is and speaks of a clearing where he should perhaps visit for peace the next night.
Saga, the Omagii wise woman and Luyu's grandmother plays matchmaker with her little suggestions, pushing her grand-daughter and the Djöfull Úlfur upon the paths of fate
Taking place in...
7 posts here • Page 1 of 1
7 posts here • Page 1 of 1
Arcs are bundles of posts that you can organize on your own. They're useful for telling a story that might span long periods of time or space.
There are no arcs in this roleplay.
There are no quests in this roleplay.
Here's the current leaderboard.
There are no groups in this roleplay!
Welcome home, Promethean. Here, you can manage your universe.
Arcs are bundles of posts from any location, allowing you to easily capture sub-plots which might be spread out across multiple locations.
You can create Quests with various rewards, encouraging your players to engage with specific plot lines.
Settings are the backdrop for the characters in your universe, giving meaning and context to their existence. By creating a number of well-written locations, you can organize your universe into areas and regions.
Navigation
While not required, locations can be organized onto a map. More information soon!
There are no groups in this roleplay!
By creating Collectibles, you can reward your players with unique items that accentuate their character sheets.
Once an Item has been created, it can be spawned in the IC using /spawn Item Name (case-sensitive, as usual) — this can be followed with /take Item Name to retrieve the item into the current character's inventory.
Give your Universe life by adding a Mob, which are auto-replenishing NPCs your players can interact with. Useful for some quick hack-and-slash fun!
Mobs can be automated spawns, like rats and bats, or full-on NPCs complete with conversation menus. Use them to enhance your player experience!
Current Mobs
No mobs have been created yet.
Locations where Mobs and Items might appear.
You can schedule events for your players to create notifications and schedule times for everyone to plan around.
Add and remove other people from your Universe.
The Forge
Use your INK to craft new artifacts in Struggle Against Nature. Once created, Items cannot be changed, but they can be bought and sold in the marketplace.
Notable Items
No items have been created yet!
The Market
Buy, sell, and even craft your own items in this universe.
Market Data

Market conditions are unknown. Use caution when trading.

Quick Buy (Items Most Recently Listed for Sale)
None
Discussions
Topics

Replies
Views

Last post
Most recent OOC posts in Struggle Against Nature
This is the auto-generated OOC topic for the roleplay "
Struggle Against Nature
"
You may edit this first post as you see fit.