Savino Morgan
---
Nickname(s):
Savino prefers to be called by his name and only his name, however, people often tend to shorten it when talking to him and he usually doesn't correct them. Despite this, you shouldn't expect him to respond to just any name, if he thinks it strays too far from his actual name or sounds stupid, he'll ignore you, even if he knows you're talking to him. Most commonly he's called Sav or Morgan, there are few other nicknames that he'll actually respond to unless he likes you.
Even though Savino doesn't like being called alternate names, he likes to give others pet names and one of the ways you can tell he likes you (as a friend or otherwise) is if her calls you by a name other than your own.
When it comes to romantic nicknames, if he was to have a romantic interest, he (secretly) finds it cute when the one he loves calls him by other names, but her and only her. He does pretend he hates it, but it's all in his tough guy mask.
Age:
19
Gender:
Male
Role:
Supernatural Male
Appearance:
Standing at the height of 5 foot 11 inches, Savino isn't exceptionally tall, but he's not short either, a point that he's quick to point out when someone brings up the topic of height. He's slightly muscular, a physical trait related to his species and not because he works out, he's actually quite lazy. His green hair is messy and hangs in his face. Almost as strange as his hair color are his eyes which are gold-green with slit-like pupils. His skin is light and he blushes easily whether angry, sad, etc.
Savino's wardrobe is usually in dark shades of green, brown, and black and usually resembles military wear. Most commonly you'll find him wearing a black T-shirt with a camouflage jacket (usually open) and either cargo pants, khakis, or jeans. His favorite pair of boots are irreplaceable and just about the only shoes he'll wear.
---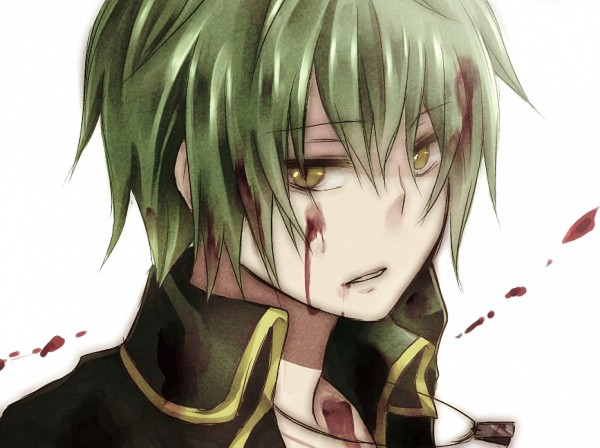 Mortal/Supernatural:
Supernatural.
Savino would be categorized as a demon, more specifically a shadow demon. This means multiple things, the first of which and most obvious is that he can bend shadows, hide in shadows, alter shadows, just about anything that has to do with shadows is something that he has some form of control over.
It also means that he's a demon of darkness, so he's strongest when it's dark or at night. He also doesn't eat normal food, but feeds on dreams. Dreamless nights are caused by his kind, they usually just have to sit in your window and practically suck the dreams out of you psychically. One of his biggest weaknesses that have to do with this is dream catchers, they act as a barrier between him and his food. He can't eat normal human food because he doesn't have a human digestive system, and a regular human meal is lethal to him.
While Savino is proud of his species, he does keep the fact that he feeds on dreams secret so he doesn't freak people out and will usually sneak around the house and wait until everyone's asleep before he does it because he doesn't want people to see it. When feeding, his eyes glow red and he goes into a trance like state and can't move or sense anything around him until he is finished, leaving him very vulnerable.
---
Personality:
Savino's initial impression is proud, selfish, and angry, which isn't all wrong, but he is more complicated than that as well. This green haired demon is foul tempered and easily angered, though it's due to the fact that he's very impatient. He's closed minded, believing that anyone who isn't as smart, strong, or fast as him isn't worth anything and is definitely not worth his time. He's very arrogant with a bit of a god complex, believing that everything and everyone is below him, but despite this he really is lonely.
In fact, despite his hard outward appearance, Savino does really just want a friend. He tends to tag along with others in a group and pretend to hate them, though he usually does come to care about the people that he considers his 'friends'. He's usually quiet and observant when in these groups, but you can tell when your growing on him because he'll start trying to pick fights and tease you, it's his way of showing he cares. He becomes very protective over these people, and behind his hard shell is a caring person who just wants friends, he just has a funny way of showing it.
---
Posting Skeleton
Code: Select all

[size=200][font=Impact][color=#76EE00]Savino Morgan[/color][/font][/size]
[hr][/hr]
---