EJ Johnson
---
Basics



Name:
Earvin Johnson III

Preferred Name:
EJ

Age:
20

Birthday:
September 9th

Sexuality:
Heterosexual

Face Claim:
Keith Powers

Hex Code:


#cc85a2
---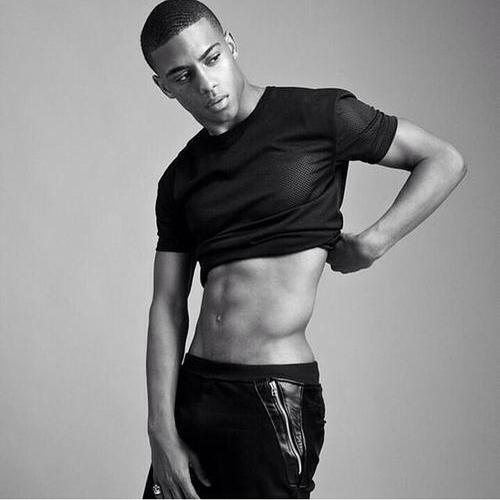 Personality



Personality:
There isn't a single person who can deny that EJ was not spoiled rotten as a child. He and both of his siblings grew up in a life of luxury, the epitome of what a perfect childhood could have been, but EJ was the baby of the family, so without argument, he definitely was coddled. He was his mother's heart, the last baby that she had to take of, and since he had an older brother before him, his father always went a lot easier on him. There was still pressure on him to make good of the Johnson name, but as long as he never caused any major trouble that the public got to know about, EJ was living easy, otherwise. He could get away with murder as long as afterwards, he made sure he had a good sob story for how it was really his brother or sister who started whatever fight he provoked, and how he hadn't done anything to deserve the punch on the stomach or kick in the shins that he got. That was all it ever took to get him off the hook for his wrongdoings, and while that's probably not too abnormal for a kid who's used to taking advantage of being the baby of the family, it's something that EJ never really grew out of. Now, don't get me wrong; he's not running back to mommy with tears rolling down his cheeks for every scrape he gets on his knee anymore, but EJ never grew out of being a brat. He never really learned to take responsibility for his actions, or what maturity meant, or how to set the bar high for himself, because he never had to. His spoiled nature is still visible today, in how he struggles to make compromises, has a short temper, is immature and impulsive, and often only thinks of himself. He's not a bad guy, and there's definitely a difference in his behavior and someone who's actually an antagonist, because EJ isn't manipulative and he doesn't do any of this to hurt other people, but simply because he's grown up knowing that this is how he needs to act if he wants to get his way.

He's a party boy for sure, and though he does his best to remain respectful of his family's image and keep his wilder tendencies on the down low, as he gets older, it's harder. It's harder to fight the peer pressure when all of his friends are going out to the club, and he might "accidentally" charge a couple thousand dollars worth of bottle service to his dad's card. It's harder to say no when girls want him to fly them out to his family's house in the Hamptons, or take them court side at the Lakers game. He knows that it's not his money to be balling out on, but a guy's gotta do what he's gotta do to impress the ladies and his friends, right? This twenty-year-old's mind says so, at least. So yes, he's in the young and reckless mindset where he knows everything, and no one can tell him how to run his life, but EJ isn't a bad person. His siblings may think he's difficult, wasting his potential and on the road to giving his parents more headaches than they deserve, but when it comes down to it, he's just trying to figure out what his life means. He lives every day in the moment, is always laughing and joking around, and just wants to have fun.
---
The Past



History:
EJ is the only son of Magic Johnson and Cookie Johnson, though each of them have a child of their own. Regardless of the non-traditional situations of himself and his siblings, EJ grew up seeing his brother and sister as his brother and sister - no technicalities attached. It would be very difficult for EJ to come up with any real and valid complaints about his childhood. The only "struggle" he ever faced was back in grade school, when a few kids realized what his father's HIV status meant, and teased him about it, but it was something that EJ got over fairly quickly. Other than that, his youth was good. He had friends, was involved in sports, did well in school, and had a great home life. While his father focused much of his pressure on his older brother, EJ was treated to being spoiled by his mother, and seeing a softer and more lenient side of his father. Until he hit his teenage years, EJ played basketball and was decent at it, and that seemed to be enough to satisfy his father's expectations for him. He dropped out of the sport come high school, when it was clear that he didn't have the passion or talent to really move forward with it, but in reality, his father probably preferred that over him making a fool out of the family name by trying.

EJ will be starting his junior year at University of California Santa Barbara in the spring, where he's pursuing a bachelor's degree in Financial Math and Statistics. While academics have never been a problem for him, there's no denying that EJ could afford to put more time and effort into his school work, and less time into screwing around, partying, and spending his parents' money like it's nothing. He's still at a point in his life where he's just gliding through life, trying to have a good time, and not really caring about the consequences of his actions or planning for the future. He's not complaining, because he's having a great time doing so, but it's hard to imagine that that will work out for him forever...
---
Appearance



Height:
6'2

Weight:
168 lbs

Hair Color:
Black

Tattoos/Piercings:
None