Meyah Williamson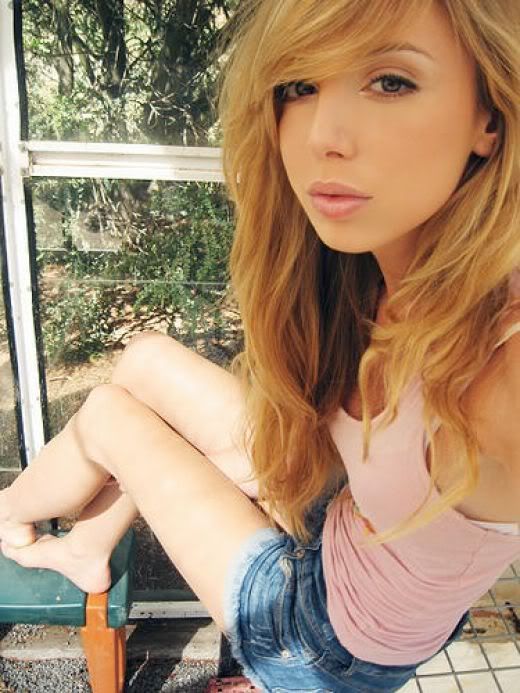 Her name is: Meyah Reese Williamson [It's pronounced Mia, thank you.]

But she is known as: Her friends call her Blondie, Barbie, and Aya but she mostly goes by Meyah.

She is this many: 17.

Her place at the party: Party goer, mostly.

She likes:
Parties.
Animals.
Writing. Anything and everything.
Singing.
Salt.
The color orange.
Dangly earrings.
Owls.
Smoothies.
Salads.
Surprises.
Adrenaline.
Being a cowgirl.
New people.

She dislikes:
Tight clothing.
Mayonaise.
Silence.
Homework.
School in general.
Pepper.
Bubblegum piece & flavour.
greasy food.
meat.
rude people.
Wendy's.
beer.

She is known to be a bit like this:
In a word?
Opinionated.
Contrary to her [what others have called a] bitchy, small, and delicate appearance, she is rather loud and hard to miss. She won't take shit from anyone, and sucks at lying aswell as hates it- so don't ask her to on your behalf. She always roots for the underdog; she is a vegatarian but doesn't faint at the sight of blood- just gets a little queasy. A bit of an adrenaline junkie.

Meyah hates people who think they are better than everyone else. She has a high self confidence and always follows her gut- no matter where it leads. She ususally has a good feel about what's right and what's wrong. Rather opinionated and a bit of a drifter, Meyah is the "strong one;" the survivor; the guardian. She's not afraid of what people think of her. She's competitive from her years participating in sports, she quite the athlete, perhaps too competitive.

She's also a cowgirl, through and through. She loves country music and hates pop, she won't get bored looking at art and is very smart- especially in sociology, physics, and chemistry. She can love passionately and is rather generous- she can get a good feel about people within a few minutes.

If you were to describe her to a blind man: Meyah has blonde hair that falls to the middle of her small back. She is slim and stands at 5'6", with strong arms from years of volleyball and participation in track. Her face is fairly feminine and startlingly beautiful as well as innocent, with high, drawn cheekbones, a strong nose, stubborn chin, and broad forehead covered by sideswept bangs. Somewhat of a cowgirl, she usually wears tank tops and jeans. Her hair is always up in a ponytail or under a hat, and oftentimes you'll find her in sandals or cowboy boots.

She barely wears any makeup. If she does it is usually mascara or blush. She has a rather tan complexion from farming and horseback riding.