Days left 'till summer vacation : ZERO!
---
Away with those textbooks an dreary essays - It's time to have fun! At least, that's the case for everyone excluding a handful of severely and excessively bored-to-death students. That is to say, that was before they were abandoned at an unfamiliar and ancient house. Thus begins the tale of six complete strangers, whose only connection is that their parents were friends in college.
---
---
Old Man Spalding's House
In the most irresponsible way possible, your parents have decided to leave you in the hands of their old professor, Mr.Spalding. To make it worse, they've gone off with their old college buddies for a trip to Hawaii, leaving you with their children who you've met for the first time! And yes, it gets even worse; without your parents knowledge old man Spalding suddenly thought it convenient to go off on his own vacation, leaving behind a note saying the following:
Something came up, so I had to leave for the time being.
I'm afraid your parents are probably long gone by now, but no worries!
You
are
highschoolers after all. You can take care of yourselves!
I've left about $600 underneath the flower pot on the table -- use it wisely.
You all have your clothes with you, there's still some food left in the cupboards,
and there's running water. I'm afraid there's only one bedroom, and I've already
got the sleeping mat and blankets prepared for you. If the girls get uncomfortable,
the men can always sleep in the living room, yeah? Oh, I also have a list of things
I'd like taken care of before I come back (don't you try to avoid them, I have a signed paper from your parents!):
1. Clean the house
2. Gather the ripened plants and sell them at the market (it's behind the house, and you can catch a ride
to the farmers market from Rick. He lives four miles down from my place. If you run out of food, you can
do some shopping there as well )
3. I'm not kidding, I want everything nice and clean when I come back
OH! And here's a couple things you may find helpful:
1. Get to know my neighbors -- they'll be
a lot
of help
2. There's no signal around here, sorry. Your phones are useless
3. There are several festivals and celebrations that happen around this time of year! (Ask around)
See You,
Spalding
---
---
SPOTS

Female 1 : Aya Quine
Female 2 : Reserved by HorseyGirl
Female 3 : Ririchiyo Shirakiin

Male 1 : Kida Le Blanc
Male 2 : Reserved by Uchiha_Itachi
Male 3 : Reserved by WowDude
RULES
1. No Godmodding, Mary Sues, Etc..
2. We don't want any trolls around here
3. Try to keep things PG-13
4. Be realistic; Background information was made optional for a reason. You're not going to know everything about everyone the moment you step in the door. If you were planning on having a "brainy know-it all" type character, then let me know -- an exception
may
be made.
5. Try to be creative, and have some diversity.
6. When posting, try to put your character's name at the top, or tag them.
7. If you won't be on for a while, LET ME KNOW.
8. Please use correct grammar, though no one will kill you if you make a couple mistakes here and there
9. Posts must be at least two paragraphs long, but I don't want any essays.
10. Ages are going to be in-between 14-18
11. RESERVE SPOTS! RESERVATIONS LAST 24 HOURS.
Code: Select all

[center][size=250][b][quote]QUOTE HERE[/quote][/b][/size]
[hr][/hr][hr][/hr][/center]
[right][size=180]Name

Age

Gender

Height

Weight

Appearance


[/size][/center][left][img]IMAGE HERE (anime please!)[/img][/center]


[hr][/hr]


[size=180]Personality (BRIEF)

Talents
[list]
[*]
[*]
[*]
[/list]

Likes
♥
♥
♥

Dislikes
X
X
X

Flaws
[list]
[*]
[*]
[*]
[/list]

[/size]

[hr][/hr]

[size=180]Background(OPTIONAL)[/size]

[hr][/hr]

[size=180]Other[/size]
Taking place in...
3 posts here • Page 1 of 1
1 Characters Present
Tag Characters »
Add to Arc »
Cameron woke up to several things. One his parents left a note on the counter reading,
We went on the trip we were telling you about, and we have contacted our old professor, Mr. Spalding. There will be several other kids there too, so you will not be lonely. I know what your thinking, "I do not even know those kids!" There will be kids from our old classmates that will be there. We let him know everything about you, so you should not have any problems. There is $200 in your wallet, so if you truly need to buy something, please use your own money before asking Spalding for money. You know we love you and that we would not leave you with someone we honestly did not know. Have fun don't know when we will be back? We love you, Mom and Dad.
Cameron then saw the second page to how to get to Mr. Spalding's house and a $50 bill for a taxi there. 'Well this is just fabulous. I have to spend my summer break with strangers. Yea!.' jumps in the air like Mario from the video game. Cameron then precedes to get in the shower, get dressed in his normal clothes of a T-shirt, boxers, cargo-shorts, and flip-flops.
He then packs his TWO suitcases; one contains his clothes and the other contain his electronics. The first one is a large suitcase that has 8 shirts, 8 cargo shorts, 4 sleep shorts (basketball shorts), 3 pair of flip-flops, 8 pair of boxers, contact solution and case, Phone charger, Ipod charger, 2 extra batteries for both, and a comforter. In the other one, we have a Xbox 360 with 2 controllers, laptop and charger, and 14 Xbox games. He then double checks his suitcases, then buts them by the door.
He puts his phone in his pocket along with his Ipod which are attached to his headphones that are around his neck. He then folds the note and directions up and puts them in the right cargo-short pocket. Takes the $50 and puts it in his wallet. He then makes sure he turns off all the lights, turns the A/C off and makes sure no water is running.
Cameron then thinks it is time to call a taxi. Ten minutes past and there was a beep outside. Cameron then does his final checks, locks the backdoor, grabs his keys to the house, grabs his suitcases, and walks out the door and locks it behind him. Precedes to the taxi, the taxi driver then takes his bags and put them in the trunk while Cameron gets into the taxi, pulls out the address and hands it to the taxi driver, "Oh okay, thank you, we will be there in 20 minutes." The taxi driver said after putting the address into his G.P.S., "Okay." Cameron replied in a monotone voice. Cameron wasn't particularly fond of taxi drivers, ever since he had a run in with taxi drivers when he was taking his drivers test, ever since it's been hard for him to drive on the main streets.
(20 minutes past.)
The taxi driver pulled into a dirt road driveway, "We are here, sir." he said opening the door for Cameron. "Thank You, how much is it?", "That will be $45.", Cameron then hands the taxi driver the fifty replying, "Keep the change." then grabs his suitcases and waves the taxi driver goodbye. Cameron precedes into the house. "Hello, anyone here?" Saying as he enters, seeing he is the first one there, he picks out the bed as his sleeping area. He then unpacks his clothes into the nightstand on the right side of the bed and leaves his other suitcase next to the nightstand. Cameron then waits in the living room for the other kids to arrive.
---
1 Characters Present
Tag Characters »
Add to Arc »
A not-so-gentle nudge woke Aya up from her early afternoon nap. She squinted up at the face of the taxi driver, and rubbed her eyes. "..and for the hundredth time, we've arrived!", the elderly man huffed. The man looked to be in his late fifties, and sported a long beard that desperately needed a shave. Aya eagerly heaved her large duffle bag over her shoulder, and began making her way out when the driver called her back. "You forgot to pay!" the man shouted, turning around in his chair. Aya flushed red, and dug through her pocket. "How much?", Aya asked.

"You owe me $50", the man replied.

Aya stared at the forty dollars she held in her hand, and groaned. She was ten dollars short. She cautiously held the forty out to the obviously riled man. "Wait here, I'll get the ten dollars in a second!", she said. She began making her way towards the house, praying that there was someone inside that had money to spare.
---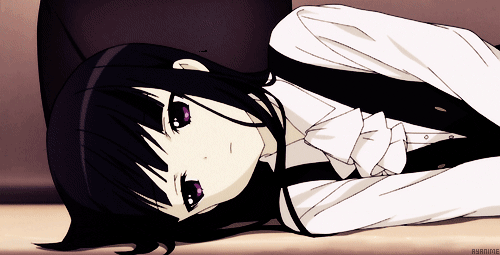 ---
---
Ririchiyo blinked harshly as she sat up from her bed. As she scanned the dark room, she pulled herself off the bed and wriggled her bare feet. It was still rather early though she was known for having wild nightmares which kept her up half the night, though of course she strongly denied it. Not that anyone really cared.

Making her way to the bathroom, she showered quickly and pulled on her long white ruffled sleeves blouse with a deep black V neck dress on top. Settling down on the floor, she slipped into gray thigh length socks before stepping into her black shoes. Checking herself in the mirror to make sure everything looked perfect; she stepped out of her room.

"Good Morning Miss. Shirakiin." Nodding as an acknowledgement, she walked away from the maids who greeted her with smiles. Fake of course.

While she walked to the main living area, those around her continued to greet her and with every time she simply nodded. As she walked into the lounge, her eyes noticed that it was empty and unused, though that was a frequent seeing these days. Sighing gently, she turned on her heel and walked into the next room which consisted of a large dining table with several fancy silk chairs. On top of the table, arranged in perfect order was deliciously prepared food.

As she continued to walk till she was sitting at the head of the table. A cup of freshly brewed lavender tea was directly in front of her. Taking a deep breath in, she took her first sip, savouring the taste.

"Miss. Shirakiin, your father has decided to go visit some old friends and has made the orders to make you arrive to a place to spend your summer." Looking up from her tea at the man who stood beside her, she yet again sighed, nodding gently.

"Whenever you are ready...though we will have to leave today, right now if possible." He added, smiling widely at her.

Taking her last sip, she stood up and walked away out of the dining room with the untouched food and down a long corridor where she made her way outside. A cold breeze hit her hair, blowing it around in much to her annoyance. Perhaps she should simply get it cut, though she secretly loved her long hair.

The man from earlier stepped out and besides her, motioning forward as he stood by the dark black car. He pulled open the door for her as she slipped inside, taking her seat. The young man closed the door firmly and checked the trunk for her suitcase before finally taking the driver's seat.

*

"We are here."

Ririchiyo looked at the house through the window. It looked pretty homely...cosy. Something she wasn't used to nor been in before. As the car door got opened, she walked out and scanned the area. It seemed that there was noise towards the home, looking at her butler for answers, he simply smiled at her.

"Others will also be staying here, time for you to make friends and get to know people your own age." He grabbed the suitcase from the trunk and walked into the house.

Looking back at the taxi and at the man who seemed irritated, she walked up to him and tilted her head questioning. "Money...?" Her voice was hushed and quiet, naturally like a whisper, but it seemed the man understood and nodded with much displeasure. Blinking, she took some money from her pocket, unaware of how much and gave it to him before walking away. She heard him shout at her about change, but she ignored him and walked into the house.

"It seems that some has already arrived, Miss. Shirakiin do have a lovely time, and it also seems that you paid for the taxi man outside... The butler put down the suitcase, briefly and surprisingly hugged the young girl before waving goodbye at everyone and making his way back to the car.

Ririchiyo blinked under her large lashes as she stared at the two others in front of her.
---
3 posts here • Page 1 of 1
Arcs are bundles of posts that you can organize on your own. They're useful for telling a story that might span long periods of time or space.
There are no arcs in this roleplay.
There are no quests in this roleplay.
Here's the current leaderboard.
There are no groups in this roleplay!
Welcome home, Promethean. Here, you can manage your universe.
Arcs are bundles of posts from any location, allowing you to easily capture sub-plots which might be spread out across multiple locations.
You can create Quests with various rewards, encouraging your players to engage with specific plot lines.
Settings are the backdrop for the characters in your universe, giving meaning and context to their existence. By creating a number of well-written locations, you can organize your universe into areas and regions.
Navigation
While not required, locations can be organized onto a map. More information soon!
There are no groups in this roleplay!
By creating Collectibles, you can reward your players with unique items that accentuate their character sheets.
Once an Item has been created, it can be spawned in the IC using /spawn Item Name (case-sensitive, as usual) — this can be followed with /take Item Name to retrieve the item into the current character's inventory.
Give your Universe life by adding a Mob, which are auto-replenishing NPCs your players can interact with. Useful for some quick hack-and-slash fun!
Mobs can be automated spawns, like rats and bats, or full-on NPCs complete with conversation menus. Use them to enhance your player experience!
Current Mobs
No mobs have been created yet.
Locations where Mobs and Items might appear.
You can schedule events for your players to create notifications and schedule times for everyone to plan around.
Add and remove other people from your Universe.
The Forge
Use your INK to craft new artifacts in Summer At Spalding's. Once created, Items cannot be changed, but they can be bought and sold in the marketplace.
Notable Items
No items have been created yet!
The Market
Buy, sell, and even craft your own items in this universe.
Market Data

Market conditions are unknown. Use caution when trading.

Quick Buy (Items Most Recently Listed for Sale)
None
Discussions
Topics

Replies
Views

Last post
Most recent OOC posts in Summer At Spalding's
There have been no posts in the OOC topic for this roleplay!