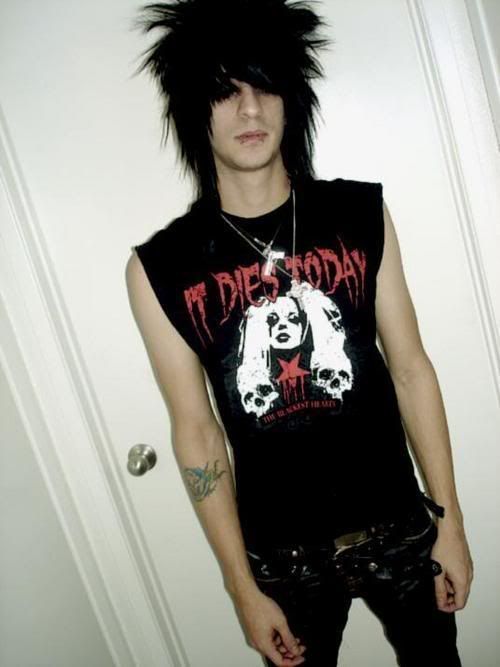 Name:
Kellan Aleksander Ivanov
Nickname(s):
Kelly
Birthday/Age:
Came into this world on November 27th, and is currently eighteen years of age.
Appearance:
Kelly is a rather thin guy, and stands at about 5'12, so he is fairly tall. He is pale in skin tone, the type of pale that suggests he is anemic and under-fed. His hair is considered 'scene', the color being jet-black. His bangs cover up his emotionless, brown eyes most of the time, and he has several piercings, including: size 12 gauges in both of his ears, snakebites, and a septum piercing. His style mostly consists of skinny jeans, band shirts, and his two gun necklaces, as well as his cross necklace, both things that he has recieved from Brandon. The red
Vans
on his feet are his signature trade mark, and it is easy to recognize him since he wears them every day of his existance. Kelly's style is considered "Rocker", and he intends to keep it that way.
Personality:
Kelly is what people consider to be a "Damaged Child." From a young age, he was diagnosed with Bipolar Disorder, but his life has been anything but stable since the diagnosis. With his anger issues, Kelly pushes away anyone who attempts to help him. It is rare that a day passes without him having severe mood changes. Kelly is an extreme introvert, and in fact spends most of his time in his apartment. The only times he goes out are during the night, and when he has to make a drug deal. He does not like giving anyone chances, because he knows it will end up with people betraying him. He sees society as two things: Evil and Selfish. He feels most comfortable when it's just him, Brandon, a bottle of Daniels, and all the drugs he could take in one night. To simply put it, Kelly is one of the most fucked up, unreliable, unstable people you will meet. That is, if you even get a chance to talk to him.
Sexual Orientation:
Bisexual
Likes/:
Smoking blunts or cigarettes
Staying up for as long as possible
Jack Daniels
Being in control
The Night
Dislikes:
His Bipolar medications
School
The daytime
Heat
Water
Background:
Kellan was born and raised in California, and has lived with his Dad his whole life. His mom died young so he doesn't remember her, and his Dad has been in and out of jail his whole life, so Kelly has been a ward of the state several times. Kelly himself has been convicted of several felonies, and has been to juvy more than once. He started experimenting with drugs as early as 8th grade, and the only person who he has ever considered a friend is Brandon. Not only this, Kelly dropped out of school his Junior year, and does not intend on doing anything school-related ever again. Because of his mental illness, he does burn himself as well as cut, and dehydrate himself constantly, because of his hate for water.