"Facing the shadows, slicing the shadows… The crimson lightning; Horned Ninja, Kabuto Raiger!"
Sentai/ Ranger Name: KabutoRaiger/ Crimson Ranger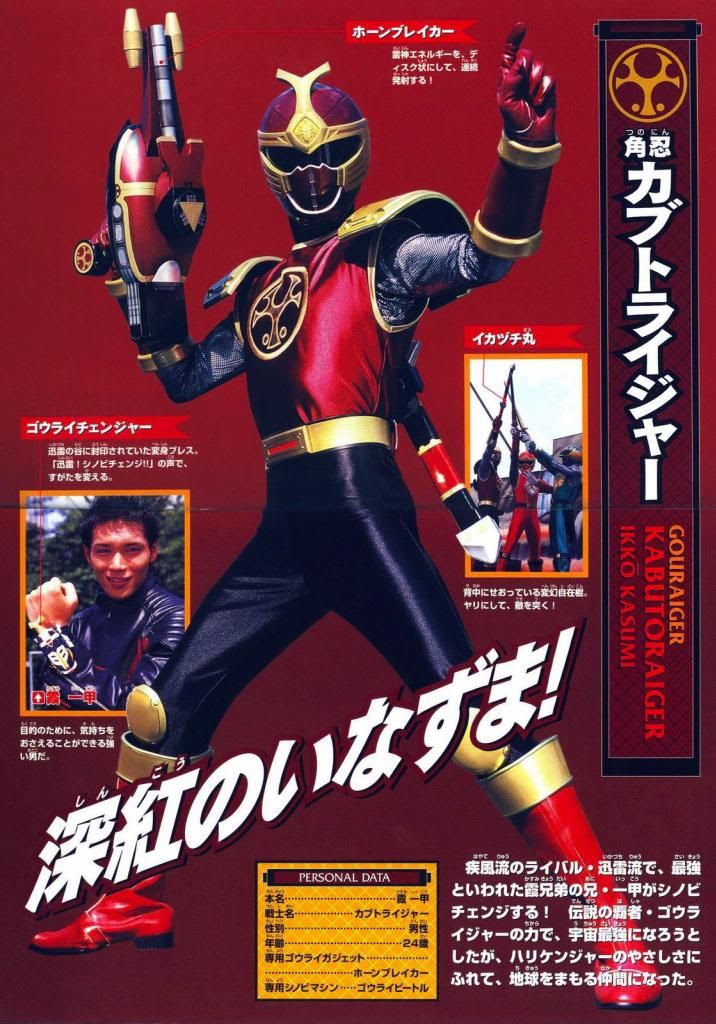 Civilian Name: Ikkou Kasumi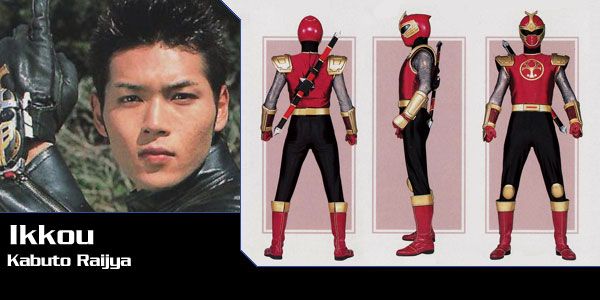 Group Afilliation: Ninpuu Sentai Hurricaneger/ Goraiger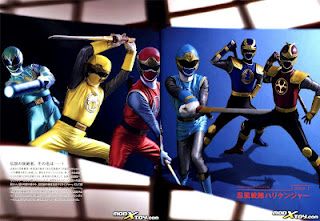 Image/ Appearance: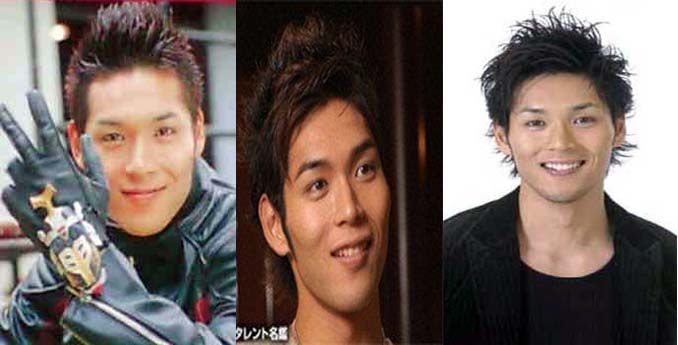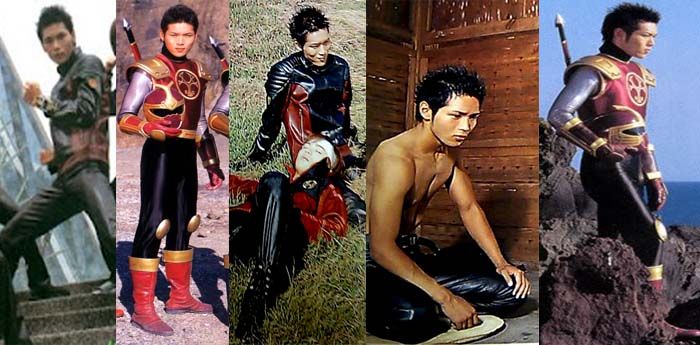 Abilities and Attacks: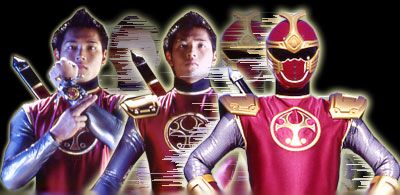 Gourai Changer (ゴウライチェンジャー Gōrai Chenjā): The Gouraigers' transformation devices. Ikkou and Isshu's personal Gourai Changer are shaped as their personal insects. The transformation call is "Jinrai Shinobi Change!" (迅雷・シノビチェンジ! Jinrai Shinobi Chenji!?)
Ninpou: Super Ninpou Illusion Kabuto (超忍法・幻カブト Chō Ninpō Maboroshi Kabuto) an illusion attack in which he can make himself giant.
Ikazuchi Way Ninpou Kabuto Projection (迅雷流忍法・カブトうつし Ikazuchi Ryū Ninpō Kabuto Utsushi)
Assumable Staff Ikazuchimaru (変幻自在棍イカヅチ丸 Hengenjizai Kon Ikazuchimaru): Standard weapon for the Gouraiger. Other than its standard staff appearance it can also be used as the Spear Mode (手槍モード Teyari Modo), the Cross Mode (十字の型 Juji no Kata) (a large cross-shaped throwing weapon), and the Circle Moon Mode (円月の型 Engetsu no Kata) (a ring based weapon that is used as a shield for defense). The Gouraigers can use the Ikazuchimaru to execute the Ikazuchi Thunder Blast Slash (イカヅチ雷撃斬 Ikazuchi Raigekizan?) and Ikazuchi Turbulence Beating (迅雷乱れ打ち Ikazuchi Midareuchi?) attacks.
Kabuto Raiger can also execute the Kabuto Thunder Blast (カブト雷撃破 Kabuto Raigekiha) and Ikazuchi Way Sword Technique Thunder Blast Slash (迅雷流剣技・雷撃斬 Ikazuchi Ryū Kengi Raigekizan?) attacks.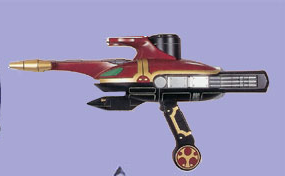 Horn Breaker (ホーンブレイカー Hon Bureika): Kabuto Raiger's personal weapon. It is used as a gun based weapon.
Zords:
Bari Thunders (バリサンダー Barisandā?): Motorcycles that are used by the Gouraiger for transportation.
Gourai Beetle (ゴウライビートル Gorai Bitoru): Kabuto Raiger's personal mecha. A giant tank-like black & maroon rhino beetle that forms Gouraijin's upper half. It also forms Gourai Senpuujin's feet, left shoulder cannon and Tenrai Senpuujin's feet. Its weapons are the Gourai Cannon (轟雷砲 Gōrai Hō), the Gourai Cannon (ゴウライキャノン Gōrai Kyanon) gatling guns, and pulse beam cannons. Its attack is Karakuri Ninpou Horn Change (カラクリ忍法・角変化 Karakuri Ninpō Tsuno Henge).
Personality:
Ikkou is generally a serious guy. He has a since of humor and can be gentle at times. He is pretty smart and very strong. He is very quick to formulate a plan and to take action. He's not quite the look before you leap type but he doesn't let the grass grow under his feet either. Ikkou is definitely a hard worker and is very mature.He can be pretty stubborn if he feels the course of action he's decided to take is the right one, unless proven otherwise. Ikkou is mostly a loner and most commonly works with his brother. If you want Ikkou on your team for good, you'd have to prove to him that you're worth him sticking around. Otherwise, he'd pop in to help you but leave as soon as he's not needed anymore.
Story: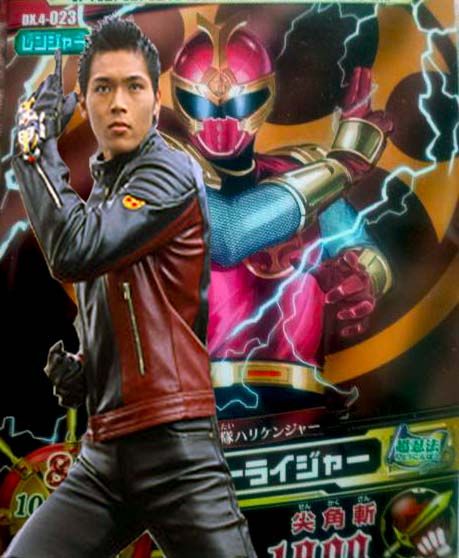 Lightning Speed Gouraiger (電光石火ゴウライジャー Denko sekka Goraija,) were originally the enemies of the Hurricaneger who join Jakanja despite having wiped out the Ikazuchi Way's Ninja Academy which left the Kasumi brothers as the only survivors. The brothers obtained the forbidden Gouraiger system from their father, Ikki, a rogue ninja who abused them. Ikki went against the Ikazuchi Way's wishes to obtain the Evil Will after learning of it during his mission in Egypt and learned of the "Final Secret" at the time of a meteor shower. He went against his school's wishes by creating the Gouraiger system and making his sons kill each other to evoke it while making them believe that rage and hatred would only promote strength. Though they eventually allied themselves with the Hurricanegers the Kasumi brothers were unable to completely forsake their father's cruel teachings and have a jaded view on life. The two work as construction workers. They represent the Ikazuchi Heart embodying the Bonds of the Past.
Ikkou Kasumi/Horned Ninja Kabuto Raiger (霞 一甲/角忍カブトライジャー Kasumi Ikko/Tsunonin Kabuto Raija) is the older brother. His original goal was to raise Ikazuchi as the greatest Ninja school using it. Learning of the method his father intended Ikkou ingested Girigiri gas to go insane so Isshuu could kill him. Ikkou eventually regains his sanity and refuses to obtain the Evil Will like that ultimately deciding to abandon this goal and focus on his new goal of supporting the Hurricaneger. He develops a friendly rivalry with Yousuke later in the series as well as gaining a mortal enemy in Manmaruba (who implanted a Space Scorpion egg in the man's body for using him to get into Jakanja's ranks). He attempted to have the egg removed from his body with Ramon's aid a secret–even from Isshu. However Ramon could only hinder the hatching until Manmaruba's Mind Wave made it beyond Ramon's skills. Though told a cure may be found in Tibet Ikkou refused to leave and it nearly killed him as a result; only stopped by Yousuke nearly killed himself to provide an antidote. Ikkou would later kill Manmaruba soon after the Fangerus crisis. After transforming, Ikkou says "Crimson lightning. Horned Ninja Kabuto Raiger!" (深紅の稲妻。角忍カブトライジャー! "Shinko no inazuma. Tsunonin Kabuto Raija!").
Other Information: Ikkou has gained a close relationship with Yosuke/ Hurrican Red, they've become friendly rivals. He's curious to meet his American Counter-part, the Crimson Ranger. He'd like to test the strength of the rangers from overseas.