Ivory Rossace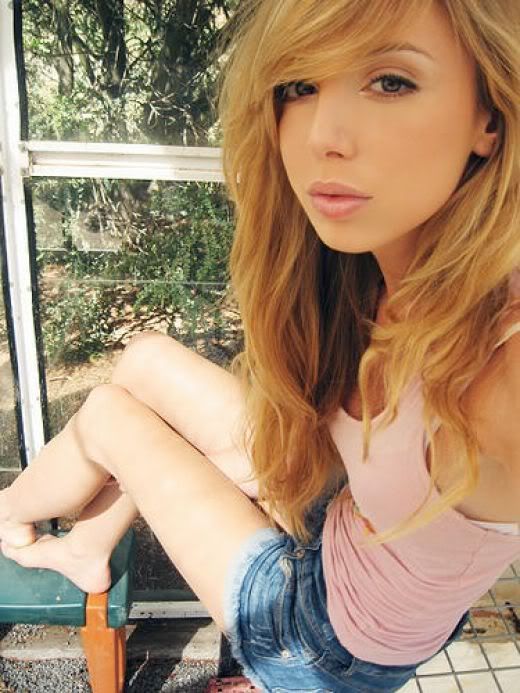 Description of Physical Appearance:
Standing at 5'5", it's a bit hard to catch this 17-year-old's eyes, but if you do you'll notice they are a startling blue that make you want to smile or cry or whatever emotion she is feeling, though they can harden so that people are actually afraid of her. Her face is farily feminine and startlingly beautiful, a rather tan skin tone, framed by waves of thick blonde hair that falls to her small waist. She is often mistaken for younger than she really is. You can usually find her in a baseball cap or headband and her hair is usually up in a ponytail. She mostly wears sandals or boots and is a jeans-and-a-Tee-shirt type of girl. Her ears are peirced two times per ear. She wears little makeup, usually just mascara and blush..
Build- slight, lithe, waifish, strong.
Race & Role- Human female #2.
Orientation- Straight.
Status- In a Relationship with her delicious boyfriend, Lance.


Personality:
Contrary to her delicate appearance, Ivory is rather loud and hard to miss; she's not afraid to express her opinion or get her hands dirty. Not one for subulty. She won't put up with people and their shit- she has quite the vocabulary. She is often underestimated for her size, but she has a core of steel, though she hasn't always had faith in herself, and sometimes questiones herself in the worst moments. Although she is very likeable when she wants to be, with a contagious laugh and sparkling eyes. Is a bit of a prankster.

likes-
* her boyfriend, Lance.
* sexy people. [Under the category of her boyfriend, Lance.]
* warm days.
* the ocean.
* long walks.
* writing stories.
* playing guitar/writing songs.
* laughing.
* jokes.
* sleeping.
* taking pictures.

dislikes-
* rude people.
* meat.
* mocking others.
* dead things.
* killing.
* stress.
* being bossed around.