London, England, 2013. Bustling capitol of England and city of world renown, a beacon of light and activity. Hot spot for all kinds of people... and not-quite-people.
Something had been happening under the public radar, things that the populous couldn't know about. An infection, of sorts. Grotesque bodies found scattered throughout the city, even in the most populated areas, with no trace of the attacker. Naturally these odd murders attracted the attention of one Sherlock Holmes. At the behest of D.I. Greg Lestrade, he and his flatmate, Dr. John Watson, began to investigate the murders.
Simultaneously two American brothers had arrived in the English capitol on similar, though very different, business. Word traveled fast in the hunter community, something paranormal had been running amok and causing trouble, and they intended to take care of the problem. Loaded up on rock salt and whatever else airport security wouldn't confiscate, Sam and Dean Winchester started the job of finding anything not human and taking care of it.
And finally, on the same day, an odd little blue box showed up in an alley with a man and his travelling companion(s), come to see what they could see. What the people travelling with the pilot didn't know was that this was more than a sightseeing trip, this was answering a call. The Doctor had received a distress signal, a warning that Earth was in danger and had changed course immediately. Besides, who wanted to see Tiger Island, anyways? (Besides him...)
These three forces were about to be sent on a journey none of them expected. For better or for worse, they had no choice. None of them could turn away from the task at hand.
------------------------------------------------------------------------------------------------------------------
Thank you for giving my RP a chance! This is a mostly literate RP based on the shows Sherlock, Supernatural, and Doctor Who with an original storyline to unite them. I ask that you at least know a bit about at least one of the shows before joining, even if it's just reading a wiki.
THE CHARACTERS (I am not well versed in Supernatural, if you'd like another from that show just message me)
Sherlock Holmes | FC: Benedict Cumberbatch | Reserved: Scarlet Loup
John Watson | FC: Martin Freeman | Reserved: The(Doctor)Horrible
Greg Lestrade | FC: Rupert Graves | TAKEN: The(Doctor)Horrible
Mycroft Holmes | FC: Mark Gatiss | OPEN
Jim Moriarty | FC: Andrew Scott | OPEN
Dean Winchester | FC: Jensen Ackles | TAKEN: EKRonnie
Sam Winchester | FC: Jared Padalecki | TAKEN: EKRonnie
The Doctor | FC: David Tennant | TAKEN: ThrillerNight
Companions:
Rose Tyler | FC: Billie Piper | OPEN
Captain Jack Harkness | FC: John Barrowman | Reserved: ThrillerNight
Martha Jones | FC: Freema Agyeman | OPEN
Donna Noble | FC: Catherine Tate | OPEN
River Song | FC: Alex Kingston | OPEN
Amy Pond | FC: Karen Gillian | Reserved: Iezobel
Rory Williams | FC: Arthur Darville | OPEN
OCs | 3 OPEN
--------------------------------------------------------------------------------------
Rules:
1) Don't even think about godmodding, OPing, or being a bad sport (unless it is something your character can legitimately do.)
2) Characters cannot be killed without the permission of their moderators
3) Common Sense, people (or werewolves or Time Lords or otherwise)
4) Feel free to ask questions
5) Be impressive, this story can go anywhere you want it to, so why let it be dull?
9) The number at the start of this rule plus the next word pineapple is the password which should be input along with your allies.
6) If you are playing a canon (from the show) character and would like to try something (i.e. making Lestrade a werewolf or Sherlock an archangel, et cetera) ask first. More than likely I will say yes.
Character Sheet:
(I've never been a fan of making these, but if you'd like to spruce them up feel free)
Name:
Nickname (if any):
Gender:
Species:
Show originated from (if any):
Physical description (words and pictures are nice):
Personality:
History (this includes right before they arrived in London):
Motives (for being in London during the invasion, if any):
Equipment (tools, vehicles, anything that helps them get ahead):
(For the next two include how they get along/think about the listed people)
Allies:
Enemies:
Taking place in...
Sherlock made his way back to the sitting area and slowly sat down in the arm chair. He crossed one leg over the other and then drew his hands, which were pressed palm-to-palm together, near his lips, so they were hovering just millimeters away. With a poker face on, he stared at the wall ahead, eyes appearing to be blank and unfocused.

"Look," John said, "whatever you decide to do I'll be right behind you, yeah? You don't have to take this case, they can't make you, but if you want to I won't disappear..." Sherlock turned his head so he was looking at Watson. However, his eyes still seemed vacant.

"I can't just drop a case because it's too 'hard', John," he said, stressing the word a bit too much so it sounded brutal and a bit rude. "How would any advances in science or medicine or math ever be achieved if the scientists had said 'oh no, this is far too hard for us'? No, I won't drop this case..." In the time it took him to rant, John had wandered back into the sitting room. "Maybe a wolf escaped from the zoo or something?"

"That still does not explain how a wolf managed to enter a room on the second story of a building," said Holmes, his irritation becoming more and more evident. This case was annoying him, angering him...even upsetting him to some degree. None of the puzzle pieces were matching up and it seemed to be one dead end after another.
---
Leaning down to hear the strained protestations of the man lying below him, the Doctor nodded seriously to the instructions he was given. Of course he wasn't entirely sure where this 'Hackney' place was nor what exactly one would do in a 'cellar' especially if one were turning into a werewolf, certainly the werewolf-man had to be at least a little reliable on the matter of his own well-being. Just as he was in the process of responding- his mouth even open to begin the statement- a great group of people spontaneously appeared around him, led by none-other than his acquaintance the ineffable Jack Harkness. Jaw snapping shut at the ridiculous banter directed toward him by the Captain, the Doctor turned his gaze to take in the growing group of individuals.
"This man says he needs to get to this 'cellar'," the man supplied in answer to the shorter of the two men that had followed his friend from somewhere, not bothering to acknowledge Jack or even introduce himself as he was in currently preoccupied with overcoming the crisis of the moment. Before he could inquire as to whither or not any of the three new arrivals had any knowledge of where this 'Hackney' was, another human strolled into their midst. This time it was a fiery-haired woman, who demanded-with a short greeting-in a no-nonsense tone,
"Hello, do any of you know a weird man called the Doctor?"
Had he been in any other mood he would have immediately jumped on this new development- how did this woman know him? Had he met her before, and if he had- how did he not remember such stunningly, brilliant hair? And didn't she know not to call people weird no matter how amazingly different they were?- but as it was, there was a man lying on the ground clutching at his hand (well, really his handcuffs) and begging for help. So, the Doctor replied with a quick, broad-smile and a waving hand, "Yes, yoo-hooo. That would be me. The Doctor here. But all that can be sorted out later, yea? Now this man needs help. A cellar on Hackney he says. Which one of you can get us there, hmm?" His dark eyes darted between the lot of them as he began to help the man as quickly as possible to his feet. "Tick-tock, tick-tock," he intoned with a sarcastic air.
---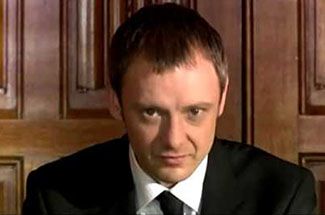 And then I stood there, in the basement of Broadfell prison, dripping with the mist of some ancient concoction my followers had dug up from the graves of libraries long forgotten. Thunder cracked in the background as the blue mists whirled about the room, the constant drum beat returning even louder than before. Looking over, I could see my lovely wife, kneeling on the floor with a guard's gun close by her head. Smiling widely, I outstretched my arms. "Lucy my faithful wife!" She stood up, revealing a vile of liquid, the potion of death she called it. "No!" But the sound of a gun shot rang through the air, and the vial dropped from Lucy's hand, rolling harmlessly towards the entrance. She jerked back, clutching her now bleeding hand as she stared at me almost hatefully. For an instant I stared back at her, a sad look on my face and total disappointment with her actions. Once again, she'd tried to kill me, and the first time she had succeeded too! Then I grinned at her as the transformation completed, leaving me once again alive, completely whole, and with the body of a Timelord. Guards rushed the room from an exit in the basement, their guns leveled at Lucy who looked at them with fear in her eyes. Looking at the remaining followers and their drones of my "faithful" cult, I rolled my head slightly, cracking the fresh neck muscles.

"Take her back to her cell," I said, ice in my voice and no remorse. "And someone, get me some clothes."
---------
The Master stood in front of the mirror of the bathroom, his hand feeling his smooth recently shaved jaw, as he examined his appearance. His thin wavy brown, almost blonde hair, was freshly trimmed from yesterday's barber visit, neatly combed forward over the top of his head. His black suit was neatly pressed and ironed, with neither his shirt or jacket showing the slightest wrinkle. His brown eyes stared back at himself, and the corners of his mouth twitched into a playful smirk as he regarded his appearance. His hands rested against the white marble countertop as he leaned forward, his face inches away from the mirror.
"One of the most brilliant minds in the universe, with some of the most devious schemes to ever be created. What are you doing, attending a meeting in the Senate, discussing a vote on a power bill?"
He stared at himself, as if waiting for his reflection to give an answer, before a knock sounded at the door.
"Senator Sertam, you have ten minutes."
His eyes rolled up as he pushed himself off the counter. He hated being called Senator. It was like being downgraded. He had been the Prime Minister of Great Britain after all. Couldn't his followers have found a position higher up that didn't have to deal with these petty matters and laws? He turned his head side to side, listening to the resounding crack of his neck with a faint smile. At least he only had to do this sort of thing once a week, maybe twice. Unless there was something his staff hadn't told him, all he had to do was vote yes or vote no, while sitting in the shadows, and let the other senators do the talk on various insignificant matters while time passed around them and alien species went to war among the stars.
"Coming!" he hollered in a high boyish voice before growling slightly as he turned away from the mirror and headed out the door.
---------------
The Master swung in his chair slightly as the droning voice of a male human echoed through the senate room. He suppressed the urge to yawn as he looked around the room, watching other men and women instead of the current speaker. He tuned out the noise of what the bill would do for the government and its people, while staring towards a woman. He recognized her from before in the Senate building during his short time as Prime Minister. Her gaze turned away from the speaker to focus on him, soft emeralds locking with his own deep brown eyes. He flashed a deceivingly warm smile at her before she turned her head, and he chuckled slightly to himself as he looked back at the speaker. She didn't remember him. So passionate, so evil, so quick to judge, the human race could be, and yet so forgetful. The events of Harold Saxon, going mad onboard the Valiant and assassinating the president, would be nothing more than a distant memory, buried on page 29 of the London Informer. Of course a simple signal from the Archangel network before it was modified helped speed up the process.
A sudden beeping woke him from his thoughts, as well as alerting the senator beside him. His hand snapped to his side, withdrawing a small cellular phone.
"I told you not to call me, I'm in the middle of a meeting," he said in a quiet voice laced with annoyance. He shot an annoyed look to the man seated beside him, who turned his head back towards the speaker, this time a female. But the Master knew he would be listening in. He gave a sigh as he leaned back in his chair, the small device pressed close to his ear.
"Oh come on Mister Sertam," the voice on the other end responded, using his fake name. "You aren't even interested in those boring meetings anyway."
"No I'm not," the Master said with a playful grin. "So what have you got for me?"
"You remember those strange reports of corpses Scotland Yard has been tracking, with no clue as to their killer?"
"Yes, what about them?"
"They've found another and are sending police to investigate. Corner of Henderson and Fifth."
"Mmm..." the Master pressed his body even further back into the leather recliner. "You know those reports are fascinating. It would be nice to see one up close..."
"I hear they're even calling in one of their best consulting detectives. That's how desperate Scotland Yard is."
"You know what, the senate doesn't need me today anyway," the Master said as he leaned forward, his brown eyes focusing once again on the senator beside him who had turned his head slightly in his direction. "Send the details to my terminal, I'll be there shortly."
He clicked the red button on his phone before sliding it back into his pocket. He leaned back in his chair, his fingertips pressed against eachother as he stared towards the Deputy Minister, already calling the Senate to a vote. His lips pursed as they tapped against eachother rhythmically to the sound of his heart beats, to the sound of the drums. The drums of war, tuning out the droning and the ayes and the nos and the hand raising, his gaze becoming focused and crazed as his fingers tapped harder and harder. Then he uttered a "Yes", answering the call of the drums and the senate's needless voting. And in one fluid motion he was out of his chair and out the door, leaving the one man in slight confusion and the rest completely ignorant.
---------------
The sound of screeching wheels filled the air as a black van stopped a short distance from Henderson and Fifth. Car doors swung open as five pairs of black shoes stepped out onto the damp pavement of the street, shutting in the Timelord's heart beat's rhythm. The Master stood beside the van, dressed in his black suit and black overcoat, taking a deep whiff of the cold London air.
"Ah, the stink, the smell of pollution and iron," the Master said as he turned his head from side to side, looking over the empty streets. The fresh tire tracks could be seen leading up to the apartment, where several police cars were parked in a line, yellow tape cordoning off the area. Humans could be seen bustling about the cars and going into the apartment. He took another deep inhale as he looked towards the apartment.
"Maybe even the smell of rain," the Master said as he shrugged, his lips twitching upward. "And something el-" he stopped short as he stared towards the cars. His face fell as he stared towards the group of people. They were all clustered around one person, brown fabric showing through the cracks. He stood still, waiting for the humans to move, waiting to see who the hidden man was. And yet as the drums beat harder, the Master felt he already knew.
Run! Hide! It's not time yet! The Doctor can't see me yet! I'm not ready!
One look, one look is all it took for a Timelord to recognize another. They knew eachother on sight, on feel, on smell. Of course which one? The Master's lips twitched upward again into a smirk. As Minister of Defense he had had the Doctor closely watched, but never interfering until the time was right, until he had use of the Doctor's TARDIS to free him from the end of the universe. No he knew when, and that meant the Doctor's TARDIS was somewhere close by. He looked over to one of the members of his group.
"Take the car, drive about the nearby streets. There's an old style police box somewhere, probably in plain sight. Find it," the Master said, almost hissing his last words as he turned back to the building. He shot one last look back to the crowd of people, to that immortal fool Captain Jack, to the Doctor, before he turned away. He walked towards the apartment, going by way of a side street to arrive at the other side of the apartment, out of the Doctor's sight.
---
Arcs are bundles of posts that you can organize on your own. They're useful for telling a story that might span long periods of time or space.
There are no arcs in this roleplay.
There are no quests in this roleplay.
Here's the current leaderboard.
There are no groups in this roleplay!
Welcome home, Promethean. Here, you can manage your universe.
Arcs are bundles of posts from any location, allowing you to easily capture sub-plots which might be spread out across multiple locations.
You can create Quests with various rewards, encouraging your players to engage with specific plot lines.
Settings are the backdrop for the characters in your universe, giving meaning and context to their existence. By creating a number of well-written locations, you can organize your universe into areas and regions.
Navigation
While not required, locations can be organized onto a map. More information soon!
There are no groups in this roleplay!
By creating Collectibles, you can reward your players with unique items that accentuate their character sheets.
Once an Item has been created, it can be spawned in the IC using /spawn Item Name (case-sensitive, as usual) — this can be followed with /take Item Name to retrieve the item into the current character's inventory.
Give your Universe life by adding a Mob, which are auto-replenishing NPCs your players can interact with. Useful for some quick hack-and-slash fun!
Mobs can be automated spawns, like rats and bats, or full-on NPCs complete with conversation menus. Use them to enhance your player experience!
Current Mobs
No mobs have been created yet.
Locations where Mobs and Items might appear.
You can schedule events for your players to create notifications and schedule times for everyone to plan around.
Add and remove other people from your Universe.
Orphanage
By marking a character as abandoned, you can offer them to your players as pre-made character sheets.
"I'm not a psychopath Anderson, I'm a high-functioning sociopath."
The Forge
Use your INK to craft new artifacts in Superwholock: Games of the Moon. Once created, Items cannot be changed, but they can be bought and sold in the marketplace.
Notable Items
No items have been created yet!
The Market
Buy, sell, and even craft your own items in this universe.
Market Data

Market conditions are unknown. Use caution when trading.

Quick Buy (Items Most Recently Listed for Sale)
None
Discussions
Most recent OOC posts in Superwholock: Games of the Moon