Greg Lestrade
Gender: Male
Species: Human (infected with werewolfism)
Show originated from: Sherlock
Physical description: Greg is in his late forties with grey hair, silver around the temples in a professional cut. He has quiet brown eyes and a stern expression along with a nearly ever present shadow of stubble. Standing at around 1.8 meters and 83 kg, Greg is pretty average in the stature department, though he carries himself with pride and authority. He is always dressed professionally, though with a bit of a carefree flair.
Personality: Lestrade is a gentleman, professional and polite. He spent years on the force and had already been a quieter person in his younger years. When treated with respect he will return it just as easily, but whenever provoked, even slightly, he tends to become sarcastic (tends to happen with Sherlock, though he respects the detective). He minds his own business and takes care of his own. Loyal, brave, with a strong moral compass, Lestrade's motive in life is to keep his city and his friends safe.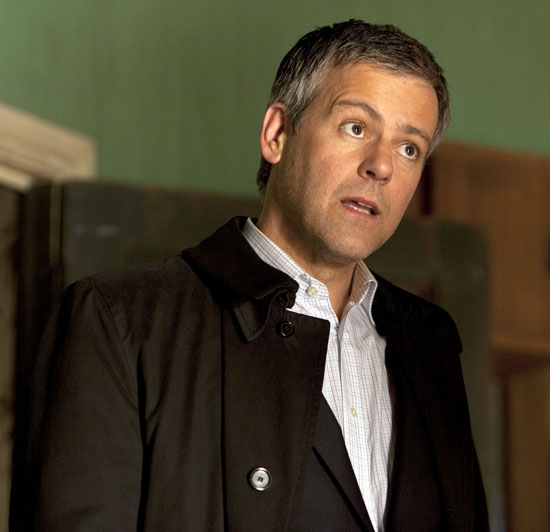 History: Greg grew up with his Mum and Dad in London until the time he was around 17. His dad was murdered on his way home from work, hit and run, but no one could ever tell who had done it, nor would they inform the grieving widow and son why they couldn't see his body. In reality it had been torn apart. To this day Greg still doesn't know. His mum passed away a long time ago, and after high school Lestrade went into criminal justice for his dad's memory. He wanted to catch bad guys and help the people of the world out. Since then he's progressed through the ranks until he reached Detective Inspector. In his personal life he was married once, but his wife is now estranged. He has no children nor another love interest.
Four years or so ago (around a year after he had met Sherlock) Lestrade was diagnosed with terminal cancer, untreatable. He was given a year or two to live. However, days afterwards there was an incident. One he never talks about. A body had washed up on the Thames in the morning before the sun came up on a full moon and he had been called in, though the operator said he was wanted to go alone for the privacy of the victim. It was an odd request, but he agreed. When he arrived at the scene the body was gone, but the area it had been dragged off into was apparent from the rut in the ground. Two kids were following it mindlessly, just bored kids being kids. Greg called them away from it, but when they turned to face him something happens that to this day he can't explain. A huge wolf bounded from the shadows beneath the walk and charged at them. It was vicious and uncontrollable, eyes gleaming and teeth bared. It must've been at least two meters tall at the shoulders and had a lean sort of muscular grace about it. Without thinking the D.I. threw himself between the kids and the wolf and unloaded his firearm into it. The bullets had no effect. The kids got away in time, but he took gruesome injuries on his left side, gashes made by the thing's maw alone. His upper leg and the bottom of his torso were shredded along with his upper arm around the shoulder.
Barely alive, he was found by a pedestrian and an ambulance was called. He called the Yard and told them that he had some family issues, to put Donovan in charge. Months of therapy, both psychological and physical, passed before he could return to the real world with a severe limp and little use in his arm. He was determined to keep his issues secret, however, and trained himself so that even Sherlock was unaware as to his physical weaknesses. At the same time he researched the wolf and was devastated to find that these bodies tended to show up on full moons alone. One thing led to another and he shifted on the next moon. After that he returned to the force, disappearing on "family business" for a couple days every month (a concrete cellar he had found in an alley, abandoned). While fighting all the other stressors in his life he had been fighting the wolf inside, determined not to let himself harm one of the people in this city he had sworn to protect.
Equipment: Wallet, Identification from Scotland Yard (though he tends to keep losing the cards), gun, a car, phone
Allies: Sherlock Holmes- Greg found Sherlock when he was a druggie with no hope at a future or friends to help him. He was brilliant, though socially unsound, and Lestrade decided to take a risk and give him a chance. Ever since then Holmes has been his go to man for cases he needed help with. He's also good friends with a 9 pineapple (I'm the mod, can't be tamed :P)
John Watson- When John came to a crime scene with Sherlock one day, the serial suicides, there was a bit of tension as to Sherlock bringing a "friend/comrade." Regardless, he let the two work, again, he pitied the veteran with a limp. The next night, after the case was wrapped up, he realized what John was doing to help Sherlock though neither of them probably realized it. They've become good friends since then.
Mycroft Holmes- Lestrade helps Mycroft to keep an eye on his little brother and often gets his jobs from the man. He's neutral towards the elder Holmes, but realizes he's a higher authority and treats him with respect.
Enemies: Most of the criminals in London, perhaps his estranged wife, and other nasties that try to mess with his town. One in particular is a man named Jim Moriarty, criminal mastermind extraordinaire. He had killed at least 13 people in a bombing and disappeared without a trace, no doubt he was going to try to strike again soon. One of his greatest enemies, however, he has since found and neutralized, but no one ever knew about them... a story for another day.