Name:
"The name's Sherlock..."
Sherlock Holmes
Nickname:
"Nicknames? Who has time for nicknames?"
Simply referred to as either his first name, his last name, or less affectionate terms by those in Scotland Yard that he's managed to annoy.
Gender:
"Oh, come now. Even someone with your level of deduction skills should be able to guess my gender..."
Male
Species:
Human
Show Originated From:
BBC's Sherlock
Physical Description:
Standing at a decent six feet even and with a weight of a hundred and sixty pounds, Sherlock is skinny for his height. It seems to make sense, though, for he is a man that puts his mental pursuits before his physical well-being. His dark, ebony hair is curly and a bit wild, never looking the same as it did the day before. Holmes's observant, calculating eyes are a greenish-blue, but they seem to constantly change color depending on the lighting. With pale flesh, he appears as if he hasn't seen the light of day in, well, days. However, he can and
will
fend for himself in a fight. He dresses in a dapper fashion, usually wearing a two-piece suit with a deep neckline and a dress shirt beneath. When he goes out to work on a case, he can usually be found with a long, dark overcoat and a dark cerulean scarf. To avoid tampering with evidence he'll either wear black leather gloves or latex gloves over his nimble hands. He seems to constantly wear a calculating and cold expression, appearing as if he isn't fully in-tune. In all reality, he's more than in-tune. In fact, he observes more than even the most "observant" of people.
Personality:
Sherlock Holmes is a complicated fellow. He possesses a mind unlike any Scotland Yard has ever had the opportunity to observe. With the ability to arrive at conclusions on only a faint amount of information, he can solve cases that seem nearly impossible to highly trained cops and detectives, such as Lestrade. Sherlock seems to have absolutely no time for information that doesn't help him, such as world history or astronomy. Instead, he focuses his efforts on chemistry, botany, and many other branches of science. Holmes is a brash individual who can be extremely rude, even if he means good. He truly has no regard for the feelings of others and will brutally question someone for information in a case. To many, he may also seem to be a chronic liar who isn't trustworthy. In all honesty, he just doesn't trust anyone besides himself. With biting sarcasm and a rude sense of humor, he isn't a very good companion unless, like John, you can put up with his mood swings. Without a social filter, he unconsciously insults countless people with his observations and his words. When initially meeting a person, his first reaction is to use their appearance and mannerisms to deduct as much as he can about them. In a way, this makes him feel more comfortable and less likely to be surprised. However, he usually gets at least one fact wrong (i.e. he assumed John's sister, Harriet, was a male). Holmes has to have a constant stimulus for his mind whether that be a murder case, nicotine, drugs, or simply shooting holes in the wall of his bedroom. It has been said that Sherlock Holmes has Asperger's syndrome, due to his anti-social ways and his brilliant mind. He can also play the violin excellently, though he usually plays somber, depressing ballads as opposed to cheerful melodies. He doesn't have many friends, and even admits that Watson is his only friend.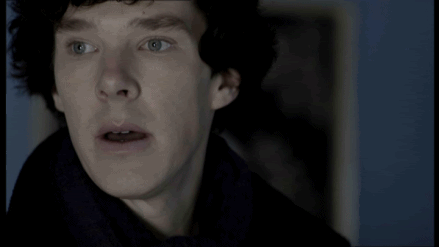 History:
Sherlock Holmes's History
Motives:
Even though Sherlock already lives in London at 221B Baker Street, he is pursuing the case because he always enjoys the feeling of solving a case. The only problem is, however, he doesn't know how to solve this case for once.
Equipment:
iPhone, his deduction skills, his mind/wits
Allies:
Mrs. Hudson
- Holmes is extremely protective of his landlady, having thrown a man out of a window for striking the woman. He apparently helped get her husband executed and, therefore, she is indebted to him and offers the flat to him and John. Though she doesn't want to be their housekeeper, Holmes still relies on her to clean and cook for them.
John Watson
- Sherlock himself has said multiple times that Watson is the only true friend he has. Even though he can be a bit irritating or confusing to the veteran, John thankfully also acknowledges the introvert as his friend.
Greg Lestrade
- Though he wouldn't consider the D.I. a "friend", Sherlock is certainly not on bad terms with him. In fact, he truly doesn't seem to mind the man at all.
Mycroft Holmes
- Sherlock's relationship with his brother is a very...complex one. They have a sibling rivalry that is extremely evident, with Sherlock attempting to outdo his elder brother, even though they both share nearly the same intellect. However, even though Mycroft states he is Holmes's mortal enemy, he still is looking out for his younger brother.
9 Pineapple
Enemies:
Jim Moriarity
- Unlike Sherlock's relationship with his brother, he truly is at odds with the professor.
Anderson and the majority of Scotland Yard
- The police force of London, more or less, doesn't really seem to enjoy the presence of the "consulting detective". He acts arrogantly and likes to take control of their cases.