Name:
Elit Skyo
Age:
19
Sex:
Male
Image: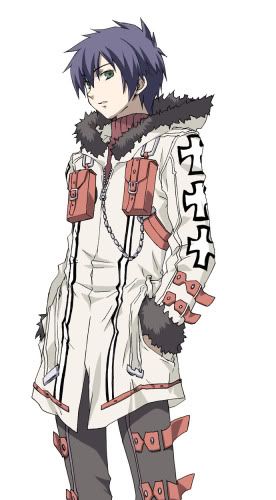 Nationality:
Japanese (But raised in the United States)
Policy:
Tamer
Strongest subjects:
(sciences/mechanics/medical/art/history/cookery/languages/etc)
Elit is, in truth, a man of science. Like his father, an estemed medical researcher and docter, he had a fasination with medicine and the human body. If it didn't include science or chemicals, it usually went through one ear and out the other. Though he learned very little about these subjects before the meteor struck the Gulf, that didn't stop Elit from presuing what he loved once he and his mother reached the Academy. As he grew, Elit became quite skilled at creating medicine and healing wounds.
Description:
Elit stands at about six feet tall, give or take a few inches. His physique is slightly muscular, exercising often when he's not messing with chemicals or studying at the academy. Elit's hair may appear a dark blue, but it's actually a glossy black shade, light reflecting off it to give it the blue hue. His eyes are a deep shade of green, his right eye closing tightly whenever his face is exposed to the cold, biting wind. Elit has a series of long, jagged scars across his back, due to a unfortunate encounter with a dragon on his journey to the Academy. The large scars are also mirrored in his jacket, stitches lining the outside of the holes.
Personality:
Though his interest would say otherwise, Elit is a cheerful and perky individual, on the outside. He often tries his best to let people see the lighter side of things, to draw their minds off of more downcast thoughts. In truth, Elit uses this as a mask to hide his own grieving side of himself who is still weeping for his father. By helping others, it keeps his mind off of his own dark thoughts, though no one knows this is the reason why he's so bright when humanity's future isn't. If you know him well enough, he'll open up a little, giving you a glimpse of his true feelings. Try to push further and he'll close himself off, remaining silent for days at a time. Once he recovers, Elit will go right back to being his normal, cheerful self.
Back story:
Elit's linage does come from Japan, but Elit never learned to speak his native language because he never grew up around other people who spoke it. When his father was called to the United States to help manage his ever growing medical research, he took along his wife and Elit, only two years old. They settled in a modest house near Chicago, where his father's lab was located. Sometimes, Elit would incompany his dad to see what he did for a living, becoming fascinated by the complex science of medicine. At six years old, Elit was constantly pestering his father about what he was researching and why. He never failed to have an answer, but Elit never failed to have a question when he came home.
Elit was nine years old when the meteor struck. He was in the backyard, talking to his father one the phone when the tremors struck. They were unlike anything he had experienced in his short life. Elit simply stood where he was, too frightened to move has he listened to his dad experience the same tremors in his labratory. Luckily, his mother managed to grab him before they fled, running for the nearest shelter. All this time, Elit was simply listening to the rumbling of the earth through the phone, hearing his father's last moments as his research crumbled around him. Then the line went dead.
Ten years later, Elit still feels the drowning sadness that he felt on that day. He may appear happy and stable, but looks can be decieving. Elit didn't blame the dragons for his father's death, he didn't even blame the meteor. He just wished he never heard his father die.