Hello There fellow Survivors!
2015, the Chinese have been in a very deep crisis since the end of 2012 seeing a war as the only option to stop their country from tumbling down from the top of the economic market. At first they just threatened their neighbours but when Israel and the US showed their big guns - and atomic weapons, China was on the verge of breaking. This was May 2015. The Chinese 'new lord-emperor' Huang Chi Do aledgedly pushed the button himself that has send a biological bomb to Israel and the Middle East spreading a virus over the North of Africa and Arabia. Because of the many tourists the virus spreaded like wildfire. In just a few weeks the streets were bulging with walkers and the few who survived had reorganized themselves, getting out of the city or hiding in cellars. But what did you do?
Character Sheet Guidelines
Full Name :
Nickname :
Apearance : [Words + picture(s)]
Likes :
Dislikes :
Favourite Weapon :
Flaws :
Hobbies :
Merits :
Tools (What's in your bag, your weapons and maybe means of transportation) :
Bio :
Why did you survive ? :
Why were you in Paris in the first place :
Notes :
1. you CAN swear
2. you CAN have romance
3. you CAN NOT be angry on players out game for things that happened in game
4. when you have been inactive for 2 weeks a zombie will start nibbling your toes
5. THE ZOMBIES ARE WALKERS ie. They are slow. There may be some fast zombies. They are refered to as runners. They are at the top of the food chain.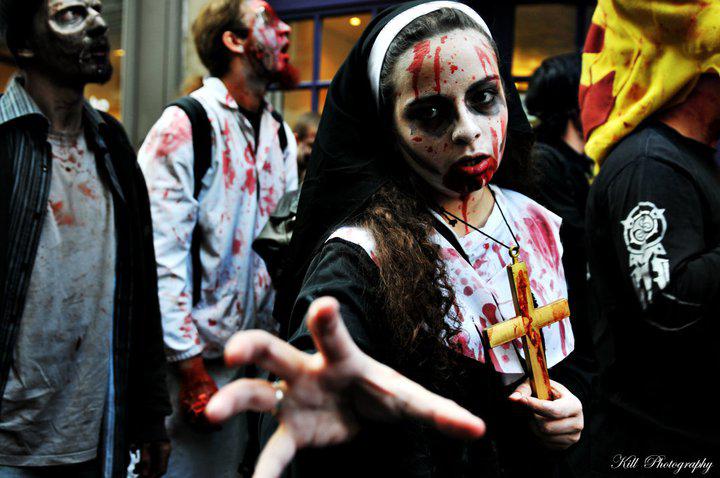 Arcs are bundles of posts that you can organize on your own. They're useful for telling a story that might span long periods of time or space.
There are no arcs in this roleplay.
There are no quests in this roleplay.
Here's the current leaderboard.
There are no groups in this roleplay!
Welcome home, Promethean. Here, you can manage your universe.
Arcs are bundles of posts from any location, allowing you to easily capture sub-plots which might be spread out across multiple locations.
You can create Quests with various rewards, encouraging your players to engage with specific plot lines.
Settings are the backdrop for the characters in your universe, giving meaning and context to their existence. By creating a number of well-written locations, you can organize your universe into areas and regions.
Navigation
While not required, locations can be organized onto a map. More information soon!
There are no groups in this roleplay!
By creating Collectibles, you can reward your players with unique items that accentuate their character sheets.
Once an Item has been created, it can be spawned in the IC using /spawn Item Name (case-sensitive, as usual) — this can be followed with /take Item Name to retrieve the item into the current character's inventory.
Give your Universe life by adding a Mob, which are auto-replenishing NPCs your players can interact with. Useful for some quick hack-and-slash fun!
Mobs can be automated spawns, like rats and bats, or full-on NPCs complete with conversation menus. Use them to enhance your player experience!
Current Mobs
No mobs have been created yet.
Locations where Mobs and Items might appear.
You can schedule events for your players to create notifications and schedule times for everyone to plan around.
Add and remove other people from your Universe.
Orphanage
By marking a character as abandoned, you can offer them to your players as pre-made character sheets.
Au Revoir... Fuck tart
"You know 'when Life gives you lemons, make Lemonade'? No, we make Life take the lemons BACK! We march right up to life's house and burn it down! Don't take the crap life throws at you, especially when you have the power to change it!
The Forge
Use your INK to craft new artifacts in Survival Z Paris. Once created, Items cannot be changed, but they can be bought and sold in the marketplace.
Notable Items
No items have been created yet!
The Market
Buy, sell, and even craft your own items in this universe.
Market Data

Market conditions are unknown. Use caution when trading.

Quick Buy (Items Most Recently Listed for Sale)
Newest
Ade: "I'll just listen to sister and I'll be alright." Die: "Follow me and run!"
Trending
Ade: "I'll just listen to sister and I'll be alright." Die: "Follow me and run!"
Most Followed
Ade: "I'll just listen to sister and I'll be alright." Die: "Follow me and run!"
None
Montmartre - Rani and Camille
Discussions
Topics

Replies
Views

Last post
Most recent OOC posts in Survival Z Paris
Hmm, I might wanna join, here is what I'm planning.

A man had a father who was a World War II veteran, and his family had moved to France. This man was very rich, but wanted to participate in the army as well, just as his father did, however, he was declined when he wanted to join the American Army. He still wanted to do something, so what he did was gather eight men from all around the west and used his money to train each and every one of them. Each of them are skilled in a different area, and can do any kind of mission using their teamwork. Though, not all of them were all criminally clean, but still... He even got the interest of an American weapons designer, who agreed to make custom weapons for each of them, and they are very expensive and difficult to mass-produce. One of the man's own men agreed to help him, and so they went to back to America to work on them. In the mean time, both America and a couple places in the Middle East offered a lot to 'buy' this so-called 'invincible' team (even though that's not true).

So, as for the events of what happens to them in the RP, the weapons designer and the guy who went with him are going to return with the new weapons, however, because of a storm, they have to redirrect the plane (a private plane of course) into Italy, but when they land is when they encounter the zombies, and everybody on the plane is killed except the one of the eight men, though, it's unknown if he's still alive and how long he'll last.

Now, just to disclaim some of the godmoddish parts, the ones still in France don't have any more types of weaponry than what they already trained with, and only limited supply. Many of them do have flaws, and only half of the team would really be any use against zombies, some of the others just might make situations worse. Plus, they don't always get along, and most of them are driven by their pride. Also, even though one of the men is a doctor, he can't cure the virus, nor can he do anything about viruses of any kind, he's more of a medic and is a professional at fixing people right back up.

Though, hopefully they wont be the only heroes, or maybe, it would be better if there were a lot of characters in the roleplay, to, y'know, weigh it even. Well, do you accept it?
Hey! I'd love to join in, mind if I make a character?
Hi, i am new, so if there is somethingi am doing wrong, please correct me, i know that technology is not my strong suit. See ya!
This is the auto-generated OOC topic for the roleplay "
Survival Z Paris
"
You may edit this first post as you see fit.