Raiz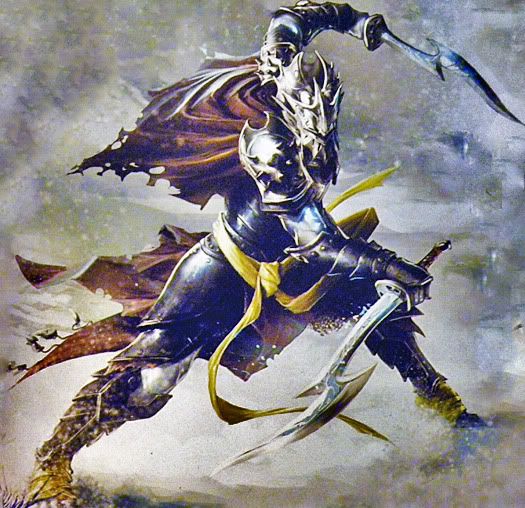 Role
The Queen's Guardian
Job
Sorcerer, bodyguard.
Age
Unknown. His age cannot be placed due to how much magic he has channeled into his own body.
Gender
Male
Appearance Description
While Raiz is most commonly seen in his foreign and dire-looking armor, beneath it he looks more ordinary than one might expect. Raiz rarely shows his face in public. If he is not armored, he is generally hooded. Only the queen and few important individuals have ever seen his face.
Armor/Clothing
Raiz's battle armor is a strange and foreign design. It is heavily enchanted to be more protective than it appears without hindering his mobility, and it projects an aura of unease to those around it. Those of a strong mind may simply feel discomforted around the armor, but those of a weaker mind could be struck with terror at its sight. Raiz's reputation as a remorseless killer does not dampen this effect. The focal point of the fear-inducing qualities of the armor come primarily from the war-mask. To look directly into his armored visage is to be affected by the most potent levels of the enchantment, and most do not meet his gaze.
Skills
Raiz is a skilled swordmaster and powerful sorcerer. He wields a pair of enchanted blades, named Hurricane & Bittertouch. His dominion over ice and wind synergize with his combat ability. His power whirls around him in combat. Foul winds, icy ground and blinding snowstorms conspire to ruin his opponent's momentum. He can direct this icy wind into blasts that can freeze a man solid if subjected to it for long enough.
Phobias / Fears
Raiz fears the loss of his powers, which is tied to sources outside himself. He also fears the imprisoned dragon, who knows how to break that power.
Bad Habits / Vices
Raiz has an immoral taste for developing his power, and frequently takes prisoners and others who anger the queen to test his powers upon. Most die in terrible ways.
Best Qualities
For all his cruellness, Raiz always has a motive. He considers his work to be a necessary evil towards some greater good.
Worst Qualities
He rarely speaks much with anyone, and generally never speaks his mind. As such, few understand his perspective or motives, and to most he is simply evil.
Likes
Studying old languages.
Swordplay.
Arcane research.
Weapon and armor forging.
Dislikes
Weakness.
Indecisiveness.
Children.
Goals
Raiz aims to reach a specific pinnacle of power which will shed his mortal limitations and grant him supernatural ability. It is unknown how close he already is.
Hex Code
b00000
Other Important Details
Raiz Unarmored: