Alias(es)
"You will address me by my title and nothing else. "
• Empress, Queen, Your Majesty || She rarely allows anything else.
• Metylda || She has not heard this for years. In the past, her family used to address her simply by her name.
• Aunt || Reserved for her only niece.
Role
"You must know who I am. "
Empress of Anatoli.
Job
"What do you think? I am the Empress. "
She is royalty, she is the queen. She needs no other job.
Age
"How old do I look? "
Twenty-eight.
Gender
"You must be blind."
Female.
Appearance Description
"I am beautiful, even moreso than my sisters!"
Smooth, unblemished dark skin covers the Empress' curvaceous body. Long, slender limbs exude grace with every action. A large bust and trim waist are tantalizing in snug gowns. Her hair falls in a waterfall of waves down her back. So dark in color it is often mistaken for black.
Snake like eyes glow a golden hue. Darting to and fro as not to miss a detail. A straight and regal nose alongside high cheekbones is common amongst the nobility. Metylda's full lips are always pulled into a smile, and although the feature rarely falls one can easily tell when she is displeased.
Armor/Clothing
"What do you expect? I wear only the finest. "
Having her daily outfits specially designed and sown by her own personal tailor. She is seen adorning elaborate dresses most often. Corsets, impossibly tight as to show off her curves and well endowed chest. Large skirts rotund and down to her feet. Really, garb expected of a queen.
Though, on some occasions the Empress will forsake her commonly expected outfits in favor of something more, versatile. On days when she is not just lounging about the castle, or having to look pretty for fellow nobility, Metylda will wear something much less cumbersome than a dress. Her go to outfit consists of a white long-sleeved shirt that exposes both her midriff and cleavage. As well as a pair of stark white pants that seem to double as shoes. On her back, a long cape and her hands are covered by a pair of leather gloves.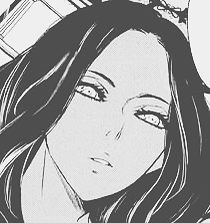 Skills
• Emotion Manipulation || The queen is, as she would say, "Quite empathetic." She is very perceptive to how the people around her are feeling. She always had been, and with years of practice she has on her own, perfected her ability to manipulate those feelings in accordance with her will. With a few choice words here, a change in tone there she can inspire feelings of fury, devotion, or happiness in almost anyone.
• Inhuman Persuasion || The Empress gets what she wants, when she wants it. No one can tell her otherwise. It's a gift really. With even the slightest of touches-- rubbing her fingers through hair, a pat on the back, shoulders brushing --her wish is their command. Though, one's willpower plays a part in determing how effective it is.
• Combat || One might not think it as she is a noblewoman, but the Empress has taken great strides in familiarizing herself in the art of warfare. If an emperor is to know his way around a battlefield and fight at the side of his men, should she not be held to the same standard? Though it was rough in the beginning Empress Metylda has come a long way indeed. In a clash expect her to hold her own with ease as she is very handy with a single blade and in the way of developing tactics.
• Dancing || Back years ago when the Empress was just a princess, she was renowned for her dancing skill. Graceful and captivating with each and every movement, she was most often in the limelight in various balls.

Phobias / Fears
"Fear is for the submissive,and I am anything but. "
• Death ||.
• Ghosts ||
Bad Habits / Vices
"I really must stop, it is unbecoming."
• Wandering Fingers || The Empress can not help it. Her hands are always moving. Fiddling with the lace of her dress when unoccupied. Trailing along the furniture and wall when walking from place to place and etc. . . If she is not consciously aware of herself at all times, her hands and fingers will move about as if they had a mind of their own.
• Checking Herself Out || A mirror, a window, a pond, anything that has a reflective surface will surely catch Metylda's attention. Unconsciously drawn to the reflective material, the Empress will proceed to stop what she is doing to look over herself. Though many people undoubtedly believe it is an act of vanity and pretentiousness, it is not. The Empress is obsessed with fixing any flaws on her self. She goes to great lengths to appear perfect at all times.
Best Qualities
Tell me your best qualities.
Worst Qualities
• Sociopathic Liar || Empress Metylda lies continuously and at times unconciously in an attempt to get her own way, without showing care or concern for others. Her falsehoods are goal-oriented and purposeful. Using her charisma and exceptional social skills in a self-centered and manipulative manner.
Likes
Dislikes
Goals
Tell me what you wish to accomplish in life.
History
Put history/past here. (Preferred but not required)
Hex Code
#761c28 or Deep Amaranth
Other Important Details
Anything else you'd like to share?