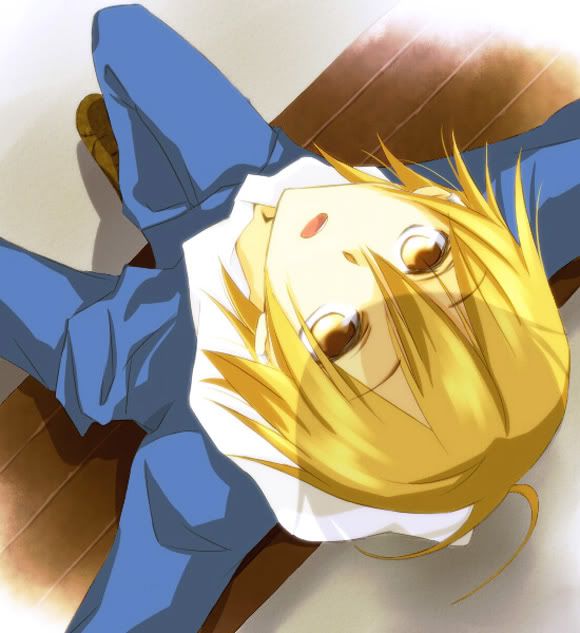 Name
Cyrus Zervais
Nickname
Psycho, Cy
Age
Fifteen
Gender
Male
Sexuality
Homosexual
Love Interest
Reivy Soren
Power
Mental Projection ~ Cyrus has the power to create copies of people by using a single emotion. These copies are just illusions and will disappear after a single hit, however they maintain the powers of the original as well as any item/clothing they have. Because they are made by singling out an emotion, they do not have the same personality as the original. For example, if the emotion of sadness is used, the copy will constantly be depressed or crying for as long as it remains. Cyrus is also able to create copies of himself, though his powers aren't very controlled in the sense that copies might appear at random times. Cyrus' powers have also gave way to a stronger, different copy of the boy himself. This person is named Ghost, he does not have the same personality as Cyrus and is different in appearance too. He looks identical to Cyrus in every way apart from his hair is black, his eyes are red and his skin holds a greyish tone to it. This copy can withstand a lot of attacks but unlike the others it cannot use Cyrus' powers. Any other copy of Cyrus can also not use the boy's powers.

In addition to this, but unknown to most, Cyrus is able to control the emotions of others. He can either enhance or dull-down a particular emotion a person is feeling. For example, if a person was extremely angry, Cyrus is able to dull-down the anger and replace it with pure happiness. The levels of these emotions do not have much control; Cyrus cannot make a person slightly happy, they are made ecstatic. Also, if an emotion is dulled down, another must be enhanced to replace the original and vice-versa. It is extremely rare for Cyrus to ever use this power, mainly because the boy does not think when using his own powers; many instances are done subconsciously or not at all. All of Cyrus' powers revolve around the manipulation of emotions; he can sense emotions in people by more than just outward appearances.
Updates
During Cyrus' time in the labs, they made a few… changes to the boy. His powers no longer need emotions to work, instead a full copy of someone can be created at will. This copy will have exactly the same personality, powers and appearance of the original. In short, Cyrus no longer needs to single out an emotion from a person to create a copy. Ghost is also able to use this power, but Cyrus cannot create any more copies of him apart from subconsciously creating Ghost. The copies (with the exception of Ghost) remain rather weak but slightly more durable than before; they cannot take masses of attacks but they do not disappear after a single hit anymore. His control over emotions has also changed but only slightly. The levels are now more controllable, a person doesn't have to be a manic depressive if Cyrus was to make them sad. Still the boy does not really use these part of his powers, mainly because he has difficulty controlling his own emotions. Ghost is also able to control emotions of people, but not those of Cyrus. Both powers are weaker when used by Ghost, purely because he is a mere copy created subconsciously by Cyrus.
Personality
Cyrus is one of the most complex people you could ever meet. Whilst he seems like a very simple minded cry-baby, his mind is actually a lot more complex than any other humans. He is unable the control the mass of emotions which pulse through him, as well as his sensitivity to the emotions of others. He used to be a very different person all together, it was only when he gained his powers and felt the intense feelings of others, when his mind began to collapse. Cyrus used to be a rather dominant young teen, he was ruthless and nasty to any who opposed him. Without showing mercy, Cyrus would fight to the death with his opponents, only once giving in when his team mate's life was at stake. One could not imagine that the same broken-down boy they see today was the old leader of the Fangs. A cold-hearted male who lead his gang into dominating the North Side of Timeless when it first started. He was a natural born leader and a person who considered their gang family, perhaps Cyrus originally had a strong hate for his past life but such things were lost when Cyrus became a new person.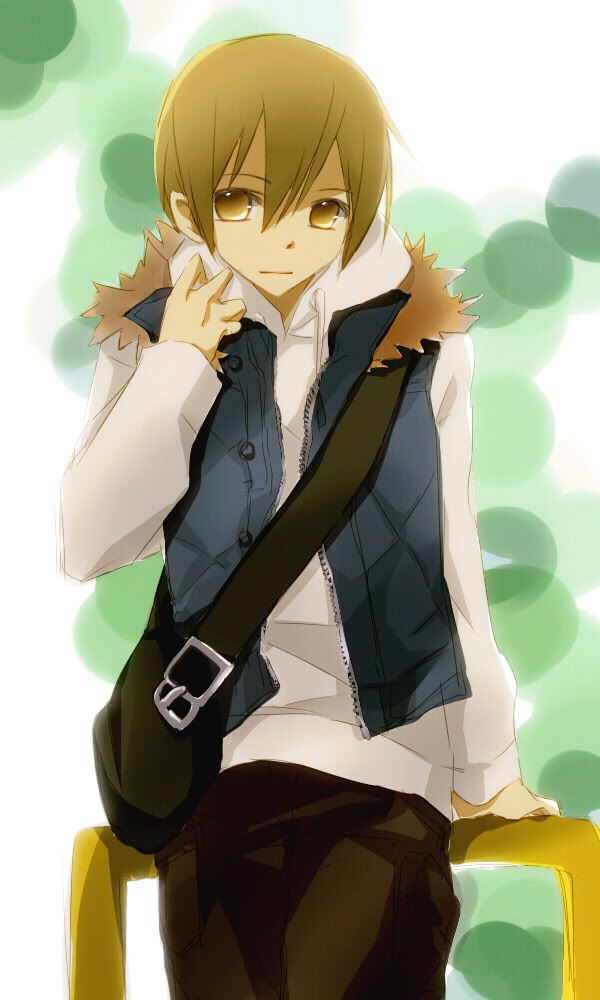 A few months after Timeless began, Cyrus' powers were dominating his life. The weight of the emotions he felt from other people, as well as a side effect of using his powers, slowly collapsed his mind until he was nothing more than a pathetic child. Cyrus can no longer think things through, he acts purely on impulses. Strangely he reacts to the emotions of those around him, if someone is upset then he will be too. That isn't uncommon for a human, but Cyrus take it to new and extreme levels. He will not just frown, he will burst out into tears and immediately run towards the one feeling upset, making them forget all about their misery and concentrate on Cyrus'. One could say that this is extremely selfish and an act of attention seeking done by Cyrus, however it is not. If it is then Cyrus doesn't know anything about it and cannot help the way he feels. Most of the time he will begin to cry over little (or big) things. A lot of things scare him and he relies too much upon others (especially Rei) to help him. It is thought that Cyrus only survived by latching onto others or even out of self pity that the other gangs could not find it in their hearts to hurt such an innocent child. Not that Rei would allow that. Rei is like a big brother to Cyrus, always looking out for the blonde and putting him before himself. Though Cyrus does not know it, the two of them share a very special and unique bond. One which others can clearly see; Cyrus becomes a little confused at people's reactions to him and Rei. It is probably impossible for Cyrus to ever actually 'love' someone because he cannot entirely experience that emotion; he does not experience any emotions and acts only on the impulses and 'primitive responses' of a five year old child. One reoccurring and defined emotion Cyrus does feel is loneliness, thus he subconsciously created a person named Ghost.

Ghost appears whenever the boy is feeling lonely, upset, afraid or when he is in danger. It is rare for Ghost to appear at any other times, but it has been known to happen, especially recently now that they are outside of Timeless. Ghost is a lot more saner than his original, it portrays an exact personality of how Cyrus used to be like, back when he had his mind in check. Ghost seemingly hates Rei, however this is merely a defensive emotion because he cares a lot about Cyrus and does not wish for the boy to be hurt. Recently though he has begun to be more accepting to the relationship both of them have, however that does not mean he will not appear randomly to keep an eye on the pair. If there is one person Ghost hates, it is Statix. Whilst Statix scares Cyrus, he annoys Ghost to no end. His arrogant and cold demeanour is something left to be desired by anyone. Also Statix seemingly has something against Cyrus which Ghost will just not stand for.
Clothes/Accessories
It is extremely rare for Cyrus to wear dark or dull colours. He is always seen in bright and colours which could be described as 'full-of-life'. This usually includes; light blue, green, pink, purple, orange, yellow and -- of course -- white. Sometimes he may go for a darker blue but never navy or anything past royal blue. Cyrus has a thing for soft clothes, thus he always wears a hooded jacket, lined with a soft fluff inside. This hooded jacket is snow white in colour and is sometimes accompanied by another brightly coloured jacket over the top. Because his jacket is rather warm, Cyrus does not bother wearing a shirt underneath it. Timeless was never warm so he hardly ever took off his jacket and replaced it with a t-shirt. The white jacket was always a little too big for Cyrus too, the sleeves would cover his entire hands if held down by his sides. On his bottom half, Cyrus tends to wear bright blue jeans or occasionally brown ones (despite his dislike for dull colours). Along with this, a certain item hangs loosely around his neck. Because of the baggy jumpers Cyrus would wear, no one could ever see the rope of the necklace nor the pendant attached; Cyrus had even forgotten about it. The necklace dates back to a time before Timeless, it holds significant value to the boy, even though he cannot remember what. Ghost wears exactly the same thing as Cyrus is currently wearing, he mimics the boy in every way apart from hair colour, skin colour and eye colour. If Cyrus was to obtain an injury, Ghost will also have the same wound.

Now, during the summer-time and other hot days of the year, Cyrus swaps his warm jumper for a plain white t-shirt or other brightly coloured items of clothing. If Cyrus is seen in one of these shirts, the necklace around his neck becomes visible and so does a certain scar...
Physical Scars
A large scar running down his chest. It is unknown how Cyrus received this scar and no one even knows it exists as it is always covered up by his jumper. However when he wears shirts during the summer, the top of it can be seen clearly. It seems to be a blade wound, the scar is three inches in diameter and seven in length, covering most of Cyrus' bare chest. If one was to question the boy about this scar, he would not have a clue how to reply as he does not remember how it happened. Unfortunately, Cyrus suffered another large wound during the time when the shield and all of Timeless began glitching. Whilst an enemy (namely Nikolas) was exploding a nearby car. Bits of metal sprayed everywhere and a single shard lodged itself in the boy's shoulder. It was quickly removed by Ghost, however the wound was rather deep and scarred as it healed. Apart from these, Cyrus has a few minor scars and bruises here and there but he remains almost injury free because of Rei and the others protecting him throughout Timeless.
Mental Scars
As stated in the personality section, Cyrus has changed a lot since first being dragged into Timeless. His entire personality, mind and how he views people has changed. He is a child stuck inside a teen's body now. Apart from the major changes he underwent, since leaving Timeless Cyrus has become increasingly paranoid about everyone around him. He believes that they might attack him at any second, because of this he cannot leave the side of Rei or Ghost. He also suffers from a slight case of Schizophrenia, the emotions of others take on voices inside of his head. The voices do not have an identity or a defined voice but they will cry, laugh or shout about random things inside Cyrus' mind. One might view it as reading the minds of others around him, however it is rare for the voices to actually sound coherent and say words. They will usually just make sounds, sounds which scare Cyrus a lot. The boy also finds it hard to sleep due to the voices/sounds which buzz around in his head, also strengthened by the fear of being attacked at any time. Nowhere is safe for the poor boy, his mind is never at rest. Sometimes, on the rare occasions, he will be able to sleep but he needs someone he trust deeply (like Rei) by his side.
Unique Fear
Death. Of course every human is afraid of death, no one wishes to die but Cyrus takes it to an all new -- extreme level. He will freeze up and refuse to take another step forward if he feels his life is in danger in any way. If he sees someone with a weapon of any sort, even if it is just a fork being used to eat lunch, Cyrus will freak out and run to the nearest safe place (which is usually behind someone he trusts). Animals, no matter how dangerous (or deadly), are things which Cyrus can never be scared of, even if someone tells him that the giant dog growling at him will rip his head off.
World
A freak. A complete and utter insane freak. No one understand Cyrus and he is outcast from the world around him. Cyrus does not have anything against the world (not that he gives it much thought) but he does avoid most people. They return the favour. A few times, people have contacted the police and scientists from hospitals for the clinically insane, and have tried to take Cyrus away. It is still common for people to take too much of an interest in the mentally unstable boy and emit him to various doctors and psychiatrists. Cyrus is a boy who could never survive on the real world, unless he was locked away in his own specially home -- that's what the world thinks at least.
Relationships
Rei:

Cyrus considers Rei to be his older brother. He has convinced himself that they are true family, no longer friends in anyway and purely family. The boy cares a lot for Rei just as he does for Cyrus. However Cyrus has a hard time showing Rei just how much he cares, he really does want to repay the favours to Rei but he just doesn't know how. Deep, deep, down Cyrus is probably madly in love with Rei, he just cannot portray the emotion of love. Cyrus is not the same as he once was and thus their relationship could never be normal. Ghost views Rei as someone who is needed, someone who he can count on to protect Cyrus when he isn't around. Despite that, he seems somewhat wary of Rei and acts like he hates the boy when in reality he is truly grateful (not that he would ever admit it).



Nikolas:

Who Cyrus refers to as Mr Thorn. It is rather hard to tell what Cyrus really think of Nikolas. He seems to take a liking to him and has never once fought against Nikolas. The boy holds a polite nature towards even his opponents, he will help them if they need help. This is just how Cyrus is to Nik, even helping him and saving his life when a building was about to fall on him. Ghost however does not like Nikolas, purely because he was never on the Fang's side. He doesn't seem to make nasty comments about Nik though and remains a little indifferent to his existence. He has never hurt Cyrus and thus does not quite fit into Ghost's bad books.



Caine:

Cyrus is terrified of this person, mainly because of the amount of times he has hurt Rei and tried to hurt Cyrus. Apart from this, Cyrus does not think that much about Statix, viewing him as a 'bad guy' like those in comic books or cartoons. No surprise saying that Ghost hates Statix, an awful lot. He could not hate that guy more. This is because of the same reason why Cyrus is scared of him. If Ghost was able to kill Statix then he would have done it a long time ago and not regretted a single second of it. He hates the fact that Statix calls Cyrus 'Psycho' and even insults himself; despite this though, Ghost is grateful for Statix getting them out of Timeless.



Katie:

To begin with, Cyrus really disliked Katie because of what she did to Rei (shooting him) but now he views her the same as everyone else, with no defining qualities. Ghost hates her, just a little less than he does Statix; she switched sides too many times to be trusted.
History
To Be Revealed.
Theme Song
Blue October ~ For My Brother
Other
N/A