A girl and guy falls in love at 15 years old. They are walking to the movies one day when a car crashes into the boy and kills him. This makes the girl really sad and depressed to where she has no one left. Her parents left her at a young age as well, so she lived with her older brother. But what her brother doesn't know is that she hurts herself by blaming herself for the accident.
Later on when she turns about 17, she meets a boy she absolutely adores and loves. He doesn't really notice her till one day she gets chosen for prom queen and he is prom king. Then he starts to fall for her to.
Near the end they find out that that boy that she is with now is the brother to the other guy that got killed.
What will happen???
Skelly for the boy:

Name:
age: (19-22)
Short-Bio:
Picture image: (Use this photo to post with!)
Rulez!:

1: No ditching

2: Minimum 1000 charries. NO One liners.

3: Cussing~ Why the fuck not?

4: Cybering~ I don't mind but ES does.. if so we will just TS or go somewhere else.

5: Romance~ Hell ya, just not right off.

6: Real Pictures.

7: If you have read all of this them post your favorite fruit down below along with the skelly.

8: Don't forget.. Have fun!! <3

9: Real Japanese photos
Taking place in...
3 posts here • Page 1 of 1
Utada stands in the middle of the dance floor looking at one of her friends that were trying to cheer her up. She shakes her head and starts to head out when suddenly she hears her name yelled out by the announcer. She looks back, the light blinding her eyes. Every one stares at her then starts to clap like maniacs. She stands there in shock. "W-What?" She asks, being pushed up to the stage. Once on the stage she feels herself growing uncomfortable standing there in her beautiful red kimono she had wore to the Prom. The em bordering on it traced her body, showing more of her figure and giving her more of a graceful look. She tries to scrunch her eyes to see out into the crowd but the light was blare into her beautiful brown chocolate eyes. She watches the most popular guy hop on stage and a girl place a crown on his head then a tiara on hers. She blinks and stares at him as the crowd goes quiet. She turns away quickly and goes out into the hall way. Pacing fast with her legs, she makes out the doors from the peering eyes that were staring at her. She knew what was going on, she wasn't that popular and he was. So there was something definitively wrong with that picture.
She takes the Tiara off her head and looks at the pretty flowers curled around the sides of it. She smiles a little then banishes the thought that she actually looked pretty. She was still hating herself ever since her love had died from a car wreck. Utada leans against the wall, fixing her kimono a little. She was mainly the only one wearing a kimono except the principal, But she didn't count.
(OOC: That is the Kimono but on her! :P)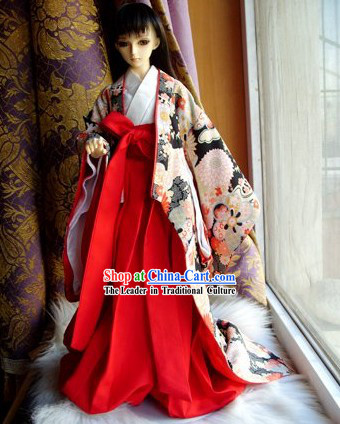 ---
Takashi is walking though the crowed in the hall. One of the people he once called his friends came up to him and started to say that he was favored to win prom king. Takashi was not really bothered about being prom king. Takashi was not really listening to him, but what was going though his head was
'I'm only here for the memory of my brother, he would have wanted us both to be here tonight'
. As he left his friend to walk to the seat on the other side of the hall he heard them announce prom king and queen. He was prom king. He walked up to the stage and as he did he saw the most beautiful girl he had ever seen in his life walk up and collect the tiara. He bounded up to the stage. The girl was in a rather beautiful Kimono, where he was in a black suit with tails, as he was slightly fascinated with English culture he decided to be different and were the English male traditional wear to the prom. He looked at the girl and she was very striking. He bowed to let the person put the crown on his head. He turned to the girl only to see her run off, he was a little scared that she had ran of because of him.
Takashi looked at the spot of where the girl had stood and something inside him wanted to go and see this girl again.so he ran after the girl and when he saw her he slowed to a walk. When he got to her he saw how beautiful she looked in the night sky as the moon shown though the window in the hallway. He finally got to her and he stopped right next to her and said
"Excuse me madam, but why did you run off"
He said it in the sweetest voice he could use, he was lucky he could talk at all as his mouth was so dry.
(OOC:This is what he is wearing)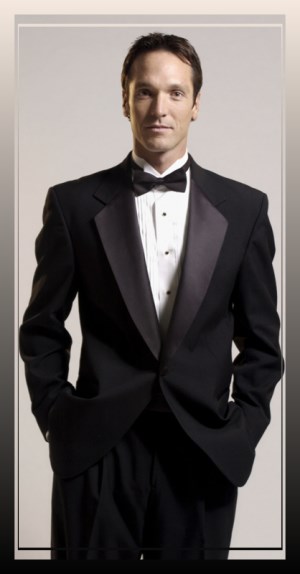 ---
She looks out in the moonlit sky as it caresses her face. She smiles a little bit till she hears the door open then close shut. Turning her head she looks around to see the handsome male looking at her with his gleaming eyes. Her smile fades and she sighs as he speaks. Standing there straight and tall she looks at the floor and replies.
"I just.. Don't like that much attention and pardon me for being so rude. I didn't mean to make you upset if I did." She tells him.
She didn't think that it was polite to do what she had done, but it was just a panic attack she had. That were the types of things that happen when you lose your trace of thinking. Speaking of so, she shakes her head from a daze she had been in and looks back at Takashi. "Please forgive me." She says sweetly, hoping he would forget about what had happened in there. She was very grateful that the seniors had picked her for the queen and a handsome young man like him for king.
---
3 posts here • Page 1 of 1
Arcs are bundles of posts that you can organize on your own. They're useful for telling a story that might span long periods of time or space.
There are no arcs in this roleplay.
There are no quests in this roleplay.
Here's the current leaderboard.
There are no groups in this roleplay!
Welcome home, Promethean. Here, you can manage your universe.
Arcs are bundles of posts from any location, allowing you to easily capture sub-plots which might be spread out across multiple locations.
You can create Quests with various rewards, encouraging your players to engage with specific plot lines.
Settings are the backdrop for the characters in your universe, giving meaning and context to their existence. By creating a number of well-written locations, you can organize your universe into areas and regions.
Navigation
While not required, locations can be organized onto a map. More information soon!
There are no groups in this roleplay!
By creating Collectibles, you can reward your players with unique items that accentuate their character sheets.
Once an Item has been created, it can be spawned in the IC using /spawn Item Name (case-sensitive, as usual) — this can be followed with /take Item Name to retrieve the item into the current character's inventory.
Give your Universe life by adding a Mob, which are auto-replenishing NPCs your players can interact with. Useful for some quick hack-and-slash fun!
Mobs can be automated spawns, like rats and bats, or full-on NPCs complete with conversation menus. Use them to enhance your player experience!
Current Mobs
No mobs have been created yet.
Locations where Mobs and Items might appear.
You can schedule events for your players to create notifications and schedule times for everyone to plan around.
Add and remove other people from your Universe.
Orphanage
By marking a character as abandoned, you can offer them to your players as pre-made character sheets.
The Forge
Use your INK to craft new artifacts in Taken, stolen, restored. Once created, Items cannot be changed, but they can be bought and sold in the marketplace.
Notable Items
No items have been created yet!
The Market
Buy, sell, and even craft your own items in this universe.
Market Data

Market conditions are unknown. Use caution when trading.

Quick Buy (Items Most Recently Listed for Sale)
Newest
Trending
Most Followed
None
Discussions
Topics

Replies
Views

Last post
Most recent OOC posts in Taken, stolen, restored
Okay thanks! I'll type up a post and we can start!
This is the auto-generated OOC topic for the roleplay "
Taken, stolen, restored
"
You may edit this first post as you see fit.