This is a role play based on romance, betrayal, war, death, and fantasy. I do consider this a mature role play, so be warned.
Q&A:
Question and Answers
OOC:
OOC
House information:
Info
There were once six kingdoms......
[center]
The Eryic: House of Burlingame

Riverrun: House of Ordway

Casterly Rock: House of Godwin

High Garden: House of Kingsley

Storms End: House of Tully

Dragonstone: House of Adine

Each surrounded a side of what was claimed to be the holy land, which came to be known as Kingslanding. There, seven thrones were built: Stone, water, earth, wood, light, and fire. It had been said the Kingdoms had been gifted to each house by the Gods, and when ruled side by side, would lead to a promising future. Yet, as many mortal do, the kings soon became over run by greed with each passing generation until war broke out throughout the land.

Seeing weakness, Charles Godwin, the ruler of Casterly Rock, ordered his army to raid Kingslanding and take it for his own. Once there, his men melted down the six thrones and what came to be known as The Thrones of Kings was forged.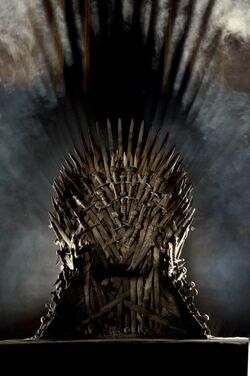 One by one Godwin's army raided each of the remaining holy kingdoms, ending anyone who stood in his way. He destroyed the Kingdoms, and slayed any bloodlines tied to them. It seemed Godwin left nothing to remember the once great holy kingdoms....or so he thought.
Once upon a time there were six holy kingdoms gifted to the human race by the Gods, but that isn't the case anymore. Godwin runs the land, and havoc is everywhere.....but there is hope....
With the destruction of the holy kingdoms came to rise the clan of the dire wolves: Bastards and loyal servants of the former kings, they were individuals that retreated North to face the harsh winters Winterfell had to offer in attempts of alluding Lord Godwin's wrath. Among the banished was Robert Adine, the youngest son of The King of the Dragons, Edmund Adine.
Robert was saved by a humble servant who acted as a midwife to his mother, Christine. He was an child at the time, almost five, and knew little of the world around him. When forced from his home in Dragonstone, Robert didn't know he would never again see another Dragon or that his home was just one of the many Kingdoms that had been overtaken.
With his arrival in Winterfell, Robert took on the surname Claridge, after the midwife and husband that took him in as their own. He was taught the ways of a blacksmith, and raised as any other village child would be, but Robert would grow to be something great. He never forgot his home in Dragonstone, and as he learned the stories of the others forced from their villages he knew Godwin must be destroyed. As the Gods would have it, former knights of the kings also wandered into Winterfell, and Robert learned from them the code of a night and the ways of war. By twenty, Robert was no longer the prince of Dragonstone, he was Lord Claridge, leader of the Direwolf clan, and he would not rest until the land of the once six holy kingdoms were once again restored.
But the task won't be easy
In Kingslanding, Charles Godwin has ruled for many years, and remains the most powerful ruler to be named. With former soldiers of the fallen kings army commanded by his brother-in-law, "The King slayer", who is said to have decapitated each of the rulers with his own sword, at his whim....as well of the late commander of King Adine's army as his right hand, Graham O'Connel, .....Godwin seems to be untouchable. His allies run deep within the land, and those who do not side with him fear him too much to rise against him.
Roles: Winterfell
Robert Claridge (around 20):
Leader of the Direwolf clan, and the last remaining heir to the throne of Dragonstone.
Taken by Mazzyrazzy
The bastard of Edmund Adine:
Took on the last name Flame to mark his was indeed the seed of Edmund. Roberts adviser and brother by "knighthood".[Taken by Scarlett_Rose]
Bastard son of Godwin:
True heir to Kingslanding...but unaware of his bloodline. Traveled to Winterfell recently to join the war.
Daughter of Simon Kingsley(age 15):
Her father was the only king to not be killed. He died of Scarlett Fever just days after his wife. The Kingdom was overtaken before they were buried, and their bodies were hung outside the castle walls. The daughter was taken into Winterfell at the age of nine disguised as a boy. None but the knight who raised her know "he" is actually a girl....a true lady. Raised by a knight, she is as good with a sword as any boy. [Taken by Lottie_Royce]
Robert Claridge's sister(between 11-15):
She is the daughter of the midwife and husband that took in Robert.
Warriors:
Followers of Robert: You can make up where you are from and what your bloodline is.
Roles: Kingslanding
Charles Godwin:
Ruler of the land, and king of Kingslanding. Has three children, two daughters( 8 & 12) and a son (18). Unaware of the threat in Winterfell, or that his children may not be his.
Son of Godwin:
Spoiled and cruel. He believes his fathers
seed
may live on in Winterfell after hearing certain rumors of his creation, and after discovering he may not be the true heir to the throne will stop at nothing to destroy the bastard
Taken by Lottie_Royce
.
The queen:
Deceiving. Fears her husbands true heir may come to claim the throne. She is very close to her twin brother, and is always concerned for the safety of her children...but it's hard to say that she is a good mother.
Taken by Xistinna The queens brother:
Head of the kings army. Known as the "Kingslayer", he killed five of the seven holy kings with no honer towards their death. Despises King Godwin and believes he is a fool. Advised the king before Kevan O'Connel.
Scarlett O'Connel:
Daughter of the Kings right hand and promised to the son of the king. Her father at one time fought for the Adine army, but because of his close friendship with the Godwin, was moved to Kingslanding even though he fought against his men.[Taken by Scarlett_Rose]
Warriors: Followers of Charles. Some may be loyal tot he king, but others are deceitful
Role of others:

Pretty much anything you can come up with really.
I'll leave the outline to you. Show me what you are capable of. I will only accept literate role players. I'm sorry guys, but this is a complicated plot, and I need individuals who will add to it. Spontaneous actions make a role play live on! Good luck![/b]
Taking place in...
Arcs are bundles of posts that you can organize on your own. They're useful for telling a story that might span long periods of time or space.
There are no arcs in this roleplay.
There are no quests in this roleplay.
Here's the current leaderboard.
There are no groups in this roleplay!
Welcome home, Promethean. Here, you can manage your universe.
Arcs are bundles of posts from any location, allowing you to easily capture sub-plots which might be spread out across multiple locations.
You can create Quests with various rewards, encouraging your players to engage with specific plot lines.
Settings are the backdrop for the characters in your universe, giving meaning and context to their existence. By creating a number of well-written locations, you can organize your universe into areas and regions.
Navigation
While not required, locations can be organized onto a map. More information soon!
There are no groups in this roleplay!
By creating Collectibles, you can reward your players with unique items that accentuate their character sheets.
Once an Item has been created, it can be spawned in the IC using /spawn Item Name (case-sensitive, as usual) — this can be followed with /take Item Name to retrieve the item into the current character's inventory.
Give your Universe life by adding a Mob, which are auto-replenishing NPCs your players can interact with. Useful for some quick hack-and-slash fun!
Mobs can be automated spawns, like rats and bats, or full-on NPCs complete with conversation menus. Use them to enhance your player experience!
Current Mobs
No mobs have been created yet.
Locations where Mobs and Items might appear.
You can schedule events for your players to create notifications and schedule times for everyone to plan around.
Add and remove other people from your Universe.
The Forge
Use your INK to craft new artifacts in Tale of Six Kings. Once created, Items cannot be changed, but they can be bought and sold in the marketplace.
Notable Items
No items have been created yet!
The Market
Buy, sell, and even craft your own items in this universe.
Market Data

Market conditions are unknown. Use caution when trading.

Quick Buy (Items Most Recently Listed for Sale)
Kingslanding
Discussions
Topics

Replies
Views

Last post
Most recent OOC posts in Tale of Six Kings
There have been no posts in the OOC topic for this roleplay!