.: DESCRIPTION :.
Portrayed By Pedro Pascal
Commander, 1st Beau Monde Expeditionary Unit
45 (b. May 17, 2030)
Male
5'11" / 185lbs
Colombian, Mexican, Cuban, Spanish, French, Irish
Provo, Utah
.: ATTRIBUTES :.
STRength: +7
PERception: +9
ENDurance: +7
CHArisma: +6
INTelligence: +7
AGILity: +7
Luck: +2
.: SKILLS/ABILITIES :.
3 Advanced Skills (+++)
Search & Rescue
Unarmed
Intimidation & Interrogation
3 Intermediate Skills (++)
Survival
Melee Weapons
Security & Lockpicking
3 Novice Skills (+)
Politics & Leadership
Guns & Rifles
(TBD)
.: PERSONAL INFO :.
Dominant Emotion: Decisive
Demeanor: Tomas isn't the sort to be trifled with. Years of self-discipline allows him to present himself as being relatively relaxed typically for a first impression, but one shouldn't underestimate a calculating mind behind a smiling and friendly trained exterior. He's risen through Axiom's ranks by leaving no job unfinished and learning when to speak and when to act at the appropriate times. Despite his high success rate, he isn't afraid to adopt a prospective and scientific approach to problem-solving in order to adopt the best plan possible to execute a task. In his capacity as Commander of Axiom's expeditionary forces, he also holds a political position, which he comfortably and successfully manages. Outside of his professional life, which is most of his life, he does have a small circle of acquaintances, all of whom he does care deeply about despite not being emotionally attuned to display it in a way most would understand. The family which he cares the most about, however, would be the Clarets; he lets his guard down in their home out of habit and comfort thanks to Edward and Beatrice's mentorship, and considers himself something of an older brother or guardian to Astrid after the other two moved away.
Equipment:
• 1st Beau Monde Expeditionary Uniform / Conventional three-piece suit ensemble
• Handmade cowboy boots (with covert knives)
• Sidearm
• Hidden interrogation serums in belt
• (TBD)
History:
• Born in 2030 in a large refugee commune in what had been Provo, Utah, Leon was orphaned by unknown circumstances. His first memories are that of growing up in a Mormon-controlled orphanage. While most did try to help the intelligent but willful and angry child, he still found himself on the other side of authority figures' wishes, and by the age of 12 had earned himself a spot in a controversial program instituted by area military forces to assume guardianship of hard-to-control children who may not be missed. Thankfully, a young and enterprising officer named Edward Claret happened upon the program, seeking to cultivate talent from a pool of what could be prospective leaders. Despite his initial protests, Claret had Leon sent to Doxa's military academy all the way in the southeast section of the country. When the young man graduated nine years later at the top of his class and was commissioned as a Lieutenant, Claret received orders for Axiom, and Leon was to be a part of his cadre as his Executive Officer as he assumed command of the 1st Beau Monde Expeditionary Forces. He was even part of the response effort that assisted Claret's niece, Astrid, when she'd been orphaned by a terrible accident.
A rare moment featuring a smiling, laughing young Tomas.
The young protégée of Edward Claret's was destined for great things as soon as the venerated officer took him under his wing.
• Over the years, Leon proved any harsh critic from his childhood wrong by becoming the very best officer he could, always volunteering to lead response units into the Wasteland, even the most very dangerous missions. Mrs. Claret would gently remind him that he always seemed like he had a death wish when she gave him no choice but to attend dinner at the Claret household every so often as his responsibilities increased and he ascended up through the ranks quickly, bring promoted to full-bird Colonel at the unconscionable age of 39 (similar to Claret's purported career trek). In his current position he balances both a combat role and a political role deftly and skillfully thanks to Claret's mentorship and lessons in finesse and building relationships. Meanwhile, over the years he slowly grew to regard their niece, the little girl he'd helped rescue on the Wasteland, as the closest thing he had to a sibling at all, feeling obstinately protective of her. This intensified especially after Edward and Beatrice Claret moved back to Doxa in 2073, leaving Astrid the responsibility of the Axiom home; he and Claret housekeeper Mona often commiserate on the doctor's insistence on working on the Wasteland.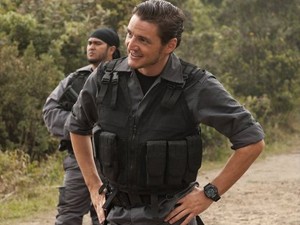 Tomas keeps the expeditionary unit together at the accident site in 2052 that orphaned Astrid Claret.